Even if you're called the SpicieFoodie, sometimes you just have to settle for sweet peppers.
Text And Photos By Nancy Lopez-McHugh
Those of you that follow my blog have heard me mention the lack of fresh spicy chiles in Prague. But what they lack in spicy peppers they make up with a fantastic variety of mild and sweet peppers. Peppers like banana peppers, wax pepper, Kapia or pimento peppers, and a spicy green Slovak variety. As a Mexican I cannot live without my chiles, I need a little kick in my food. But over the past couple of years we have found fresh (and canned) Jalapeños and fresh Spanish cayenne chiles.  I also have to admit that experimenting and coming up with CzechXican salsas has been quite fun.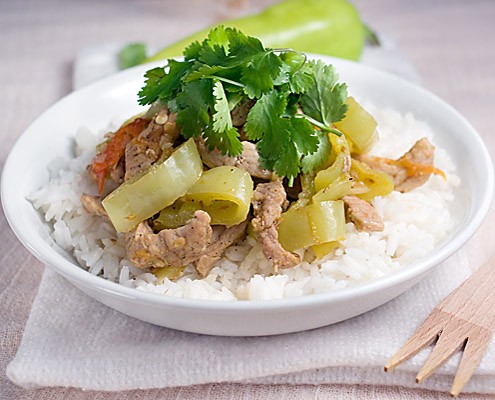 Today I have a super simple recipe that incorporates a hint of flavors from Mexican cuisine with a bit of Czech. But what is so fantastic about this simple recipe is that it can be made with Pork, Chicken, Turkey, Beef or even chorizo. It can be served on top of white or Mexican rice, as a taco filling or used as any type of Mexican filling you may need. Wait there's more great reasons why you need to make this dish, it's healthy and low in fat. The chorizo would be the fattier choice but if you use a lean cut of meat it will stay low in fat. So you'll get a very flavorful dish with little calories. Now that the weather is getting warmer, in the northern hemisphere, most of us are looking to cook and eat lighter meals that wont expand the waistline nor leave you feeling bloated afterwords.
This is one of those dishes. Okay I think I've convinced you so now I'll give you the recipe. Buen Provecho!!

Pork with Green Chiles, Mexican flavors with a hint of Czech.
Author:
Nancy Lopez-McHugh
Ingredients
400 g or 14 oz pork medallions or pork tenderloin, sliced in thin strips
4 green mild chiles, stemmed and seeds removed and sliced into rounds*
1 green cayenne chile or any hot green chile, finely chopped **
4 garlic cloves, minced
1 medium white or yellow onion, finely chopped
1 small tomato, finely chopped
salt to taste
ground black pepper to taste
1 tsp. ground cumin
2 tbsp. olive oil or vegetable oil
white rice to serve
corn tortillas, optional
cilantro to garnish
Instructions
Heat 1 tbsp. of the oil, once warm saute the onion until soft and translucent. Add the round green cubanelle chiles and hot green chiles to the pan, saute for 2 minutes. Next add the minced garlic, sprinkle some salt and ground black pepper to the vegetables and stir to combine. Saute another 2 minutes, then remove the vegetables from the pan and set aside.
In the same pan heat the remaining 1 tbsp. of oil, add the pork to the pan and sprinkle some salt and ground black pepper to taste. Cover the pan and fry until the pork strips are cooked all the way through, about 10 minutes. Drain any fat or liquid in the pan and add the previously cooked vegetables back to the pan. Next add the ground cumin seed and chopped tomato to the pan. Stir to combine all ingredients well. Cover and continue cooking until the cubanel chiles have soften.
Serve with or over white rice and corn tortillas on the side, if desired.
Notes
* You can use banana, wax or Cubanelle chiles, Do not use bell peppers. ** For a milder version remove the seeds and center vein.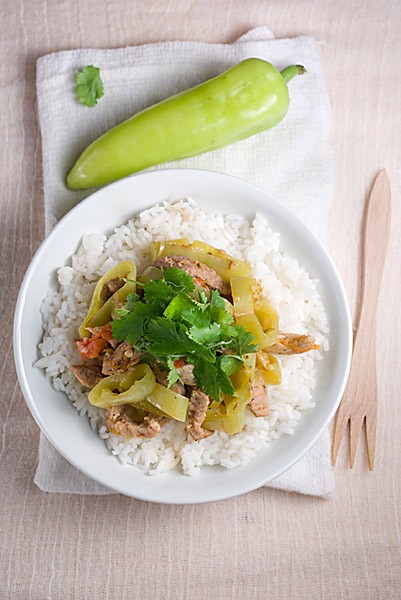 Nancy Lopez-McHugh
Nancy Lopez-McHugh is a food blogger, photographer and published author. Most recently she has published "Yummy Pics: A Food Blogger's Guide To Better Photos".