Pork Sausages and Potatoes in Irish Red Ale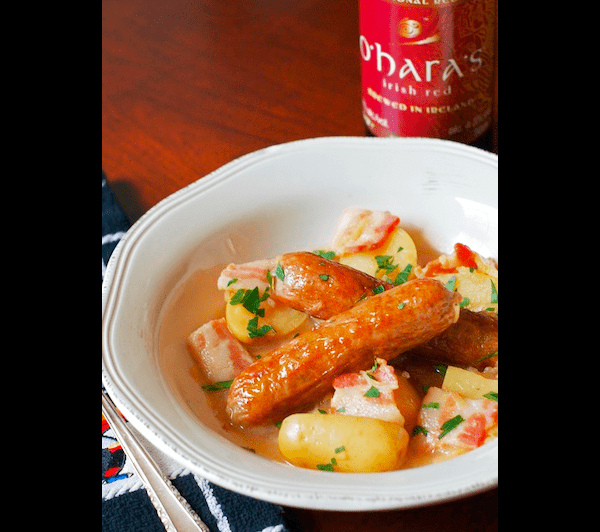 Pork sausages and potatoes slow simmered in a chicken-and-beer broth. Talk about the luck o' the Irish!
By Maggie Cubbler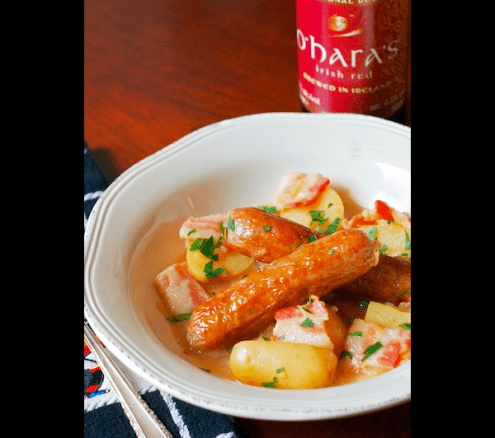 Dublin Coddle is a traditional poor-man's dish of potatoes, bacon, and pork sausages that goes way back. Apparently the term "coddle" is used because the food is actually coddled, or simmered, for several hours in liquid. The great thing about this food is that it can be made with beer! I've read that using dark beer in a Dublin Coddle has fallen out of favor and that some people like to use a great Irish cider instead, which is cool with me. But, I'm going to use Carlow Brewing Co.'s malty, roasted, and subtly hoppy O'Hara's Irish Red Ale. Feel free to add whichever beer or cider you'd like; I don't see why you couldn't use Guinness if you wanted to. Just remember that on St. Patrick's Day cold beer, fair skin, and this Irish Red Dublin Coddle make you Irish. Sláinte!
Pork Sausages and Potatoes in Irish Red Ale
Pork sausages and potatoes slow simmered in a chicken-and-beer broth. Talk about the luck o' the Irish!
Ingredients
2TB olive oil
1lb/500g good quality pork sausages
½lb/250g smoked streaky bacon or rashers, or just regular thick-cut smoked bacon, chopped into bite-size pieces
2 onions, sliced into half-moons
1lb/450g baby potatoes, halved
2 cups/500 ml chicken stock
1 cup/250ml beer
2 sprigs of fresh thyme
1 bay leaf
salt and freshly ground black pepper
a small bunch of fresh parsley, chopped
Instructions
Heat the olive oil in a large heavy-bottomed pot over medium heat. Brown the sausages in the oil on all sides and then set aside.
Add the bacon and the onions to the pot and cook until the onions have softened and have somewhat browned or about 10 minutes.
Add the sausages back to the pot and then add the potatoes.
Cover with the stock and the beer. Throw in the thyme sprigs and bay leaf. Season lightly with salt and pepper.
Reduce heat to low, cover the pot, and simmer for 1-1½ hours or until the potatoes are cooked through.
Adjust seasoning to taste (careful, it might not need any!)
Serve with chopped fresh parsley and nice crusty bread.
Get Loaded!
Maggie Cubbler
Maggie Cubbler is a beer-and-food-loving Yankee living in North Yorkshire, England. When she's not pulling pints at a traditional Yorkshire pub, she devotes her time to her Labrador, husband, and working on her blog: Loaded Kitchen. She loves to pair beer with food, cook with beer, and drink a (half) pint or two with the natives. Besides blogging and drinking, Maggie is currently studying to become a certified Cicerone while trying to figure out why Yorkshire men like lime cordial syrup in their lagers. Take a swing by her blog and check out the party in her pans.