Zucchini Pasta with Fava Beans and Lemon Thyme Butter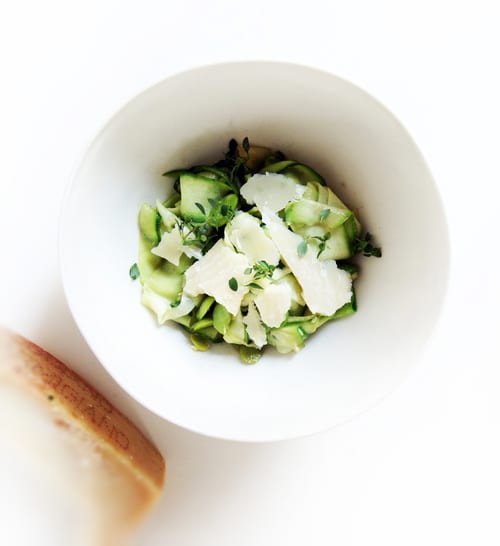 The cooking technique is simple and straightforward, and while there is prep work required in the form of shelling and peeling, the dish comes together in minutes.
By Mariela Alvarez Toro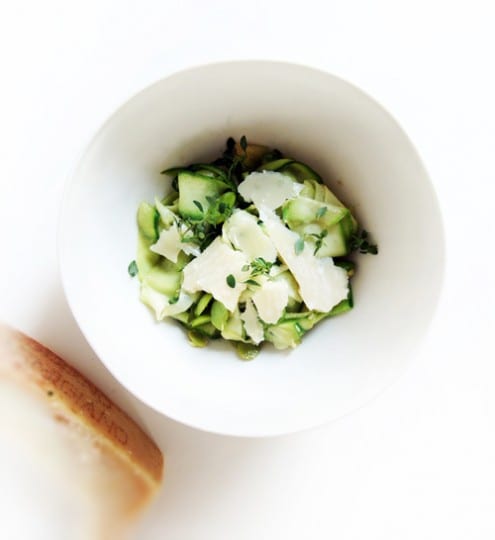 Zucchini is peeled into thin ribbons then drenched in an aromatic sauce of butter, cumin, and thyme. Delicate fava beans add texture. A simple squeeze of lemon juice, a drizzle of olive oil, and a dash of Parmigiano complete the dish by adding acidity and complexity, making this dish a delicious addition to your summer recipe repertoire.
Zucchini Pasta with Fava Beans and Lemon Thyme Butter
The cooking technique is simple and straightforward, and while there is prep work required in the form of shelling and peeling, the dish comes together in minutes.
Author:
Mariela Alvarez Toro
Ingredients
2 large zucchinis
½ cup shelled fava beans (peas could work well here too!)
½ tbsp. butter or ghee
1 clove of garlic
⅛ tsp. cumin powder
2 sprigs thyme
1 tbsp. olive oil
Juice of ¼ lemon
Salt and pepper to taste
Parmigiano for garnishing (optional)
Instructions
This recipe is fairly simple, but does require I bit of prep work. Start by washing and trimming the zucchini. Using a vegetable peeler, cut zucchini lengthwise into thin ribbons until you reach the core. Turn the zucchini and continue to peel off all four sides. Discard the core (or save to use in soups). Place ribbons in a paper towel covered bowl. Sprinkle a pinch of salt and let sit for ten minutes. This step is optional, but will extract moisture from the vegetable and make drier "noodles" that will better absorb the sauce. To shell the fava beans start by removing the beans from the pod. Each bean is covered with an inedible thick skin. For easier removal, blanch fava beans for 2 minutes. Rinse under cold water to shock and prevent residual cooking. Once cool, peel off the skin and set aside.
Add butter or ghee to a large skillet over medium heat. Cook until it starts to bubble, then add minced clove of garlic, cumin, and thyme. Cook for a couple of minutes, then add the fava bean and zucchini. Stir for two to three minutes. Zucchini should be warm, and slightly soft. Be mindful of overcooking the zucchini, as it will turn into mush. Taste for seasoning and adjust as necessary. Sprinkle fresh ground pepper to taste. Transfer into serving plate. Drizzle olive oil and lemon juice, and garnish with Parmigiano. Serve immediately. Enjoy!
Mariela Alvarez Toro
Recently graduated with from Harvard University's Graduate School of Design. She has recently completed "People in Food-Space", an ethnographic study on the cultural production of taste in space. She has also examined post-soviet food production systems and housing projects in Havana, Cuba. Originally from Puerto Rico, Mariela has been living in the United States for eight years. She has involved herself in both teaching and practice, while writing on food at tastyplan.com. Her goal as a food writer is to cook creatively, using the best ingredients to find new flavor combinations every day.