Make this simple pork fried rice recipe if you happen to have some leftover meat. It's quick and delightful.
By Jennifer Abbott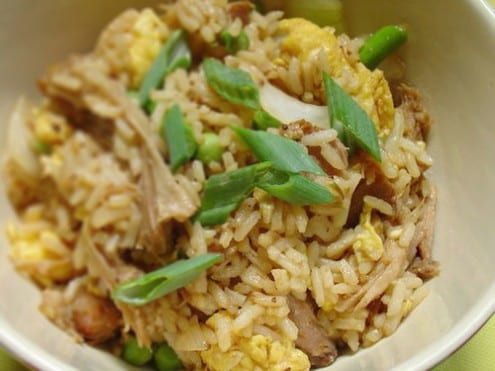 here's one of my favorite leftover meals, roasted pork fried rice! I eat fried rice a lot because I always have rice (duh) and usually have some meat, veggies, and eggs to use up. It's so economical it makes me laugh a bit. Maybe I'm laughing because it's so good. That'd make more sense.

Make this simple pork fried rice recipe if you happen to have some leftover meat. It's quick and delightful.
Ingredients
4 cups cooked white or brown rice, chilled
3 cups shredded roasted pork (I used this)
6 Tablespoons vegetable oil, divided
1 medium yellow onion, diced
2 cloves garlic, minced
2 teaspoons grated fresh ginger
15 stalks asparagus, in ½" slices
1 cup frozen green peas
½ cup soy sauce
2 Tablespoons rice wine vinegar
2 teaspoons Sriracha sauce (or other hot sauce)
2 teaspoons sesame oil
1½ teaspoons sugar
3 eggs, beaten
sliced green onions, for garnish
Instructions
Heat the shredded pork, covered, in the microwave or oven, whatever's easier, until it's warm. Keep covered and set aside.
Combine the soy sauce, vinegar, Sriracha, sesame oil, and sugar in a glass measure or small bowl and stir well to combine. Set aside.
Have all the vegetables chopped and ready. Heat a wok (or large, deep skillet) over high heat until hot. Add 2 Tablespoons of vegetable oil, heat for a few seconds, and pour in the beaten eggs. Quickly stir and scramble them for a minute or two, and just as they become cooked, remove them to a bowl and set aside.
Heat 1 Tablespoon of oil in the wok; add onion, garlic, ginger, and asparagus, and stir-fry until the onion and asparagus are tender but still crisp, about 3 minutes. Add the peas and stir-fry another minute. Remove to a bowl and set aside.
Heat 3 Tablespoons of oil in the wok. Add all the rice to the wok, stir-frying and turning for a couple of minutes, until the rice is hot and starting to get toasty. Add the pork, vegetables, and eggs to the rice, and then pour in the soy sauce mixture. Stir and turn well for 3 or 4 minutes, until everything is combined, hot, and good.
Top with sliced green onions and a good show to watch. I'm into Homeland.
Jennifer Abbott
Jennifer Abbott is a writer, music teacher, Southern food enthusiast, and soup aficionado. She lives in New Orleans and blogs about cooking and dining at Food Orleans.