In just thirty minutes, enjoy maple glazed pork chops with thyme that are so irresistible with the sticky sweet finger-licking-good sauce you won't be able to get enough of.
By Kate Vaynshteyn
These Maple Glazed Pork Chops are total perfection. The glaze is perfectly sticky and sweet yet herbal and complex, thanks to the wonderful combination of maple syrup and thyme. In other words, it is totally irresistible and addicting, and you will find yourself licking the spatula and everything this sauce comes into contact with.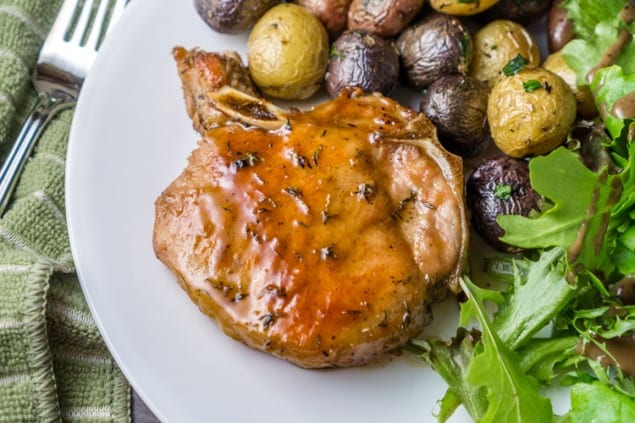 Paired with roasted young potatoes and a side salad, this is one of the easiest delicious dinners you can make.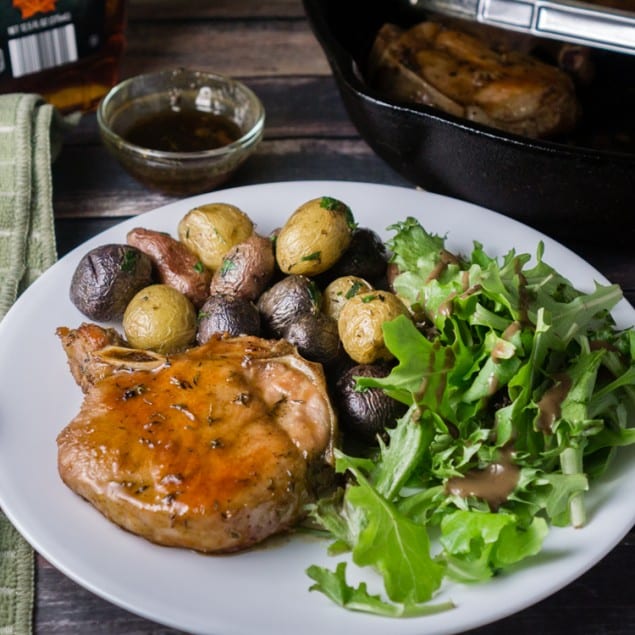 A few notes about this recipe:
Use real maple syrup! Do not use caramel-colored high fructose "pancake syrup" that tries to disguise itself in the syrup aisle. The flavor will not be the same.
The sauce will thicken more as it cools, so stop cooking it down when it looks just a little too liquid for your taste. Otherwise you will end up with a thick honey-like consistency. Which is not a bad thing! It will just be harder to pour over the pork chops.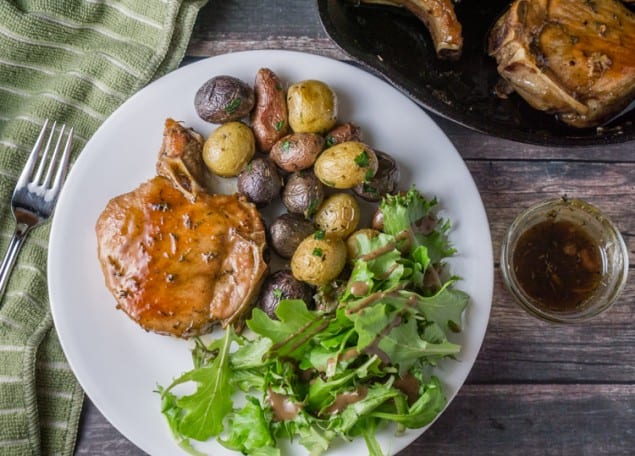 Maple Glazed Pork Chops
These 30 minute Maple Glazed Pork Chops are irresistible with the sticky sweet finger-licking-good sauce that you won't get enough of!
Ingredients
4 pork chops (bone-in is best!)
Salt and pepper to taste
4 tablespoons olive oil, divided
3 garlic cloves, minced
1 teaspoon dried thyme
¼ cup maple syrup
¼ dry white wine
½ cup chicken broth
Instructions
Season both sides of the pork chops with salt and pepper. Heat 2 tablespoons of olive oil in a large skillet, and cook the pork chops over high heat for about 5 minutes on each side, or until both sides are nicely browned.
Remove the pork chops from the pan (place them on a large plate) and reduce the heat to medium. Add the remaining olive oil, minced garlic, and thyme to pan and cook for 1 minute, or until the garlic is golden. Add the rest of the ingredients (maple syrup, dry white wine, chicken broth) and give it a stir. Carefully place the pork chops back into the pan and continue to cook for about 15 minutes, or until the sauce has thickened to a nice glaze and the pork chops are fully cooked to an internal temperature of 160F.
Remove from heat and serve hot, spooning the extra glaze from the pan over the pork chops.
Notes
Cooking time of pork chops will depend on their thickness. If the pork chops are fully cooked before the sauce has thickened to your liking, remove them from pan and cook down the sauce for a few minutes. On the other hand, if your sauce cooked down too much and has started caramelizing but the pork chops are not done, add in a ½ cup of water or chicken broth and stir.