The addition of oats gives these hearty waffles a burst of flavor and fiber and the pop of red pomegranate seeds makes for a festive breakfast.
By Kelsey Hilts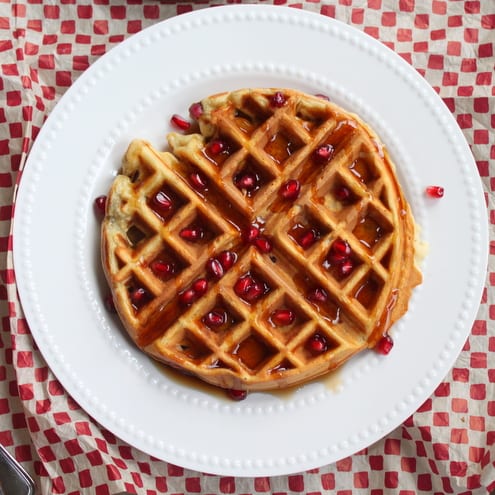 Pomegranate Oatmeal Waffles
Ingredients
1¾ cups flour
½ tsp salt
2 tsp baking soda
3 tsp sugar
1 Cup instant oats (using a flavored variety adds a new dimension, pomegranate flavor was used to make these)
2 eggs
1¼ cup milk
⅓ cup oil
½ cup pomegranate seeds + extra for top of waffle prior to cooking + garnish
Instructions
Mix the dry ingredients.
Beat in the milk, oil and eggs.
Stir in the pomegranate seeds.
Pour roughly 1 cup batter onto a lightly greased waffle iron that has been heated according to the manufacturer's instructions.
Sprinkle the top of the batter with another 1 Tbsp pomegranate seeds before closing the lid and cooking the waffle (optional).
Garnish the cooked waffle with pomegranate seeds and serve with maple syrup.