Dana Monsees
Food Blogger & Integrative Health Coach. Paleo-inspired, finger-licking delicious recipes…
Sponsored Post – A diverse wine region in the heart of France, discover wines from the Loire Valley.
Dig into this stunning side dish of stuffed butternut squash paired with a Vouvray wine from the Loire Valley.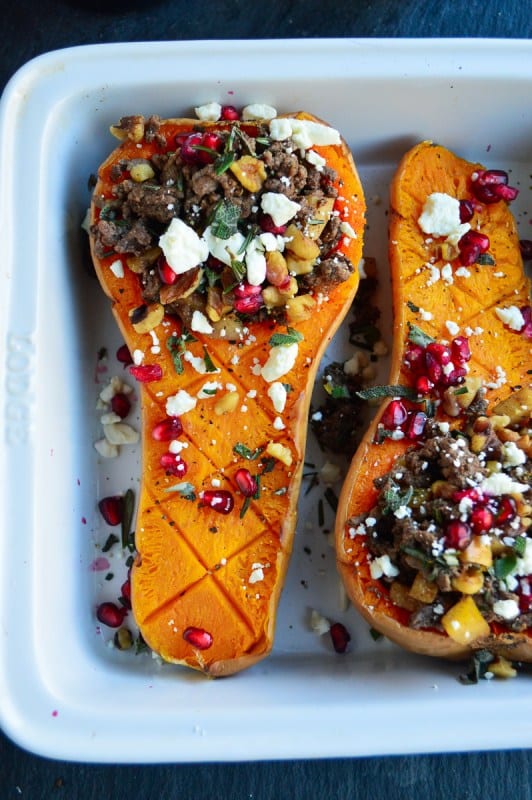 I studied abroad in France in college and did a lot of traveling around the Loire Valley, so this one is near and dear to my heart – and drinking wines from the Loire valley brings me right back to those fun times.
Before I started my studies at Sciences-Po (the political science school in France) and stay with my host family, who didn't speak a word of English, I traveled down from Paris through the Loire valley with my parents for a few weeks as we made our way down to the southwest part of France.
We visited countless Chateaux, wineries, did many wine tastings, and explored all the amazing sights (and foods!) the Loire valley had to offer. If you ever go to Loire, the two main things you will do will probably be to explore all the Chateaux, and the wineries (that are sometimes right next to the Chateaux!) Some of our favorites were Biron, Loches (where they had the cutest outdoor market I've ever seen and I did the most amazing cooking class – all in French!), the fabulous Château de Chenonceau and Château de Chambourd.
It was definitely an adjustment period for me – I was going to live in foreign country across the ocean for 6 months with a family I didn't know, and had signed an agreement with my school (Middlebury) that we wouldn't speak any english the whole time we were there, even with our American classmates from home. Mildly terrifying. The whole zero English EVER thing didn't happen 100% of the time, but we all did become pretty fluent when we were there, and it definitely helped that my host family had two teenage daughters who taught me a lot of how french is actually spoken, rather than the extremely grammatically correct versions you learn in school.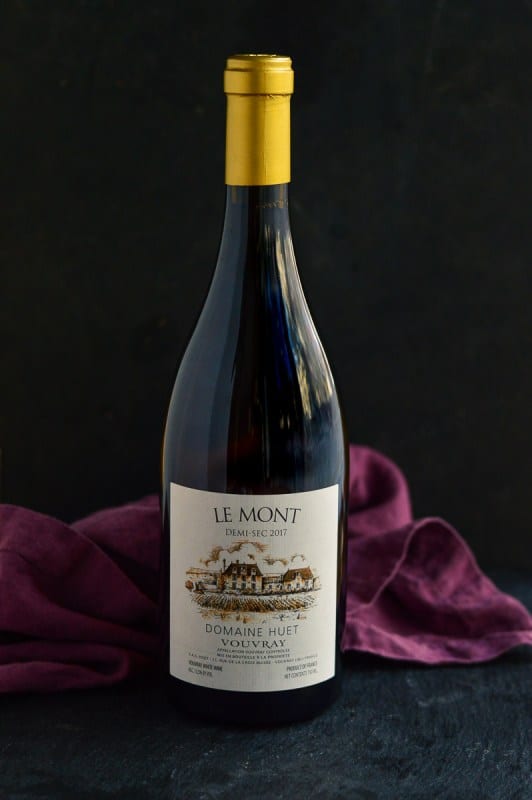 During my studies, I also participated in the Erasmus program – which is a shortened name for the European Community Action Scheme for the Mobility of University Students – where my American classmates and I traveled with European students who were also studying abroad in France to travel around the Loire valley. It was amazing to meet friends from all over Europe – and the craziest thing was, none of us had any language in common except French. Some spoke a little English, but we all had to communicate in French with our different accents, which was a trip! When you're learning a language you never really think of how it would be spoken with another country's accent. But I soon learned to understand people speaking in French with an Italian, German, British, Spanish, and many other accents!
It was all a beyond amazing time – I just wish I had somewhat of an appreciation or taste for wine before I studied abroad in France and explored the Loire valley! But it was there that I started to really understand and appreciate the complexities of wine: the grapes, the nose, the body, the place where it came from, and the careful process that is used at each property to craft a delicious bottle (or thousands of them)!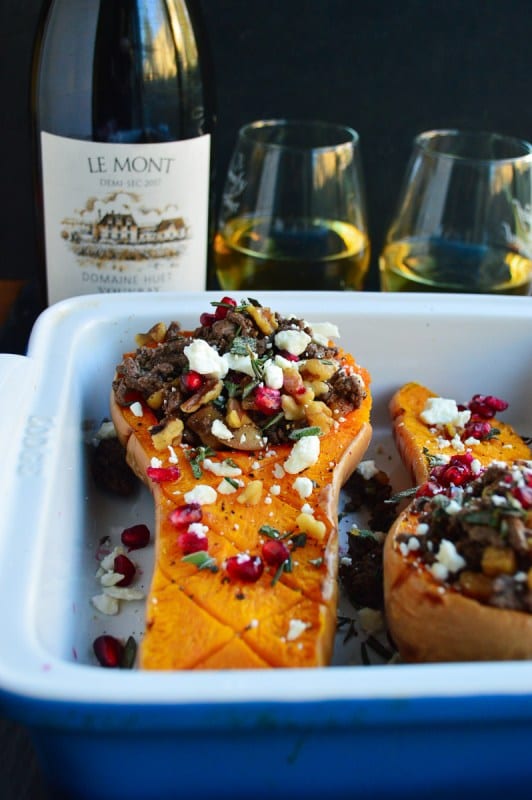 The wine we're working with today is a Le Mont Vouvray, a white wine made with white Chenin Blanc grapes that grow along the banks of the Loire River in the Loire Valley. It's demi-sec (meaning semi-sweet), and has a fruity aroma to it. Loire Valley wines have moderate alcohol, a super refreshing acidity and minerality which makes them great for pairing with food. And the best part is, you don't have to buy a super expensive bottle to find a great varietal. This Vouvray in particular is perfect for pairing with lighter dishes or those with a semi-sweet taste to them: like this stuffed butternut squash, which is the perfect dish to capture all the amazing flavors of fall!
Print
Pomegranate and Balsamic-Stuffed Butternut Squash with Loire Valley Wine
Author:

Dana Monsees

Prep Time:

10 minutes

Cook Time:

45 minutes

Total Time:

55 minutes

Yield:

4

servings

1

x
Category:

Side
1

medium butternut squash

1

lb ground bison (sub: ground beef)

1

large apple

1 Tbsp

ghee (divided)

4 Tbsp

balsamic vinegar

2 Tbsp

each fresh chopped rosemary and sage

1 tsp

minced garlic

1 tsp

sea salt

½ tsp

cinnamon

½ tsp

ground ginger

½ tsp

fresh ground black pepper
For topping:
Chopped walnuts
Feta cheese
Rosemary and sage
Optional: pomegranate seeds
For serving:
Instructions
Preheat the oven to 400F. Cut the butternut squash in half, remove the seeds, and place a few cross hatches on the fleshy part of the squash. Coat with 1 tsp melted ghee, sprinkle with a little salt and pepper, and place face down on a prepared baking sheet.
Bake for about 45 minutes, until the squash is easily pierced with a fork.
Meanwhile, prepare the filling. Heat a large cast iron skillet over medium low heat with the remaining ghee. Add the bison, breaking it up with a wooden spoon into small pieces. Season with salt, cinnamon, ginger and pepper. Add in the chopped rosemary and sage.
Turn the heat to low and simmer until the bison is cooked through, about 5-7 minutes. Watch it carefully – bison is much leaner than ground beef, so it will overcook much faster.
When the bison is cooked through, remove from the heat and stir in the balsamic vinegar.
Once the squash is done, fill the halves with the ground beef. Top with chopped walnuts, feta cheese, and more herbs, if you like. Pomegranate seeds would also be an amazing addition here!
Dana Monsees
Food Blogger & Integrative Health Coach. Paleo-inspired, finger-licking delicious recipes & nutrition tips + inappropriate humor & mean girls quotes.