Plum Ginger Yogurt Muffins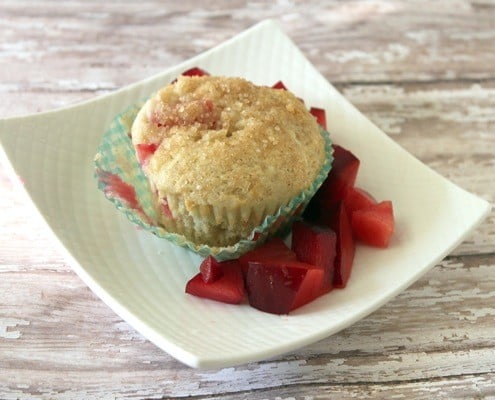 A simple yogurt muffin with chopped plums and crystallized ginger chips, and a sprinkling of raw sugar and cinnamon for an added crunch. Perfect for summer.
By Amrita Rawat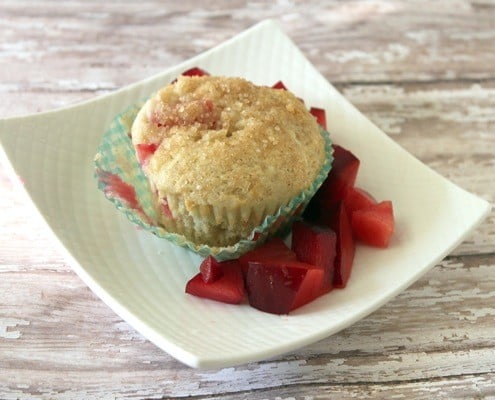 I am loving the fruits of summer… I've been buying raspberries, blueberries, and strawberries almost as a household staple for the past month. Fresh fruits are simply amazing in a homemade yogurt smoothie! Along with the berries, I often buy whatever else is on sale at the time… sometimes it's cherries, sometimes it's golden kiwis, and on this particular occasion it was plums.
Plums are delicious on their own but when they're baked with other spices, such as ginger or cinnamon, the flavors change (in a good way). The baked plums were subtle and just barely tart, followed by tones of ginger. I mixed cinnamon into some raw sugar and sprinkled it on top to add a bit of a crunch.
I wanted to make a healthier version of muffins and I have to say, this is my favorite and most versatile recipe for them. It uses no butter, but rather any oil you have on hand, along with a generous helping of any kind of yogurt (I love my non-fat plain!). The muffins are very fluffy and not dry due to the addition of fruits. It tastes like there is or should be butter in it but there isn't!
I shared these with many friends who loved it as an afternoon snack while at work. Since I'm not the biggest fan of cooked fruit and craved more plums than what was in the muffins, I chopped up some fresh plums and ate them alongside the cakes, which turned out to be the best combination, in my opinion.
I hope you enjoy these as much as we did!

Plum Ginger Yogurt Muffins
A simple yogurt muffin with chopped plums and crystallized ginger chips, and a sprinkling of raw sugar and cinnamon for an added crunch. Perfect for summer!
Ingredients
3 cups minus 2 tbs flour
1 tsp baking soda
2 tsp baking powder
heavy pinch of salt
dash of nutmeg
1 cup sugar
½ cup canola oil
1 egg
1 generous cup plain, unflavored yogurt
2 cups fresh plums chopped into small bits
1 tsp vanilla extract
¼ cup crystallized ginger chips
3 tbs Turbinado sugar + ½ tsp cinnamon for sprinkling
Instructions
Preheat oven to 385 degrees.
In a large bowl sift flour, baking soda, nutmeg, baking powder, and salt. Set aside.
In another large bowl whisk together sugar, oil, vanilla, egg, and yogurt. Add the dry ingredients and stir.
Add 1.5 cups plums and save the last half to place on top of the muffins right before baking (optional).
Stir in crystallized ginger chips (optional).
Add mixture to greased muffin pans. Sprinkle remaining plum pieces on top and press down lightly. Sprinkle turbinado sugar (or brown sugar) mixed with cinnamon over top.
Bake 20 to 25 minutes and allow to cool completely.
Notes
Feel free to swap out plum and ginger for raspberries and white chocolate chips, or other fruits!
Amrita Song
Amrita Rawat is the author of the blog Chai and Dumplings. Born in India and a lifelong resident of Atlanta, she recently moved to Saint Louis. Her love for food stems in part from its ability to bring cultures together and in part from how darn good it feels to eat a delicious meal. She loves traveling and has eaten her way through cities like Hong Kong, Paris, Budapest, Mumbai, and Shangri-la. Amrita is also a contributor to Sauce Magazine in St Louis.