If you can find them, use fresh plums to make the puree in this super-fudgey cake, but if not, plum jam will also suffice.
By Katherine Sacks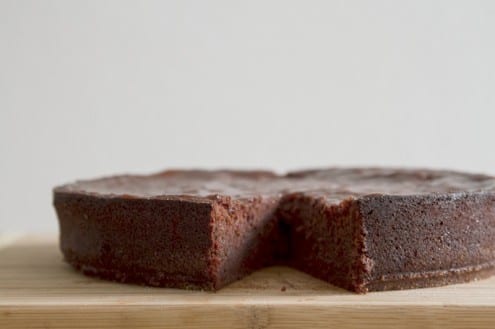 Plum and Chocolate Sacher Torte
If you can find them, use fresh plums to make the puree in this super-fudgey cake, but if not, plum jam will also suffice.
Ingredients
200 grams plum purée
100 grams sugar
200 grams butter
210 grams chocolate
5 eggs
160 grams sugar
85 grams flour
Instructions
Preheat the oven to 180°C. Butter an 8-inch springform pan and dust lightly with sugar.
Combine the plum purée and the sugar in a bowl. In a separate heat-proof bowl, combine the butter and chocolate. Heat chocolate mixture slowly over a water bath, stirring occasionally, until both the butter and chocolate are melted.
While the chocolate is melting, add the eggs to the bowl of a stand mixer fitted with a whisk. Begin whipping on medium speed and slowly rain in the sugar. Continue gradually adding the sugar, allowing the eggs to become light and fluffy and triple in volume. Increase speed and whip until the eggs are firm. When chocolate is melted, slowly fold ⅓ of the mixture into the egg yolks. Add the rest of the chocolate mixture and carefully fold it in. Next carefully fold in the plum mixture. Sift the flour into the mixture and fold it in. Pour the batter into the prepared pan and smooth out the top.
Bake cake for 35 to 40 minutes until the top and sides are fully set and starting to brown. Remove from oven and place pan on a cooling rack for 40 minutes. Remove cake from springform pan and place on cooling rack to cool completely. Top cake with jam, frosting, or powdered sugar and serve.
Katherine Sacks
Katherine Sacks is a Berlin-based freelance writer and recipe developer specializing in travel, food, lifestyle, and health topics. A graduate of Drexel University's culinary arts department and Northwestern University's Medill School of Journalism, Katherine combines seven years of restaurant experience with her reporting and editing background. Her work has appeared in Chicago magazine, the Chicago-Sun Times, and FoodandWine.com, among other publications. She also contributes to culinary trade publication StarChefs.com, Forbes Travel Guide, and Snooth Eats, and blogs at LaVitaCucinare.com.