For every happy pig that gets to end its days as braised shoulder with haricot beans, there is a horror story to be told about intensive pig farming.
By Lars Hinnerskov Eriksen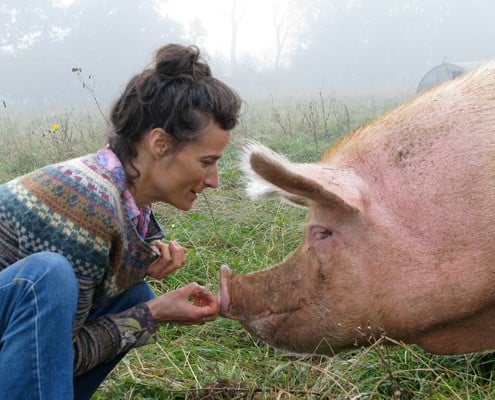 I've met plenty of happy pigs in the last couple of weeks. A host of new restaurants in my corner of Scandinavia have heeded the advice of Fergus Henderson and adopted the philosophy of 'nose to tail' cooking. These restaurants include Bastard in Malmö and Nose2Tail (the name and pig logo sort of gives the game away) in Copenhagen – both are places where locally sourced and organic pork take centre stage on the menu.
But for every happy pig that gets to end its days as fatty rillettes or braised shoulder with haricot beans, there is a horror story to be told about intensive pig farming. And no one tells that story in a more compelling and convincing manner than Tracy Worcester and her documentary Pig Business, which exposes how intensive farming is afflicting a huge cost on society in terms of the environment and our health.
While big pork producers will argue the case for 'cheap', Pig Business takes them to task by looking at the hidden costs of pollution, cruelty to animals and how the use of antibiotics in farming can help spread drug-resistant strains of diseases such as E.coli and MRSA.
Worcester should not be dismissed as a posh eco-warrior (she is married to the Marquess of Worcester from the House of Beaufort family) because her heart is undoubtedly in the right place. (Speaking of her marriage, Worcester told the Observer: "When I married Harry [in 1987], with his fuck-off title, I calculatedly thought: 'I don't have to pay the mortgage any more – what do I really care about?'"). She takes no prisoners in her pursuit of the truth behind how American pork producing giant Smithfield Foods is using leniency in European regulation to expand factory farms in Poland.
Channel 4 in the UK initially had to postpone showing the film until edits had been made to meet legal demands, but thanks to a spirited campaign, and prominent backers such as an environmental lawyer  Robert Kennedy Jr (son of the late Bobby Kennedy), the film now has a global following and is available free on YouTube. Last month it was shown to a packed audience on Capitol Hill in Washington and in February it was screened to MEPs in the European parliament.
Worcester's documentary style might not have the same pizazz as those of Morgan Spurlock or Michael Moore, but the images (there is a particular harrowing sequence of footage showing dead piglets swimming in a pool of waste) are powerful and the argument should hit home with anyone who has the merest sliver of humanity and decency.
As food enthusiasts we are obsessed with provenance, farmer's markets and sourcing the most tasty breeds. Sometimes we need a documentary like Pig Business to open our eyes to the wider debate and pay notice to how we behave, not just as consumers or foodies, but also as responsible human beings.
Have a look for yourself.
Lars Hinnerskov Eriksen
Lars Hinnerskov Eriksen lives in Copenhagen where he writes about food and football for the Guardian newspaper. Prior to that he spent 10 years in London where he studied journalism, worked on the Guardian's newsdesk and enjoyed a passionate love affair with British food culture (stop sniggering at the back) and the pub.