Even though you might not live where the weather is "picnicy" right now, these rolls are great for all occasions.
By Denise Kortlever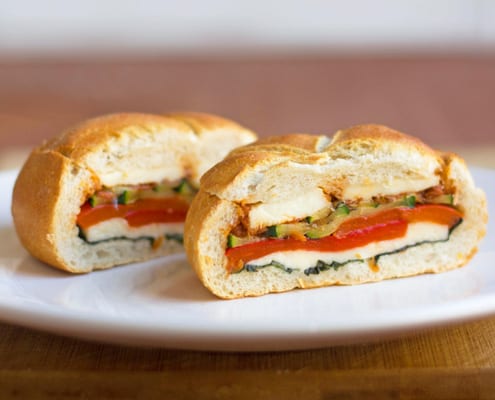 While you can just layer a simple sandwich with the ingredients of this recipe, I think a picnic bread (or cobb loaf/stuffed bread/whatever you want to call it) is really worth the effort. All the ingredients remain in place – so a loaf makes a perfect portable dish – and the bread really soaks up all the delicious flavors of the filling. You could also make one big loaf, but I often opt for individual portions instead.
You can vary with the ingredients you love. Some ideas: use feta or parmesan instead of the mozzarella, add some prosciutto or salami, substitute artichoke hearts or grilled eggplant for the vegetables and use a pesto instead of the sundried tomato spread.
Bread rolls stuffed with delicious layers of cheese and vegetables.
Ingredients
4 small bread rolls (crispy on the outside)
1 zucchini, sliced in thin rounds
4 tablespoons sundried tomato spread (or pesto/tapenade)
a handful of fresh basil leaves
7 oz. (200 gr.) mozzarella cheese
2 roasted red bell peppers
Instructions
Heat a grill pan and grill zucchini slices, until they are somewhat charred.
Use a small knife and cut the top third off each bread roll. Scoop out bread, but leave a 0.5 inch (1 cm) shell.
Spread the inside of the rolls with half the tomato spread, then add the basil leaves and half the sliced mozzarella. Add the grilled zucchini, the roasted red peppers and the other half of the mozzarella and sundried tomato spread.
Replace the tops of the bread rolls and press down firmly.
Place a can (or something heavy) on top of each roll to weigh down. Cover with foil and place in the fridge for at least 30 minutes (longer is better).
Let come to room temperature and serve cold or bake for 10 minutes in a 400F (200C) oven until the breads are crispy and cheese has melted.
Denise Kortlever
Denise Kortlever is a freelance culinary journalist and works for a variety of clients and publications. She lives in Amsterdam, but often travels the world to write about the most inspiring food trends and great restaurants worldwide. She shares her recipes and culinary experiences on her blog: tlt-thelittlethings.com.