The Phoenix Christmas Cocktail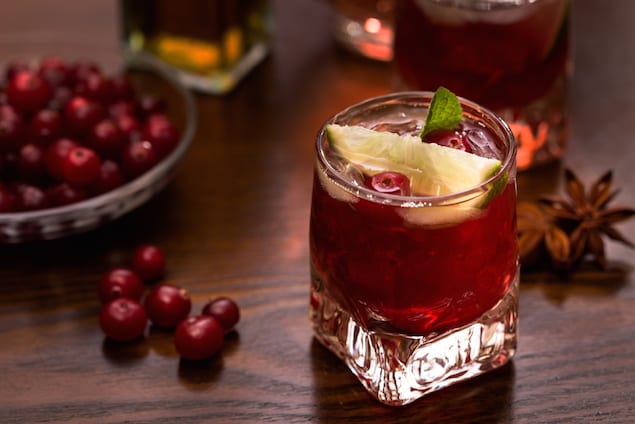 This cocktail has all of the traditional holiday flavors, but with a tip of the hat to the Valley of the Sun. Fresh lime is paired with cranberry and given further depth with a few dashes of Angostura bitters.
By Sarah and Mark Burbridge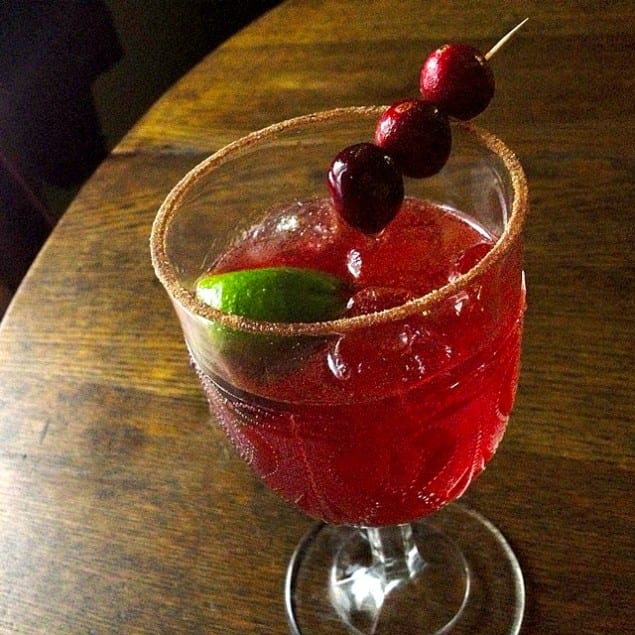 December dawns in Phoenix (and a handful of other places around the globe) with lights, ornaments and highs of 73 degrees. Thus, hot buttered rum and cozy wassail do not top the lists of holiday cravings. In further defiance of North Pole expectations, the citrus trees of Arizona give up their second harvest of the year in late November and early December. In the spring, these immediately go into a poolside mojito – but I don't think even the Grinch could drink mojitos while watching the neighborhood garland and wreaths go up.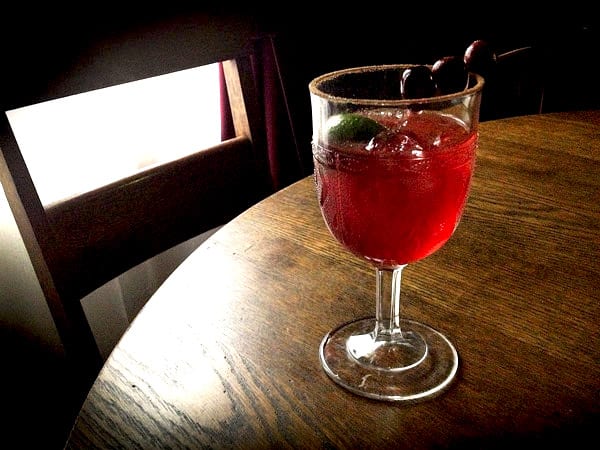 The Phoenix Christmas Cocktail has all of the traditional holiday flavors, but we created it with a tip of the fuzzy, red hat to the Valley of the Sun. Fresh lime is paired with cranberry for a seasonal taste and color and then given further depth with a few dashes of Angostura bitters. A topping of cinnamon and sugar conjure tastes of Christmas' past and add a nice textural element to the cocktail. Furthermore, the vodka & juice base of this recipe can be made in a large pitcher beforehand so that individual drinks can be quickly made up for your backyard Christmas BBQ.

Phoenix Christmas Cocktail
A cocktail with traditional holiday flavors, but a tip of the hat to the Valley of the Sun. Lime is paired with cranberry and dashes of Angostura bitters.
Ingredients
2 oz (59 ml) Vodka*
4 oz (118 ml)Sweetened Cranberry Juice
¼ Lime
2-3 dashes of Angostura Bitters
Cinnamon-Sugar (enough for rimming the glass and a sprinkle on top)
Ice
Fresh cranberries (optional garnish)
Instructions
On a small plate sprinkle a layer of cinnamon-sugar.
Run the lime wedge around the edge of the glass.
Dip the edge of the glass into the layer of cinnamon-sugar so that it gets evenly coated.
Squeeze the lime wedge into the glass (as much juice as you can get out of it) and then place the lime wedge itself in.
Pour in vodka, cranberry juice and bitters. Stir and then add ice.
Sprinkle with cinnamon-sugar and garnish with fresh cranberries. Serve immediately.
Notes
*Tequila also works very well in this drink, and gives it even more of a southwestern flair.
Sarah & Mark
Sarah (whiskey swilling writer) and Mark (doc and dishwasher-loading critic) created the site PickledCapers.com for those who love to gather friends in their kitchen; to break out the cake pans, the sauciers and the BBQ brushes; to clink glasses together in celebration; and to shine up new shoes for nights destined to deserve "remember that time…".