Season with whatever fresh or dried herbs you have on hand, and drizzle with some wonderful olive oil. Done.
By Kathy Bechtel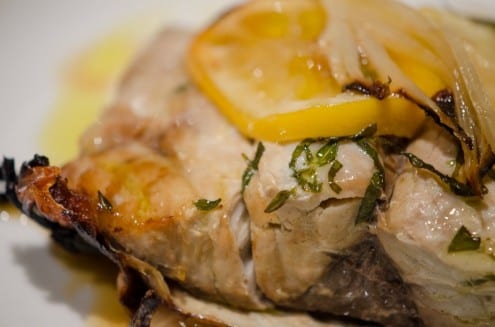 This recipe is intended as a framework, there are many ways to make it your own. Include any vegetable that would cook through in the same time it would take to cook your fish, you could even use potatoes if they were thinly sliced. You can use a whole fish – which are hard to find in my local seafood vendors, unfortunately – or a piece.

Pesce al Cartoccio – Fish in a 'Packet'
Season with whatever fresh or dried herbs you have on hand, and drizzle with some wonderful olive oil. Done.
Ingredients
1 onion, sliced thin
1 head fennel, thick outer leaves removed, cored, sliced thin
Extra virgin olive oil
Kosher salt and freshly ground black pepper
2 lbs. fresh fish, bluefish, striped bass, cut into 6 portions
1 lemon, thinly sliced
Fresh herbs - basil, thyme, rosemary
Instructions
Preheat oven to 400°, or build a charcoal fire and allow to burn down to coals.
Tear 6 15" sheets of heavy duty aluminum foil, and lay on the counter.
Distribute the onion and fennel slices on the 6 sheets, placing them in a small pile in the center of each sheet. Season with salt and pepper, and drizzle with olive oil.
Place one portion of fish on top of the fennel and onion. Season with salt and pepper. Place one or two slices of lemon on top of the fish, then any herbs you may wish to use. Drizzle with more olive oil.
Wrap the fish and herbs tightly in the aluminum foil, sealing well. Place the foil packets on a sheet pan and put in the oven, or place them directly on the hot coals, if you are using a fire. Cook for 20 minutes.
Remove from heat, and serve.
Kathy Bechtel
Kathy Bechtel's obsession with food and cooking began as a teenager. After years following a traditional career path as a telecommunications engineer, she left to attend culinary school and wine training, and is now combining her passions for food and wine, the outdoors, and travel as owner and Culinary Tour Director of Italiaoutdoors. In this role, Kathy leads small bicycle, skiing and walking tours that explore the authentic regional cuisines, local products and undiscovered wines of Northeastern Italy.