It's easier to separate egg yolks from whites when the eggs are cold. Make sure no yolk gets in the whites. They won't whip up if there is any grease of fat in them.
By Kathy Gori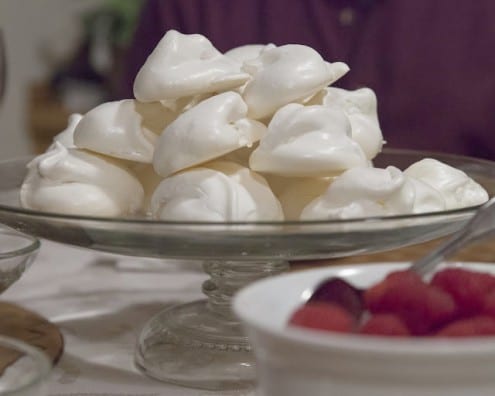 Sweet, Light, and Crunchy Meringues
It's easier to separate egg yolks from whites when the eggs are cold. Make sure no yolk gets in the whites. They won't whip up if there is any grease of fat in them.
Ingredients
6 large egg whites at room temperature
⅝ cup of superfine sugar, aka caster sugar
1 cup of powdered sugar
Instructions
Preheat the oven to 212 degrees.
Line 2 cookie sheets with parchment paper and set them aside.
Put the egg whites into a large, clean, dry, mixing bowl.
Beat the egg whites on medium speed. Do this until they start to form soft peaks. Turn the speed of the hand blender up and add in the superfine sugar about a teaspoon at a time.
After each teaspoon, whip it for about 4 seconds or so to make sure it's incorporated, adding the sugar slowly makes sure you don't get weepy meringues. Remember you also do not want to over beat the egg whites as that will cause them to break.
When it's ready, the egg whites should look thick and shiny.
Now, turn off the beater. You are done with it.
Sift the powdered sugar into the egg whites ⅓ at a time. Fold it gently into the mixture with a spatula or big spoon. Again, be careful about over-mixing. You want it to look all pillowy and fluffy and hold its shape straight up.
Scoop up spoonfuls of the fluffy meringue and gently deposit it on the parchment-lined cookie sheet in small mounds.
Pop them into the oven and bake them for about 1 and ¼ to 1 and ½ hours.
When they're properly done, the meringues will sound crisp when you tap them on the bottom .
Let them cool on the trays, or you can move them to a cooling rack.
Serve them up. One way to serve them is plain with some berries, or one can go totally decadent and whip ricotta cheese with some crushed fresh berries and sandwich two meringues together, bottom to bottom. I'm not recommending this, but just sayin'.......
Kathy Gori
Kathy Gori has a passion for Indian cooking. She brings 20 years of cooking experience and a natural flair for communicating her culinary adventures to her blog The Colors of Indian Cooking "A Hollywood Screenwriter, A Bollywood Kitchen". Food writer, commercial and cartoon voice actor (Rosemary the telephone Operator in Hong Kong Phooey among others) and screenwriter (Chaos Theory starring Ryan Reynolds) Kathy is also a Clio award-winner. She and her screenwriting-partner husband Alan live with their Siberian Husky Patsy in Sonoma, California.