We rarely have bad pizza, but here's how to make great skillet pizza with a thick crust when you don't have a stone.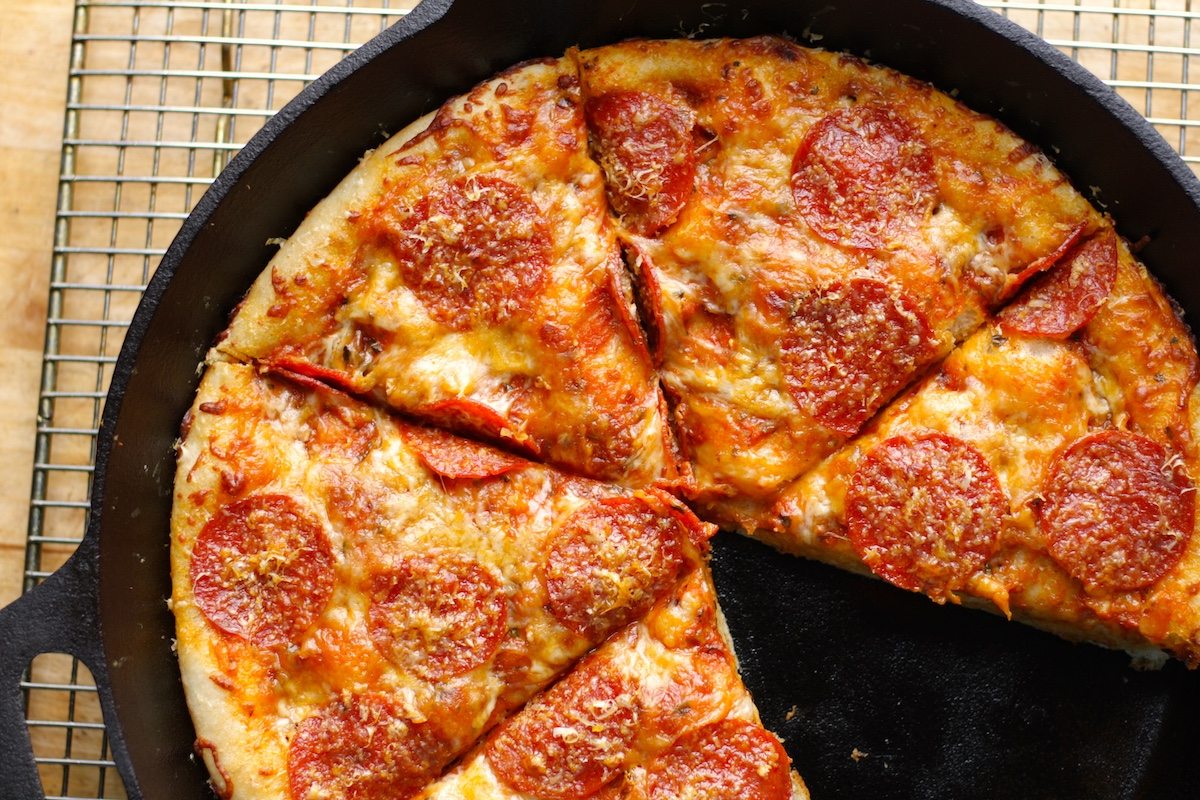 We're making pizza in a cast-iron skillet. A cast-iron skillet is a great option for making pizza at home with a thick, crispy crust. It's also a particularly good choice if you don't have a pizza stone to use.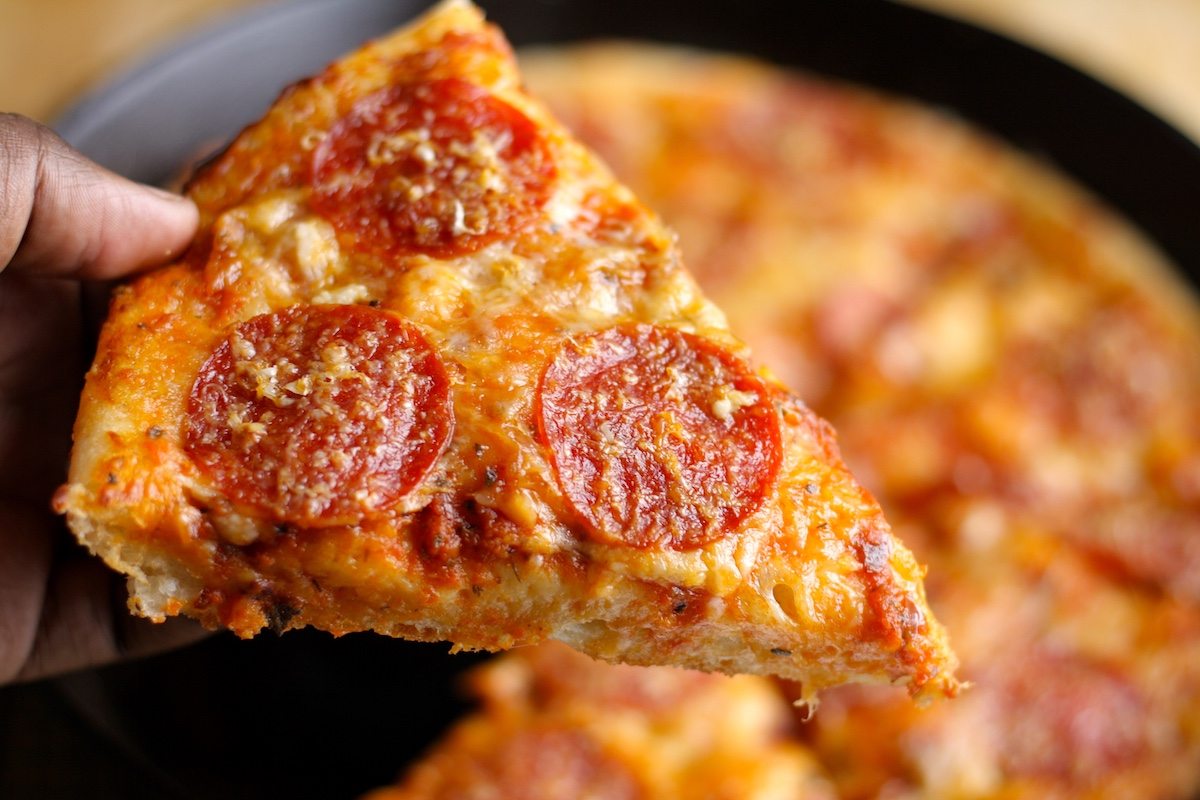 I did a lot of research in order to come up with the recipe for the dough I shared previously and the steps you'll read more about in this post. From Bon Appétit to Food Network to America's Test Kitchen to Serious Eats, I took a little bit from each site to come up with this recipe.
The great thing about pizza is that it's difficult to make bad pizza. I mean . . . think about it . . . any pizza, no matter how good or bad it is, is better than no pizza at all.
Just the other week I was invited over to a friend's house with the lure of making pizza. It wasn't until I arrived that he confessed to the truth: the dough we were using was from a failed roti recipe and our pizza dinner would be an experiment. Though the circumstances weren't ideal, our "pizza" concoction was still relatively tasty.
That's all to say don't be scared of making this cast-iron skillet pizza at home. Anything with enough cheese is sure to satisfy even the pickiest of eaters.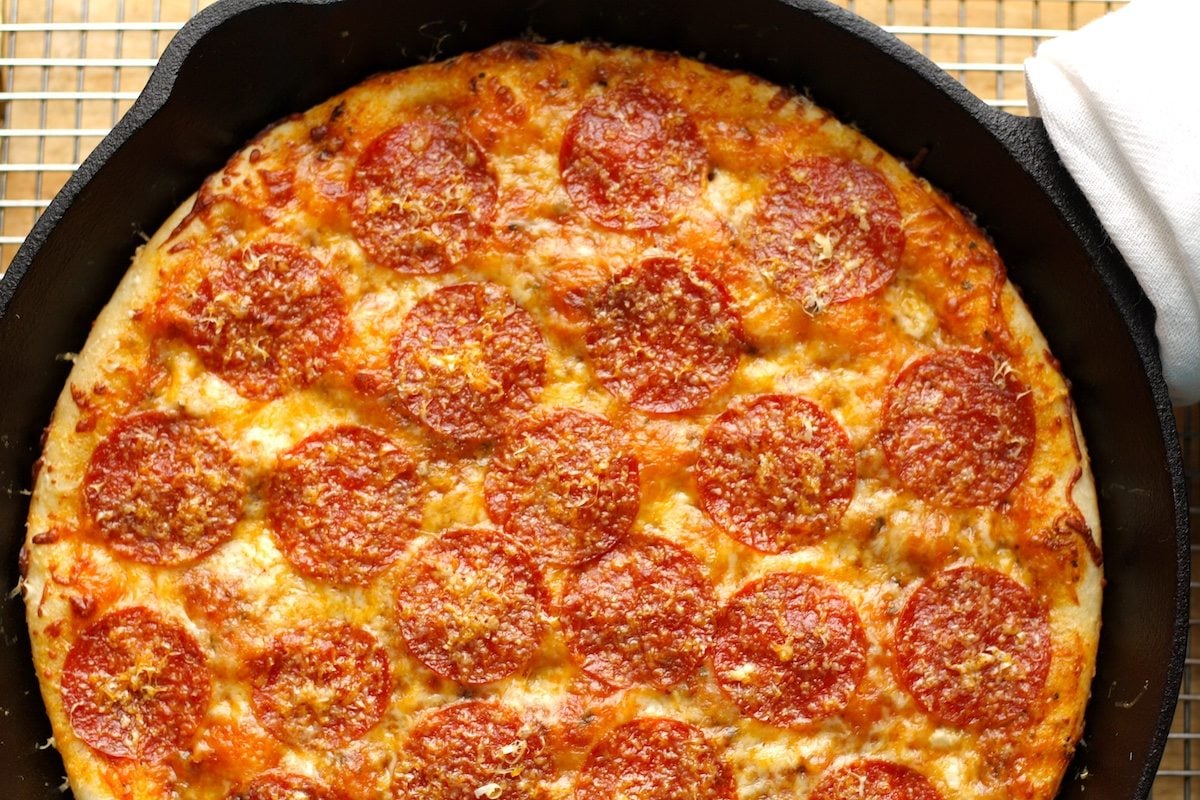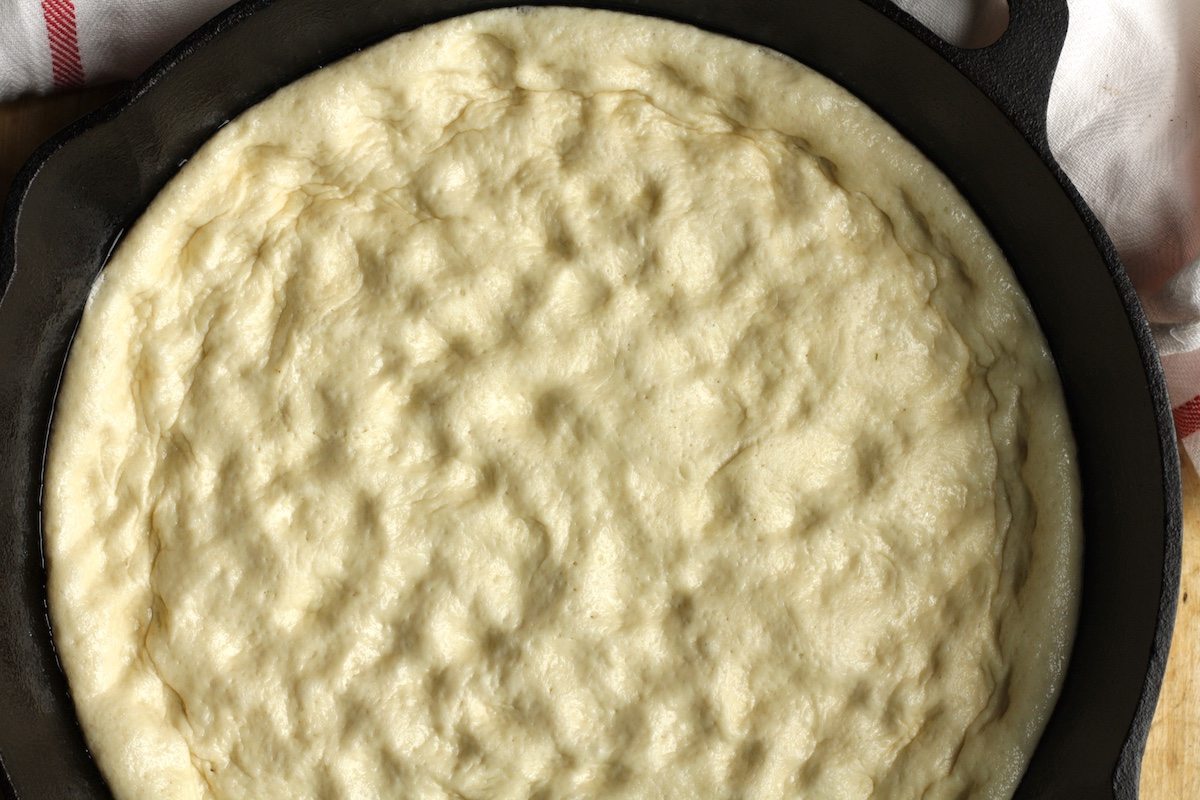 Click here for the dough recipe and follow the steps below to make it in your skillet.
Print
Perfect Skillet Pizza
We rarely have bad pizza, but here's how to make great skillet pizza with a thick crust when you don't have a stone.
Author:

Aaron Hutcherson

Prep Time:

1 hour

Cook Time:

20 minutes

Total Time:

1 hour 20 minutes

Yield:

2

to

4

servings

1

x
Category:

Main
2 tablespoons

olive oil
One Pizza Dough Recipe (or you can use store-bought Click the link above for the recipe)

½ cup

jarred pasta sauce

1 cup

shredded mozzarella cheese

3 ounces

sliced pepperoni
Romano cheese (for grating)
Instructions
Add the oil to a 12-inch cast-iron skillet and swirl to coat. Transfer the pizza dough to the skillet and gently press into a flat disc the diameter of the skillet; let rise for 1 hour. (If not using my pizza dough recipe, you will want to add more oil to the pan and toss the dough in it to coat as continuing from my recipe should already leave the dough coated in some oil.) Meanwhile, preheat the oven to 500?F.
Press the dough into the corner of the pan with your finger tips. (It should resemble the photo above.) Spread the sauce over the top of the dough, sprinkle with the mozzarella cheese, top with the pepperoni slices, and grate as much Romano cheese as you want on top. (Don't worry about leaving space along the edges; in this instance you actually don't want to leave much space at all.)
Place the skillet on the stove over medium to medium-high heat and cook for 3 minutes. This helps the skillet heat up and starts to almost fry the crust a little bit in the olive oil.
Transfer the skillet to the oven and cook until the cheese is golden brown and crisp along the edges of the pan, 10 to 15 minutes. Let cool slightly before serving.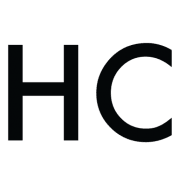 Aaron Hutcherson
I am a classically trained chef, writer, and lover of all things food. My passion for food is even greater than my love of sleep (which is saying a lot). Hopefully my recipes will inspire you to go out and cook something of your own.