Here's how to make perfectly crispy popcorn shrimp that is the ultimate pair with a cold beer.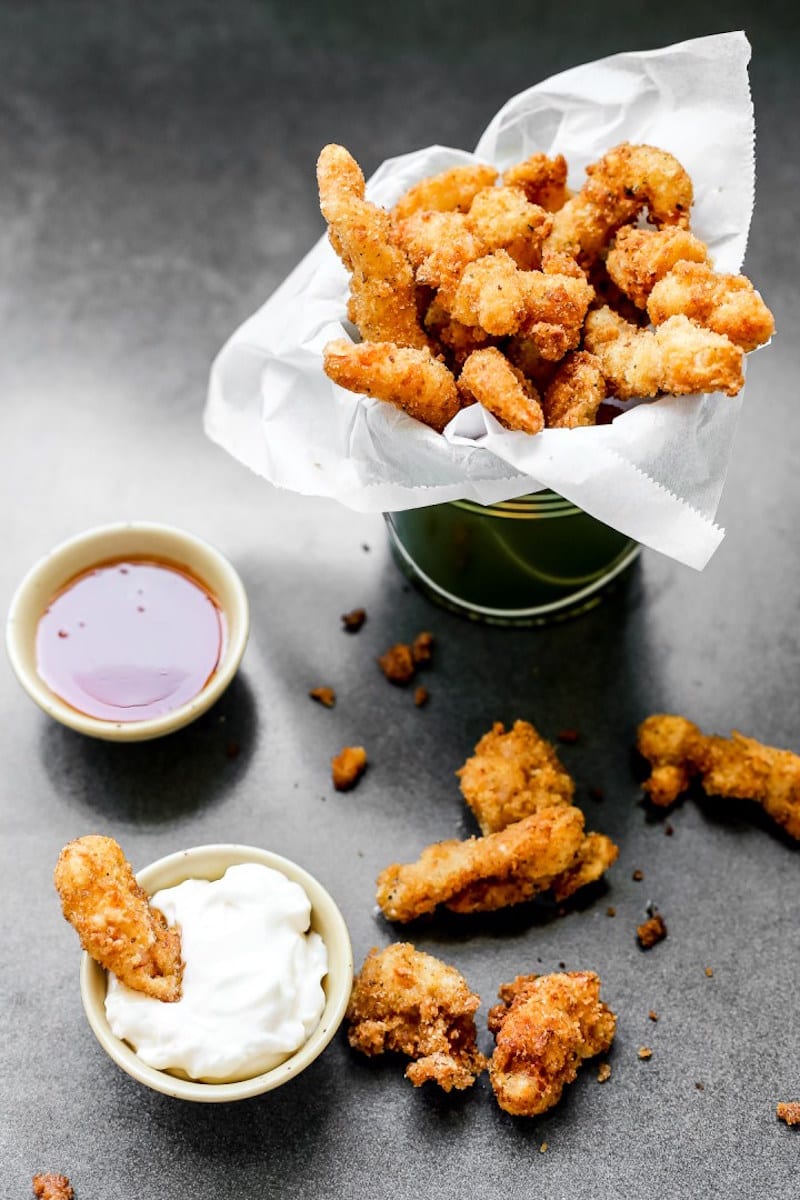 Popcorn Shrimp is a type of deep fried breaded and/or battered shrimp seasoned with spices and served with different dipping sauces. Though the origins of this dish is not documented it generally agreed upon that it came from the United States' Cajun South and claimed by a restaurant chain called Red Lobster. It was during the 1970s when it all started when shrimp was a popular seafood choice, during those days Red Lobster was growing, traditionally they were popular in serving shrimp cocktails but creating a much more manageable way to plate and eat seafood was the priority and the breaded and fried version was then created and proved to be successful.
This is quite easy to make as well as to cook, it will only take you around 3 minutes. Large shrimps though is recommended for easy preparation you can still use the small ones or even the broken pieces. The spice and the dip defines it all so spice it up and serve it with your favourite dip. And is goes perfectly with beer! Just saying
Print

---
Author:

Ang Sarap

Total Time:

13 minutes

Yield:

7

servings

1

x
Shrimp
1

kg shrimps (peeled and deveined)

1½ cup

all-purpose flour

¼ cup

cornstarch

1½

beer

1 cup

panko breadcrumbs
salt
oil (for deep-frying)
Cajun Seasoning
1 tsp

garlic powder

1 tsp

paprika

½ tsp

ground black pepper

½ tsp

onion powder

½ tsp

cayenne pepper

½ tsp

dried oregano

½ tsp

dried thyme

½ tsp

red pepper flakes
---
Instructions
Pat dry shrimps with paper towels, give it several score it on the sides this will help the batter adhere better to the shrimps. Set aside.
Combine Cajun seasoning in a small bowl then divide it into two equal amounts. Season shrimps with one part of the Cajun seasoning and salt.
Combine together flour, cornstarch and remaining Cajun seasoning. Add the beer and mix until well combined.
Place breadcrumbs in a large plate. Set aside.
Prepare a deep fryer or wok filled with oil for deep frying, heat up to 180C.
One by one dip shrimp in the batter then into the bread crumbs then drop carefully into the hot oil. Do it with the remaining but do it in small batches. Cook until golden, this will take around 3 minutes.
Place cooked shrimps in a paper towel lined plate to remove excess oil, season with salt then serve with your favourite dip. I used aioli and sweet chilli sauce.
Prep Time:

10 minutes

Cook Time:

3 minutes

Category:

Appetizer
Ang Sarap
Hi I am Raymund a Filipino living in New Zealand, I'm not a cook nor a chef but I love cooking and it is my passion. My real job is an IT Professional whose devotion is to develop applications (I have a Software Development blog for those who might be interested), my brain is abused at work on a daily basis so cooking at the end of the day acts as my therapy for stress release. I have been cooking since I was 7 years old and since then almost every day I prepare our dinner and weekend meals, I usually try to cook dishes that we had tried and ordered in different restaurants that's why you will see a lot of varieties at my blog Ang Sarap (angsarap.net). I learned cooking mostly by observing my Aunt who cooks for us when I was younger, I learned to bake by assisting my Mom during my younger years and for the native dishes I learned it from my Grandmother. My other passion is photography which explains the photos you see here and travelling which explains the variety of dishes and reviews of restaurants from all over the world.