The best lava cake ever. This recipe creates molten chocolate and peanut butter goodness which is hard to beat.
Have you heard about lava cakes? They look just like regular cakes on the outside, but the best part is the oozy filling in the middle. This recipe creates some molten chocolate and peanut butter goodness which is hard to beat.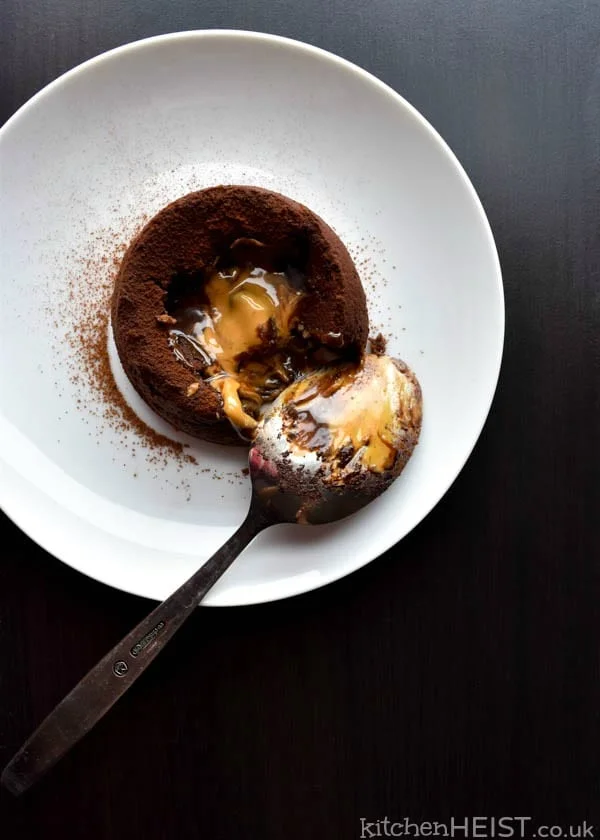 The original post and more recipes can be found at kitchenheist.com
Print
Author:

kitchenHEIST

Yield:

3

1

x
Category:

Desserts
100 g

3.5 ounces Chocolate (40% Cocoa Solids)

50 g

1.7 ounces Butter + extra for ramekin coating

1

medium Egg

1

medium Egg Yolk

40 g

1.4 ounces Sugar

15 g

0.5 ounces Flour

45 g

1.6 ounces Peanut Butter
Cocoa Powder (for sprinkling)
Vanilla Ice Cream (to serve)
Instructions
Preheat oven to 200C (400F)
Melt chocolate and butter in a water bath or microwave in short bursts. Mix until well combined. Mixture should be warm.
In a separate bowl whisk whole egg, egg yolk and sugar until pale, fluffy and all the sugar has dissolved.
Combine melted chocolate with egg mix. Add flour and fold (mix gently) just until even texture is achieved.
Butter ramekins, sprinkle with cocoa powder and shake so it's coated with an even thin layer (sides as well as bottom). Pour excess out.
Pour 55g of cake mix into each ramekin. Place 15g dollop of peanut butter in each and top with equal amount of leftover cake mix (approx. 30g each).
Bake for approx. 11-12 min. Once done cake should look raised/puffed, but still feel very soft once touched because it's liquid inside (it will sink back in once removed from the oven). It should come out easily once flipped on a plate, in case it does not, pass a knife around the edge of the ramekin being careful not to pierce the actual cake.
Serve immediately once it's cooked with a sprinkling of cocoa powder and ice cream on the side.
Notes
If you do not like peanut butter this recipe works great for 'chocolate only' molten lava cake. Skip the peanut butter and bake it for slightly less.