Cocoa Krispie Treats stuffed with peppermint chocolate cookies and topped with peppermint crunch candy.
By Taylor Kadlec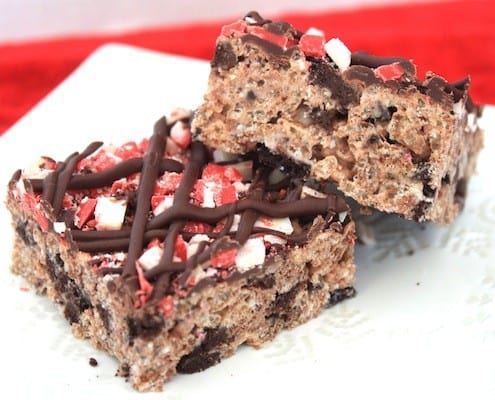 'Tis the season for all things sweet and sinful, right?  Like many other bakers, there is no other time of the year that I bake more than around Christmas time.  Whether it's treats for my co-workers, cookies for gift bags, or just a batch of brownies to munch on throughout the week, I seem to be making something almost every other day.  Which means on the days I'm not making something, I'm thinking of what I want to make next.  This recipe for a Christmas-fied rice krispie treat was one of my dreamt-up treats that I couldn't wait to make happen the next day.
They came out even better than I had imagined in my head.  I loved the crunch from the chopped peppermint chocolate cookies and the added peppermint flavor from the Andes Peppermint Crunch candies on top.  Plus, they look festive. They make a great addition to any cookie tray or goodie bag this holiday season.

Peppermint Crunch Cocoa Krispie Treats
Cocoa Krispie Treats stuffed with peppermint chocolate cookies and topped with peppermint crunch candy.
Ingredients
4 tablespoons unsalted butter
1 (10 oz) package mini marshmallows
4 cups Cocoa Krispies or any chocolate rice cereal
14 Peppermint Chocolate Cookies (such as peppermint Oreos), roughly chopped
2 cups semi-sweet chocolate chips
15 Andes Mint Peppermint Crunch Candies, chopped or 1 cup Andes Mint Peppermint Crunch Baking Chips
Instructions
Line 9x13" baking dish with aluminum foil and lightly spray with cooking spray. Set aside.
In large pot, melt butter over medium heat. Once melted, add marshmallows and stir until completely melted.
Once melted, add the Cocoa Krispies and chopped Oreos and stir until well combined.
Firmly press mixture into prepared pan.
To melt chocolate chips, place them in a microwave safe bowl and microwave in increments of 30 seconds, then transfer to a plastic baggie.
Once chocolate is in plastic baggie, cut the very tip of one corner off, then drizzle half of it over krispie treats.
Finally, sprinkle Andes chips over the melted chocolate and lightly press down into the chocolate so they stick.
Drizzle remaining chocolate over the chips.
Place in refrigerator for about 15 minutes to let the chocolate harden.
Cut into squares and enjoy!
Taylor Kadlec
Taylor Kadlec is a lover of all things food including baking, cooking, and of course, eating. She is a self-taught baker and cook, and she shares her kitchen adventures on her blog Greens & Chocolate, where healthy cooking meets sinful indulgence.