One of the best uses for bottled pasta sauce, this Chicken Puttanesca is a great way to use pantry staples such as capers and olives.
By Marnely Rodriguez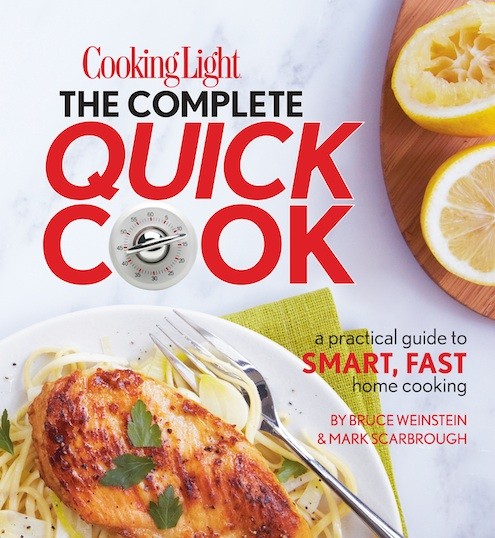 Sure, sometimes I have 3 hours to make dinner and one more hour to clean up and do dishes. But let's be realistic, sometimes all we have is 30 minutes. And no, I'm not saying just pop something in the microwave that's been previously frozen and re-frozen, but there are quick and delicious meals that can be put together in a short time and will be healthy and will taste great.
The only catch? Having a well-stocked pantry will save you from having to run to the store after a busy work day, so here are a few tips shared by Bruce Weinstein (@bruceweinstein) and Mark Scarbrough (@markscarbrough) in their new book "Cooking Light: The Complete Quick Cook":
Organize your pantry: Keep similar products together, i.e. all the flours together, all the vinegars together.
Keep a dry-erase board near the pantry, to write down products as you run out of them.
Consider your freezer and refrigerator part of your pantry. Items such as frozen shrimp or unsalted butter are some ideas to keep you cooking!
One of the recipes that called out to me the most was the Chicken Puttanesca, because we've had a jar of unopened capers and another one of olives starring back at us for the few weeks. What better recipe to make than a hearty pasta dish? Specially since you can use whatever pasta you have on hand (we had spaghetti) and instead of chicken breasts, we used chicken thighs that we cooked and shredded into the sauce. And honestly, we all have a jar of pasta sauce somewhere in our pantry!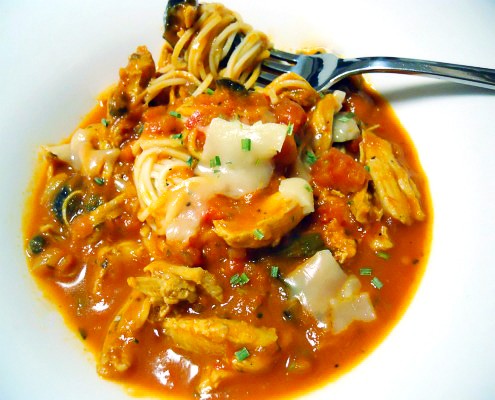 "The Complete Quick Cook" not only has recipes that are quick and simple, but Bruce and Mark share with us tips and tricks on how to make our prepping, cooking and cleaning much more efficient. The more efficient the setup of your kitchen, the faster you'll be making meals. For example, keep utensils you typically cook with in the drawer next to the stove,  not the drawer across the kitchen!
One of the best uses for bottled pasta sauce, this Chicken Puttanesca is a great way to use pantry staples such as capers and olives.
Author:
"Cooking Light: The Complete Quick Cook" by Bruce Weinstein & Mark Scarbrough
Ingredients
8 ounces uncooked refrigerated fettuccine
2 teaspoons olive oil
4 (6-ounce) frozen skinless, boneless chicken breast halves
2 cups tomato-basil pasta sauce
¼ cup coarsely chopped pitted kalamata olives
2 teaspoons capers
¼ teaspoon crushed red pepper
¼ cup (1 ounce) shaved Parmigiano-Reggiano cheese
Chopped fresh basil or basil sprigs (optional)
Instructions
Cook pasta according to package directions, omitting salt and fat. Drain and keep warm.
Heat oil in a large nonstick skillet over medium-high heat. Cut chicken into 1-inch pieces.
Add chicken to pan. Cook chicken 5 minutes or until lightly browned, stirring occasionally.
Stir in pasta sauce, olives, capers, and pepper; bring to a simmer.
Cook minutes or until chicken is done, stirring frequently.
Arrange 1 cup pasta on each of plates; top with 1½ cups chicken mixture.
Sprinkle each serving with 1 tablespoon cheese. Garnish with basil, if desired.
Notes
CALORIES 457; FAT 9.4g (sat 2g, mono 4.4g, poly 1.1g); PROTEIN 48.1g; CARB 38g; FIBER 2.8g; CHOL 103mg; IRON 2.3mg; SODIUM 538mg; CALC 88mg
Marnely Rodriguez-Murray
Marnely Rodriguez-Murray is the author of the food blog Cooking with Books. A graduate of The Culinary Institute of America, she has worked as an Overnight Bread Baker in Colorado, a Chocolate Maker in Virginia as well as a Pastry Cook on the whimsical island of Martha's Vineyard, just to name a few. She currently resides on Martha's Vineyard with her chef-husband, where they are both on an endless search for Caribbean flavors, new culinary trends and gastronomic inspiration.