Pennsylvania Dutch Apple Pie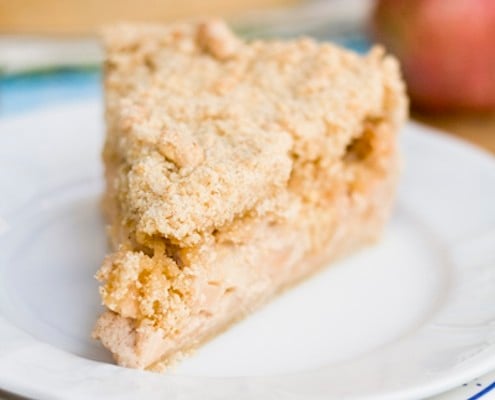 Tamara Novacoviç keeps dishing up delicious fall cakes.
By Tamara Novacoviç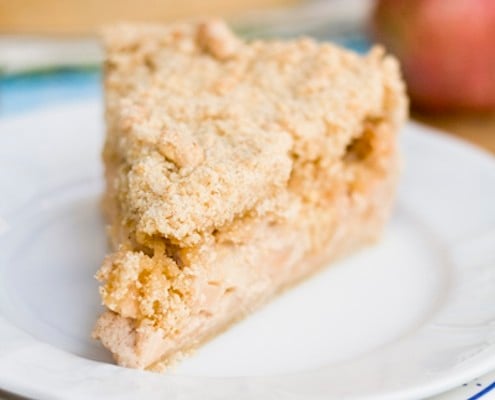 Another fall cake entered my kitchen last week. Apples just keep finding their way into my cakes these days. And I am so glad they do. On the other hand, I have to confess I have been unjustly avoiding beautiful quinces that keep looking at me from the tree in front of the house. I promised I would get back to them, there's just one more apple cake I have to try…And this is the one.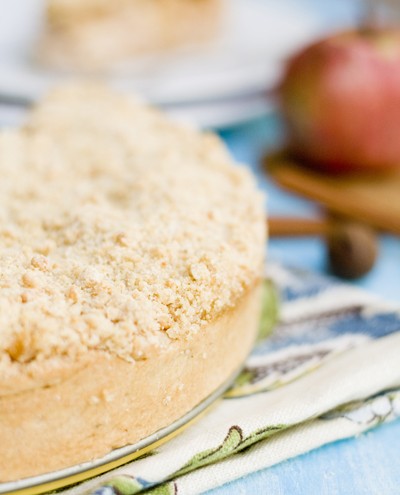 I got the recipe from Maja, she wrote it on my blog's  facebook page and sent a beautiful photo of her cake. With it, she wrote the recipe to the tiniest details, wrote her comments and gave ingredients for 2 pan sizes. I am so thankful for that. I read the ingredients and fell in love with the combination instantly. Then tested the cake and fell in love again (smile). I must say I haven't noticed this type of pie before, in the food blogging community. It's something new for me.

Pennsylvania Dutch Apple Pie
Use all those lovely autumn apples and make a cake like this!
Ingredients
For the crust (10 inch pan)
1½ cups (280 g) all purpose flour
½ tsp salt
3 tbsp sugar
½ tsp cinnamon
1 stick (115 g) cold unsalted butter, cut in chunks
4-5 tbsp ice cold apple juice to bind (you can also use water)
For the filling:
7 apples, peeled, cored and sliced
1¼ cup (300 g) sour cream
¾ cup (150 g) sugar
¼ cup (30 g) all purpose flour
1 egg
½ tsp salt
2 tsp vanilla
1 tsp lemon zest
juice of ½ lemon
option: cinnamon, nutmeg, cardamom, clove, raisins...
For the topping:
1 cup (100 g) all purpose flour
½ cup (100 g) sugar
½ cup (100 g) brown sugar
1 tsp cinnamon
a dash of salt
1 cup (150 g) walnut, almond or hazelnut pieces
7 tbsp melted butter
Instructions
Combine the dry ingredients in a mixing bowl and cut in the cold butter chunks. Combine until the mixture resembles pea gravel. Add apple juice a little at a time until the dough comes together in a ball. Wrap in it plastic wrap and chill for 1 hour. Roll out the dough on a lightly floured surface and place in a deep 10 inch pan. Chill the pie shell while filling is assembled. You can also combine all ingredients in a food processor until small chunks form, gradually add apple juice and pulse. Knead a bit more on the rolling surface-a nice ball will form quickly.
Preheat oven to 400 F.
In a mixing bowl whisk together sour cream and egg. Combine sugar and flour and whisk into the liquid mixture. Add salt, vanilla and spices. Add apple slices.
Pour custard into the prepared pie shell, place on a cookie sheet and bake for 10 minutes.
Lower the heat to 350 F and bake for 40 minutes more.
Make the topping: combine dry ingredients in a mixing bowl. Add melted butter, combine into a crumbly mixture.
When the pie has baked for 40 minutes, remove from oven, completely cover the apples with topping and return to oven for 10 minutes more.
Remove from oven and cool on a rack. Store in the refrigerator. When serving, let warm to room temperature.
Tamara Novakoviç
Tamara Novakovic is a passionate self-taught cook, food blogger, freelance food writer and photographer behind bite-my-cake.blogspot.com. Her life journey has led her through Faculty of Humanities in Zagreb, Croatia to discovering passion for making cakes. She is currently a weekly food columnist for Croatian newspaper V magazine and food magazine Repete.