Crispy lentil and rice pancakes that promise a wholesome and filling breakfast.
By Priya Sreeram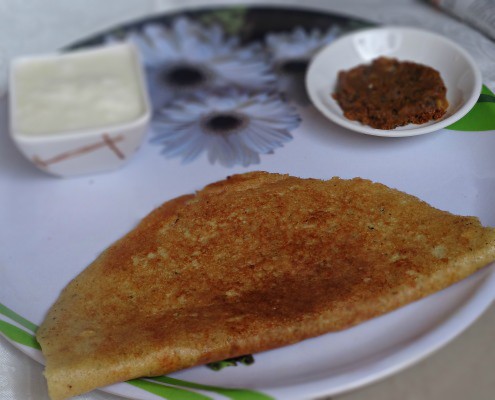 Want a satisfying breakfast or dinner recipe- try this mixed lentils and rice pancakes, that's protein packed, filling and easy to make. Adai, a quintessential South Indian dish is one of those staple recipes in my hearth that sees some variation everytime I prepare the batter. Curry leaves, Tender Drumstick leaves, Tomatoes, Sliced coconut, onions  are a few options that juggle with the lentils and rice and which one (or a combination of them) finally  goes in to the batter depends upon what's available in the pantry or what my taste buds crave for !!! I always prefer adais over dosas ( the very popular south indian rice crepes) for multiple reasons – one there is no hard and fast rule for the batter – the proportions of rice and lentils depend upon how you prefer to eat them (more pulses and less rice or vice versa), second – no fermentation of the batter required; thus the dish is ready the minute the pulsing is done and finally it's a wholesome meal. Also, the best part of them is that no special side-dish needs to be prepared to go along with it. Pickles, salted butter, jaggery are a few always available in the pantry options that tastes swell with them. Personally, I prefer adais with a generous cup of yogurt/curd , thought the classic combination that many swoon over is adai-avial !!!
Lentils in them are usually a combo of Urad Dal, Chana Dal (Bengal Gram) and sometimes moong dal. Rice used in it is the parboiled rice which is rice that is boiled in hulk and is easily available in stores. Such rice carries more nutritional content and adds a different texture to the batter.While the rice is soaked for a good 4 to 5 hours the lentils are soaked for maximum 2 hours and both are pulsed to a not so fine batter. I retain a fistful of lentils and blend it to the batter; the occasional bite of the whole lentil adds to the pep of the crepe. My in-laws who were holidaying with me last fortnight, revealed my hubby's love for adais that were thick and voluminous where in a fistful or two of  batter which is not watered down is taken and dumped on to the hot griddle and gently patted with fingers to a circular form. The centre of that pancake was then slightly poked and a dollop of butter would be dropped to allow it to cook well. You can savour adais that way also, though in this recipe, the batter is watered down for thinner rounds but they need not be paper-thin like their popular counterparts (dosas).
Adai (Mixed Lentils and Rice Pancakes)
Crispy Lentils and Rice Pancakes that promises a wholesome and filling breakfast !
Recipe Type:
Breakfast,Dinner
Ingredients
Parboiled Rice - 1 cup
Urad Dal - ¼ to ½ cup
Bengal Gram (Chana Dal) - ½ cup
Dried Red Chillis - 2 - to taste
Ginger - a small piece
Curry leaves - leaves of a few sprigs
Salt - to taste
Asafoetida - a generous pinch
Instructions
Wash the lentils & rice well and soak them separately. The rice needs to be soaked longer than the lentils.
Drain them but be sure to retain some water from the soaked lentils. Using that while pulsing the batter adds to the taste of the pancakes.
Retain a fistful of the lentils to be added later to the batter.
In a mixer/processor/blender add the rice,lentils,dried red chillis, ginger & curry leaves and pulse them with required water for a batter like consistency. The batter need not be smooth;
Add the retained lentils to the batter and mix them well with salt & asafoetida.
In an iron griddle/non stick pan add little oil and after it warms up well add a ladle of the batter and gently spread across in a circular motion with the ladle.
Let it cook well for a few minutes and flip it for the other side to cook. Use little oil/ghee/butter around the pancake while cooking to ensure a crispy-crunchy adai.
Be sure to serve hot. Enjoy Adai with choice accompaniments