Quick make-ahead breakfasts, like these peach almond oatmeal muffins, nourish you and get you on the road fast.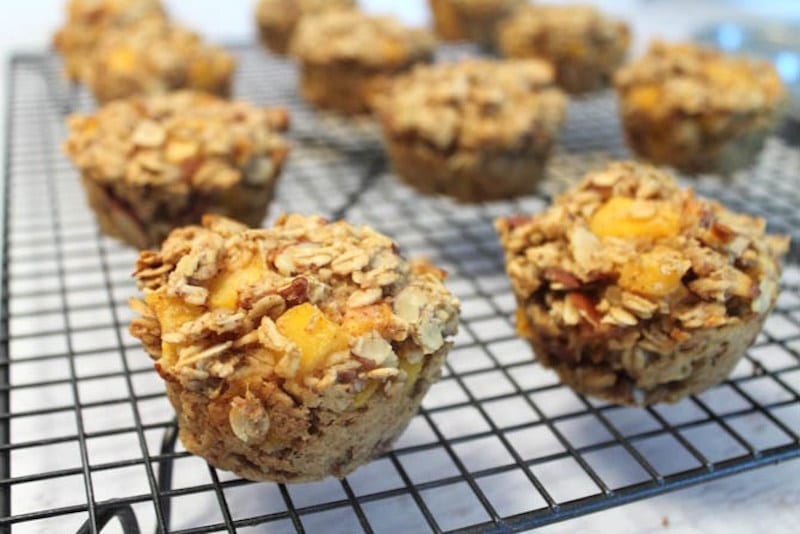 I originally made these along with Banana Oatmeal Cups and Blueberry Oatmeal Muffins. They are all gluten-free, healthy and such a good start to the day. Not to mention they are great for snacks too – no artificial ingredients, little sweetener, I used either maple syrup or brown sugar, and plenty of fiber and vitamins from the fruit.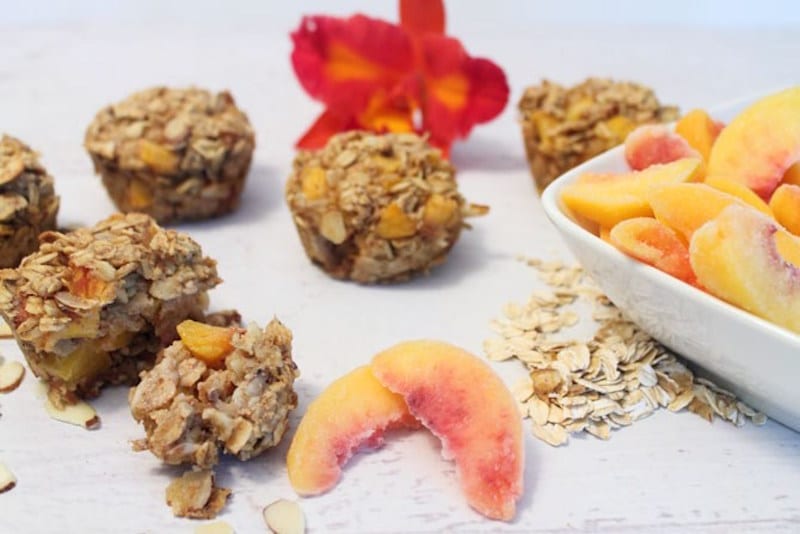 If you are looking for something healthy and quick for breakfast, give these oatmeal cups a try. I know you'll love them as much as we all do. (And if you eat these a few days after baking (if there are any left) they remind me of an almond paste-filled muffin. Oh yum – think I'll go get one now!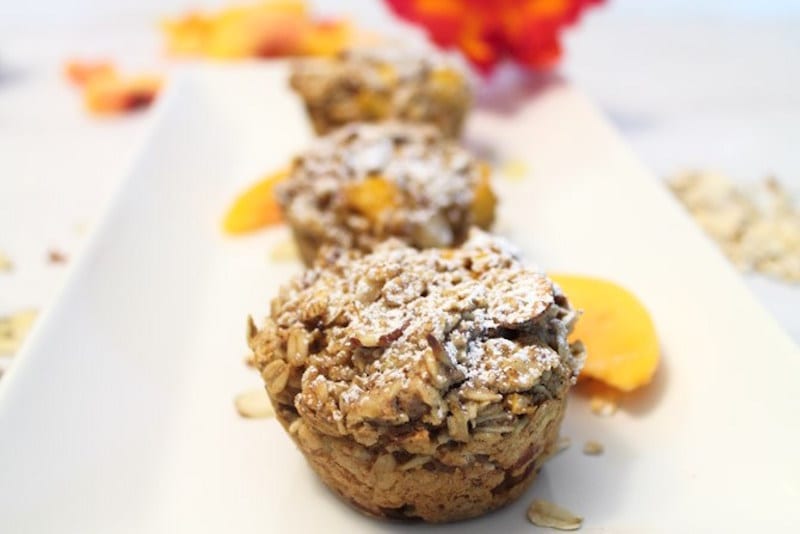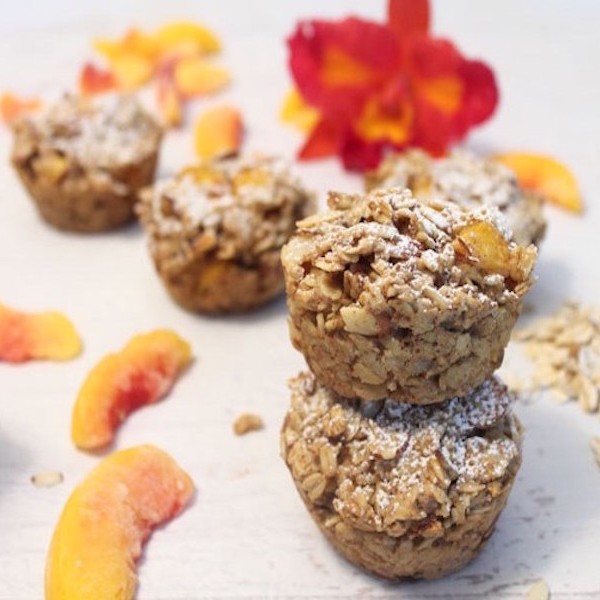 Linda Warren
Ingredients
3

cups

old fashioned oats

1/2

cup

almond butter

1/4

cup

maple syrup

honey may be substituted here

2

cups

diced peaches

fresh or frozen

1

cup

sliced almonds

1/2

teaspoon

almond extract

1-1/4

cups

almond milk

or your favorite milk
Topping (optional)
1

Tablespoon

sugar

1/3

cup

sliced almonds

these can be chopped if you prefer

2

Tablespoons

butter

melted

Powdered sugar
Instructions
Preheat oven to 375 degrees. Spray a muffin pan with non-stick spray or you can use paper liners.

Heat almond butter in microwave in 30-second increments until runny.

Stir all ingredients in large bowl until thoroughly combined.

Divide batter evenly between 12 muffin cups.

If using topping, mix sugar, almonds & butter together. Scatter over top of muffins.

Bake 25-30 minutes. Remove to wire rack and let cool for 5 minute before removing from pan. Dust with powdered sugar.
Tip: I wrap mine individually in plastic wrap and freeze. When I am ready to eat I just heat in the microwave for 1 minute and voila – hot breakfast! They are also good at room temperature too. After sitting a few days you will think you put almond paste in them they are so good.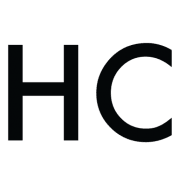 Linda Warren
Linda is a wife and mom with a background in marketing and exercise. She attributes her creativity and love of cooking to her mom and grandmother who were always willing to let her lend a hand in the kitchen. Linda currently resides in South Florida, where she raised two children with the help of her wonderful husband. She loves living in sunny Florida with its abundance of fresh fruits, vegetables and seafood that are available year round. Linda started her blog, 2 Cookin' Mamas, with her daughter Christina after her grandson's birth. Her daughter wanted to learn to cook healthy meals while still meeting the demands of work and baby. That provided the inspiration for the healthy, quick and easy meals on their blog. Of course, they sweetened it up with a few goodies too! When Linda is not in her kitchen she loves traveling, wine, reading, walking and yoga.