The key to this soup is homemade chicken stock. Taking the time to create amazing flavor in the broth really does bump up the flavor of a simple recipe.
By Michelle Tchea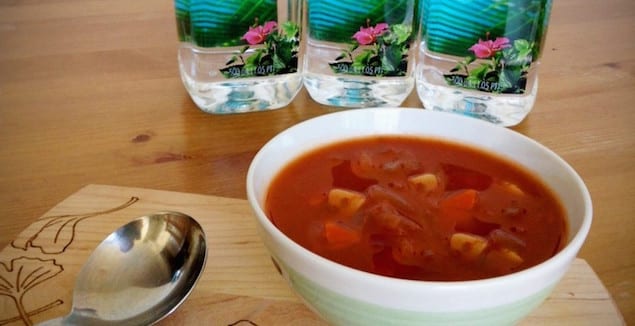 We've all heard that perfection takes time and when it comes to cooking, many recipes rely on slow cooking and of course patience.
Inspired by a recent trip to Lake Como in Italy, very close to the North region known famously for the entire Slow Food Movement, I've taken a step back from my busy SoHo and New York lifestyle for the ultimate comfort food.
Roasted Tomato Soup with Slow, homemade chicken Stock
You can really use any beautiful, ripe tomato but the best ones are the ones farmers tend to discard because they are a little soft and overripe. If you do use cheaper tomatoes, be sure to cut the tomatoes in half before you roast to make sure they are not moldy inside or that will completely ruin your pot!
The key to this recipe is cooking the homemade chicken stock, slowly. A slow simmer is the key to a clean chicken stock, which ultimately can be used in anything – like this rich roasted tomato soup. Perfection after all does take time. A perfect chicken stock really does change the dynamic of any simple recipe.
This recipe comes a few of my favourite things, farm-fresh produce grown locally from our lovely farmers in New York State where tomatoes come in all shapes and sizes, as well as free-range chicken with no antibiotics and other nasty's.
The process of bottling pure water from the Tropical Rainforests in Fiji, as well as the anticipation for farmers to bring farm fresh produce straight from their garden to your kitchen table…we truly have the best of worlds despite living in a concrete jungle.
I do like to roast my tomatoes, rather than throwing them straight in the pan to extend the cooking process, as well as giving a 'slow-cooking' taste which provides a richer, creamier and sweeter soup, something we all crave on gloomier days.
Get this and many other Perfection Takes Time Recipes here or visit FIJI Water's homepage.
This post is part of "Perfection Takes Time", a partnership between Honest Cooking and FIJI Water.
Michelle Tchea
Michelle Tchea is a 4-time bestselling author. Her books include, Building a Perfect Meal, My Little SoHo Kitchen, Signature Dishes (Australia's Best) and Chefs Collective. Her work can be found in other leading luxury travel and food magazines including Travel+Leisure Asia, SMILE, NUVO Magazine and The Telegraph