Baked Eggs with Spinach and Parmesan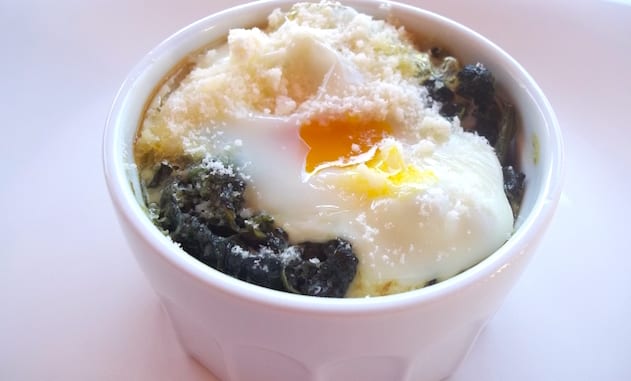 A perfect warm dish morning, noon, or night, these baked eggs are rich in flavor, protein, and packed with vegetables.
By Veronica Lavenia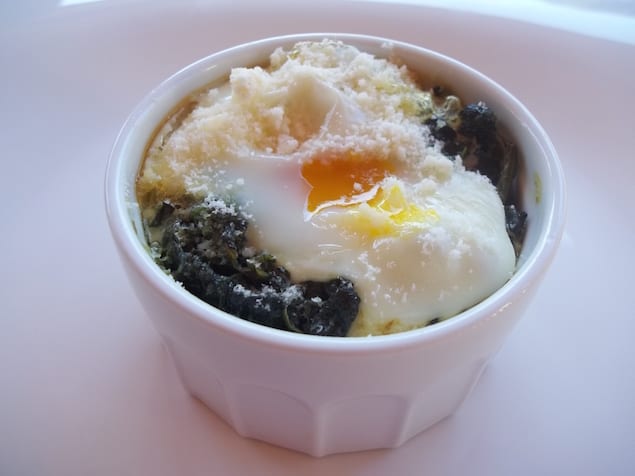 Eggs, excellent meat substitutes, are a complete food rich in nutritional value. Baked eggs are a quick and easy way to enjoy this precious food with vegetables and cheese.

Baked Eggs with Spinach and Parmesan
A perfect warm dish morning, noon, or night, these baked eggs are rich in flavor, protein, and packed with vegetables.
Ingredients
Extra virgin olive oil to taste
1 carrot
1 stalk of celery
1 onion
150 g (5½ 0z) cleaned and fresh spinach
salt to taste
2 organic eggs
grated Parmigiano cheese to taste
Instructions
In a saucepan, heat the oil. Add the carrot, celery and onion (washed and cut finely) and brown.
Add spinach and cook.
Oiled two casserole and pour the spinach.
Add one egg in each casserole and bake at 180° (375°F/ gas 4) for five/ten minutes.
Topped with grated Parmigiano cheese.
Veronica Lavenia
Veronica is a born and raised Italian. She inherited her love for travel, passion for cooking and natural, sustainable, healthy slow food from her parents. Her works have appeared in 'Vegetarian Living', 'Veggie Magazine', 'Lifestyle food', 'Australian Good Food & Travel Guide', 'Chickpea' and 'Free from Heaven', among others. She is the author of "Panini: the simple tastes of Italian style bread"; 'The Rustic Italian bakery", "The Vegetarian Italian Kitchen" and "A Modern Italian table", published by New Holland Publishers Australia.