A creamy squash soup that requires resting between stages to develop the most flavor. Top with crème fraîche and crispy sage for the ultimate meal starter.
By Winnie Abramson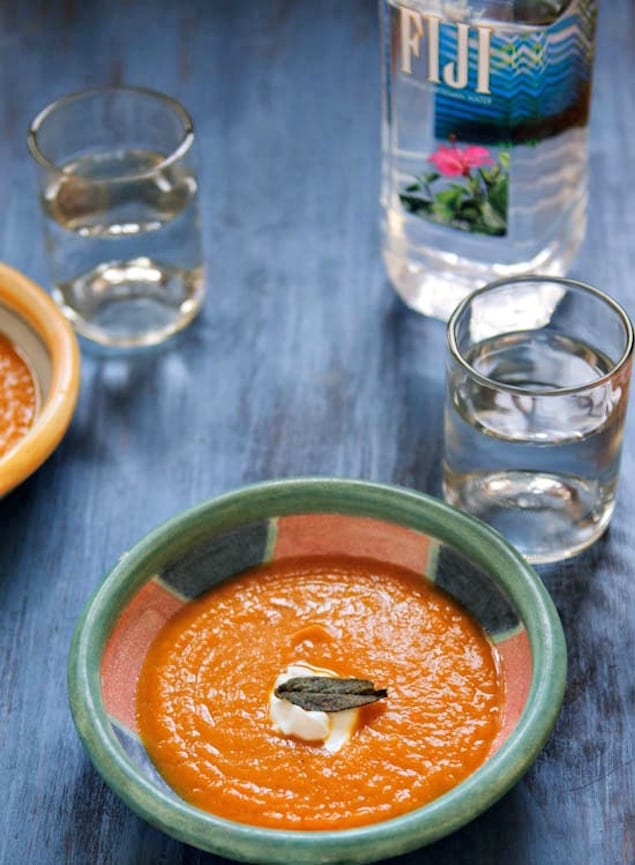 I grow Cheese Pumpkins in my garden every year and one of my favorite ways to use them is in this gorgeous-hued Pumpkin Soup.
I thought it would be a great fit for the "Perfection Takes Time" campaign because it's not a quickie recipe (just like FIJI Water isn't quickie water!). FIJI water is collected in a natural aquifer, the result of rainwater trickling down through layers of volcanic rock. This is a slow process that allows for the gathering of minerals and electrolytes along the way, and which results in an amazingly pure, great-tasting water. (You can learn more about FIJI Water here.)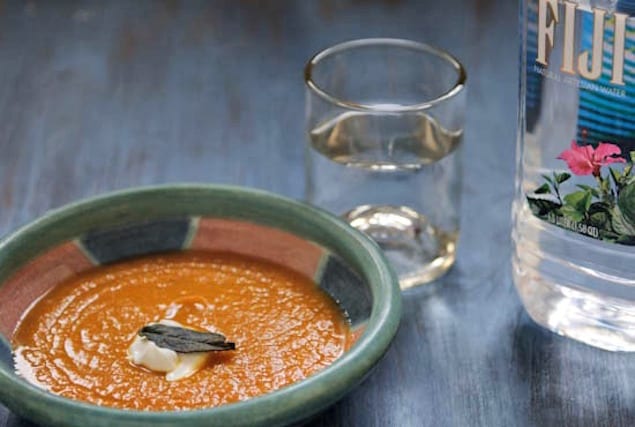 The recipe, which I adapted from the Butternut Squash Soup with Brown Butter in The Essential New York Times Cookbook, requires the ingredients to rest at several stages so the flavors can develop. Here's how I recommend you time the making of this soup:
Day 1: bake the pumpkin and prep the leeks, carrots, and shallots/onion
Day 2: Prepare the soup then allow it to rest overnight
Day 3: Reheat the soup, make the fried sage leaves, and serve.
This makes a great first course any day, but will also fit right in at a holiday meal this season.
If you cannot find the variety of pumpkin that I used, substitute a winter squash such as Butternut. Sour cream makes a perfectly acceptable substitute if you don't have crème fraîche (my "diy" crème fraîche recipe is here); the fried sage leaves are fun, but definitely optional.
Get this and many other Perfection Takes Time Recipes here or visit FIJI Water's homepage.
This post is part of "Perfection Takes Time", a partnership between Honest Cooking and FIJI Water.
Winnie Abramson
Winnie Abramson is a blogger, photographer, and freelance food and health writer. Her first book, One Simple Change, was published by Chronicle Books in December, 2013. Winnie lives with her family and numerous pets, and has a giant garden, in New York's Hudson Valley. She enjoys lifting heavy weights in her spare time.