This homemade pumpkin liqueur takes some time to make but you will be rewarded with a liqueur that's full of the best flavors of the season.
By Pamela Braun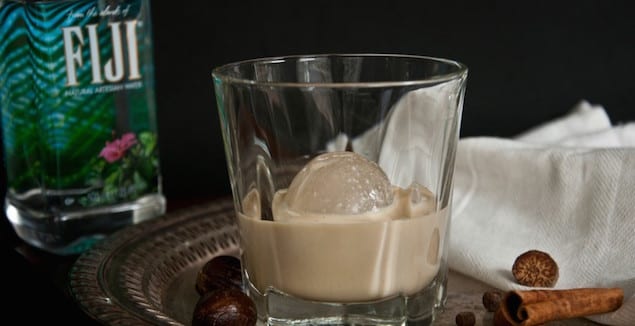 I'm partnering with Fiji Water and their Perfection takes time campaign to bring you this pumpkin liqueur recipe.
Buying pumpkin liqueur is easy, but homemade always tastes better – even though it takes more time. Your patience is well rewarded when guests see you break out a swing top or Weck bottle filled with this creamy liqueur and begin to pour it into their glasses.
Fiji water doesn't get its purity through man made filtering, no the rain water that falls from high above Fiji trickles through layers and layers of volcanic rock gathering minerals and electrolytes. That's why it has such a smooth taste when you crack open that bottle. In fact, you're the the first person to touch that water when you unscrew the top and begin drinking in that goodness.
This pumpkin liqueur is best served well chilled. It's even better served over ice and since Fiji water is so well filtered, I suggest you make your ice the old fashioned way and use pure Fiji water for those ice cubes. Why not break out those special ice cube trays you got a couple of years ago and serve this creamy liqueur over big ice cubes. (Those big cubes melt more slowly so your liqueur doesn't get so diluted.)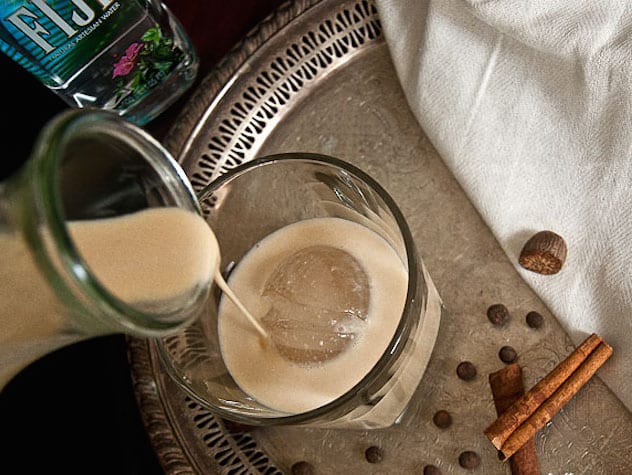 This recipe takes a bit more time to make is because you're making the actual base of the liqueur – condensed milk. While most recipes call for skipping this step and just opening a can, perfection takes time and with that comes a much better tasting end product. (Trust me, I've tried it.)
Get this and many other Perfection Takes Time Recipes here or visit FIJI Water's homepage.
This post is part of "Perfection Takes Time", a partnership between Honest Cooking and FIJI Water.
Pamela Braun
Pamela writes the blog My Man's Belly to help women get the upper hand in the dating world. You can be a saint on the street & a sinner in the bed, put up with his friends and rock six inch stilettos like a pro. But if you can cook, you've got the entire package. If you can chew gum and walk at the same time, you can cook. After all, the best way to a man's heart is still through his stomach.