Partner Post: Perfection Takes Time — Beet and Potato Colorful Gnocchi
Creating beautiful, two-colored gnocchi takes a lot of relaxing time, persistence and patience to roll the dough into the perfect ropes. Toss the potato pillows with extra virgin olive oil and top with shaved Pecorino, a pinch of black pepper and you are in heaven.
By Zita Nagy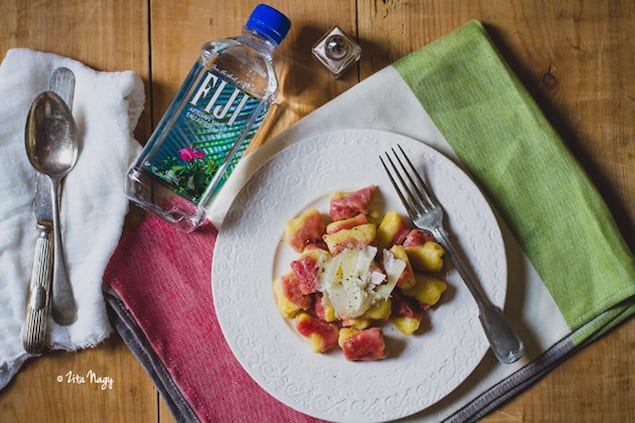 It takes a lot of time to make the perfect gnocchi… at least for me. Especially if the cute, little gnocchis are two colored: red from the beet and yellow from the potato. Aren't they beautiful?
When I was thinking what to "create" for this campaign, gnocchi came to my mind. Whenever I make gnocchi, it takes a lot of relaxing time, persistence and patience to roll the dough into the perfect "ropes" on a lightly floured surface. I think a dish that takes time to make, deserves a simple serving… I tossed these two colored little potato pillows with extra virgin olive oil and topped with shaved Pecorino, a pinch of freshly grated black pepper and you are in heaven.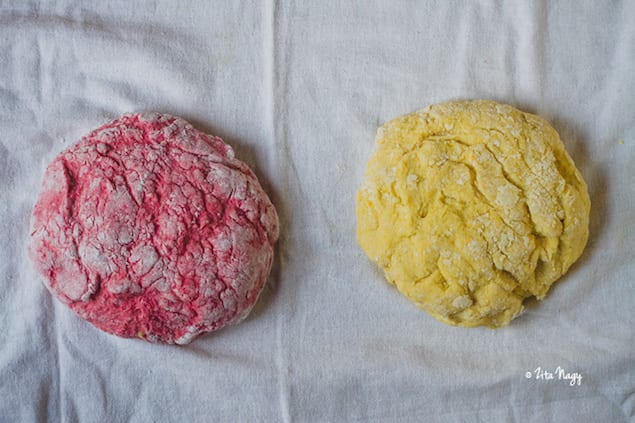 On a Saturday or Sunday morning if the weather is gloomy and cloudy, go to the kitchen and make these delicate, light gnocchi. I'm not saying it's going to be easy… but the end result… oh my, yum!
Fiji Water trickles down through the layers of volcanic rock over time and gathers minerals and electrolytes along the way that create Fiji's soft smooth taste – slow cooking and baking often brings out the most amazing flavors and scents of almost any ingredient. This process is what the "Perfection Takes Time" campaign is all about. The fact that sometimes, slower is better.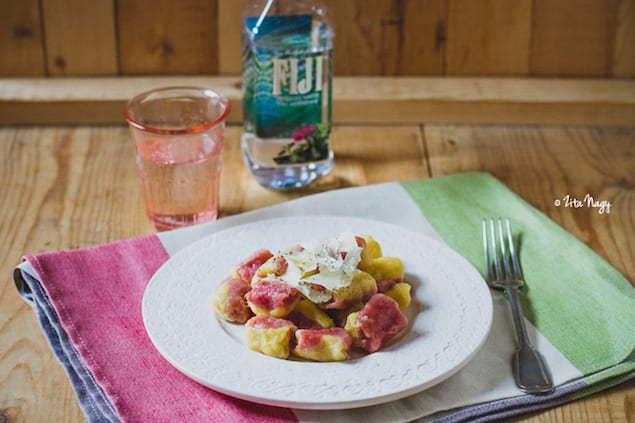 Get this and many other Perfection Takes Time Recipes here or visit FIJI Water's homepage.
This post is part of "Perfection Takes Time", a partnership between Honest Cooking and FIJI Water.
Zita Nagy
Zita's love for cookbooks and delicious food started at the age of 9. Whenever she went home from school her little brother and she would wait for mom to make dinner for them. Until the dinner was ready, she was turning the pages back and forth and was staring at photographs of amazingly looking dishes in mom's cookbooks to kill her appetite somehow. She couldn't have known then, that she would be collecting cookbooks after reaching adulthood and would still be, just like in her childhood, staring at awesome photos of delicious dishes. The only difference is that she does the cooking now. She loves traveling, going to the organic market and browsing foodblogs. Her vegetarian food and travelblog is Zizi's Adventures.