Panzanella is rooted historically in the necessity to brighten unsalted breads, but the tradition continues as the salad has become a popular summer lunch.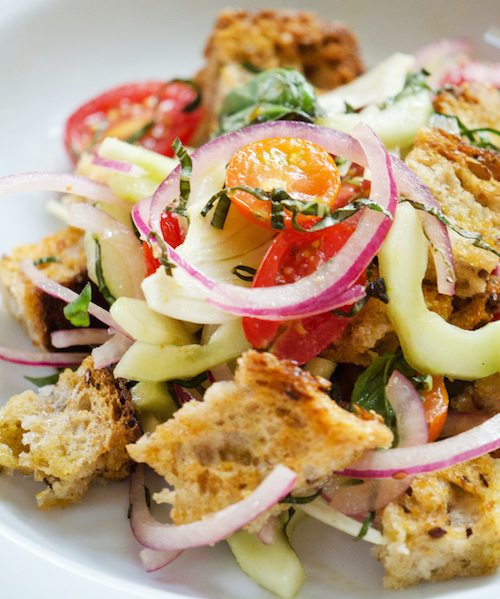 One of my favorite summer salads, especially when fresh tomatoes are overflowing our farmer's markets, is Panzanella. Panzanella hails from central Italy, Lazio, Umbria, but most commonly Tuscany. It is a poor man's lunch, a salad that starts with a slice of stale bread, moistened with either water or salad dressing until soggy, resulting in it's name Panzanella, or "little swamp".
In Umbria and Tuscany, bread is not often enjoyed alone, but accompanies a rich meat dish, or is incorporated into a soup, like pappa al pomodoro or ribollita. Why? Because the traditional breads of the area – Pane Toscana (Tuscan bread) or Pane Sciapo in Perugia – are made without salt.
In the 12th century, the rulers of Pisa were at odds with the rulers of Florence, and cut off their supply lines from the coast. This made salt prohibitively expensive. The Florentines, unwilling to cave to the pressure, simply began making their bread without it. On a tour of Badia e Coltibuono, a winery and olive oil producer in Tuscany, we were shown the estate 'salt safe' where the owner would secure his salt each evening before retiring.
In the mid-1500s, the Perugians suffered a similar fate, this time at the hands of Pope Paul III. The Pope essentially created a monopoly on salt, forcing the residents of Perugia to purchase it from pontificates, effectively doubling the price. They responded with similar stubbornness, and still today their Pane Sciapo is produced without salt, sciapo literally meaning 'unsalted'.
While residents of these regions loyally proclaim the superiority of their local breads, most palates will find them rather bland. And given the plethora of recipes where bread is combined with many other flavorful ingredients, one has to surmise that Tuscan and Umbrian cooks are aware of this shortcoming. But when one has lemons, you make lemonade – or, in this case, panzanella.
Today, panzanella is seen most often in the summer, made primarily with fresh tomaotes. However, prior to the 20th century, it was actually based on onions, not tomatoes, as tomatoes were not commonly consumed until the mid-18th century, since, as a member of the nightshade family, they were believed to be poisonous. The 16th-century artist and poet Bronzino mentions onions with oil and vinegar served with toast, and a salad of onions, purslane and cucumbers, the first description of panzanella.
Most modern recipes include stale bread, tomatoes, olive oil and vinegar, along with cucumbers, red onions and basil. Many variations are possible, with lettuce, celery, olives, capers, peppers, mint, mozarella, this list goes on. I provide a pretty traditional version, with the single addition of fennel, but feel free to add what you wish – it is a great way to put to use all of your wonderful fresh summer produce!
Print

Panzanella – Tuscan Bread Salad
---
Author:

Kathy Bechtel

Yield:

4

1

x
Description
Panzanella is rooted historically in the necessity to brighten unsalted breads, but the tradition continues as the bread-based salad has become a popular summer lunch.
---
4

thick slices stale bread (or fresh bread, toasted)

1

clove garlic

1/3 cup

good quality extra virgin olive oil (plus more if needed)

2 tablespoons

red wine vinegar (plus more if needed)

2

large fresh tomatoes (cut into 1/2 inch dice, or

1 pint

grape tomatoes, halved)

1

cucumber (peeled, seeded and sliced)

1/2

head fennel (tough outer leaves removed, cored, and thinly sliced)

1/2

red onion (thinly sliced)

1/2

bunch basil (chiffonade larger leaves, separate smaller)
kosher salt and freshly ground pepper
---
Instructions
Rub the garlic clove onto the 4 slices of bread. Cut into 1/2" cubes and place in a large salad bowl.
Add the extra virgin olive oil and vinegar. If you wish your bread to be quite moist, add a couple of tablespoons of water. Mix well to thoroughly moisten the bread. Add the tomatoes, and allow to sit in a cool place for 30 minutes or more.
Add the remaining ingredients, with more olive oil and vinegar if needed. Season with salt and pepper. This salad can sit a bit before serving – just keep it in a cool place.
Category:

Main

Cuisine:

Italian
Kathy Bechtel
Kathy Bechtel's obsession with food and cooking began as a teenager. After years following a traditional career path as a telecommunications engineer, she left to attend culinary school and wine training, and is now combining her passions for food and wine, the outdoors, and travel as owner and Culinary Tour Director of Italiaoutdoors. In this role, Kathy leads small bicycle, skiing and walking tours that explore the authentic regional cuisines, local products and undiscovered wines of Northeastern Italy.