It doesn't take beyond 15 minutes of prep time and 20 minutes to cook about 10 of these delightful parathas.
By Priya Mahadevan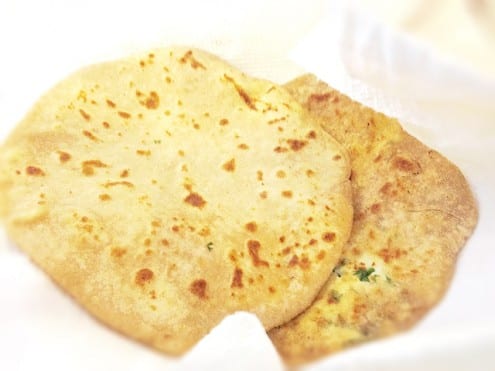 Paneer Parathas - South Asian Flatbread
It does not take beyond 15 minutes of prep time and beyond 20 to cook about 10 of these delightful parathas.
Author:
Priya Mahadevan, adapted from Divya or ChefinYou
Ingredients
2 cups of chakki atta (stone ground wheat flour)
11/4 cups of warm water
1 tsp of salt
2 tsp of oil
Stuffing
1 cup of cubed paneer
3 green chilies finely chopped
1tbsp of fresh cilantro
Instructions
I Soaked store bought paneer in hot water, drain after a few minutes and proceeded to crumble it
Knead or use mixer to make the dough soft, yet firm
Keep covered until you get the paneer crumbled, salted, and chilies and cilantro added
Make lemon sized balls of the dough
Roll out into rounds bigger than your palm
Make a smaller ball of the paneer and place in the center of the rolled out dough
Fold the dough over the paneer ball and pinch out any extra dough
Dust the rolling area with flour and roll out the paratha to the size of a tea saucer
Heat pan and add a smidgen of butter
Place the paratha on the melting butter and cook - repeat on both sides and with each.
Priya Mahadevan
Priya Mahadevan is a writer and food blogger with a background in journalism & communication. Priya's mission with her food blog is to blow the myth that healthy cannot be tasty. She was a political and feature correspondent for a prominent Indian newspaper in the 90s before moving to the US. She lives in Virginia with her husband and 3 beautiful children. You can find her world of vegetarian recipes at http://priyasnowserving.blogspot.com.