Pancakes with Brandied Peaches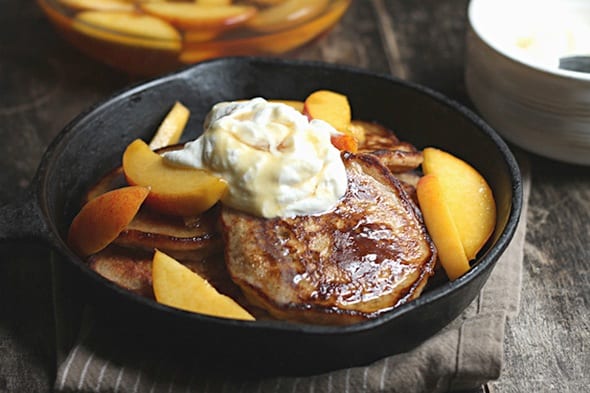 Brandied Peaches makes these maple and oatmeal pancakes into so much more than a basic breakfast.
By Bryan Picard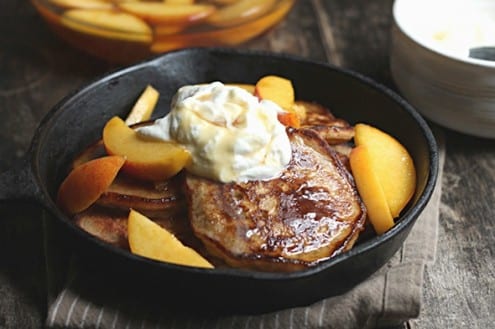 Maple syrup is my favourite natural sweetener. No two syrups taste exactly alike. A bottle from New Brunswick will have a completely different personality to one from Cape Breton. As with wine, the taste of maple sap is affected by the unique combination of local environmental factors such as topography, climate, and soil. This place-derived personality is called the Terroir, which refers to the complexity of flavour characteristic of a particular region in which a particular food is grown. The skills of the producer also reflect in the final product. My favourite syrup is from a small scale operation in northern New Brunswick, but that's where I'm from, so I'm probably biased.
The oatmeal in these makes for a heavier batter, but a healthier one as well. You can also double or triple the peach recipe and jar them for later use. Enjoy!

Pancakes with Brandied Peaches
Brandied Peaches makes these maple and oatmeal pancakes into so much more than a basic breakfast.
Ingredients
Brandied Peaches
• 1 lb ripe peaches (about 2-3), cut into 8 pieces
• ½ cup brandy
• ¼ cup sugar
• ¼ cup maple syrup
• ¼ cup water
Maple and Oatmeal Pancakes
• ⅔ cup flour
• ½ cup oatmeal
• ½ teaspoon baking powder
• ¾ cup buttermilk
• ¼ cup maple syrup
• 1 large egg
• 2 tablespoons butter, melted
• pinch of sea salt
• pinch of nutmeg and cinnamon
Instructions
Peaches
In a medium saucepan, bring the brandy, sugar, maple syrup, and water to a simmer until the sugar is dissolved.
Put the peaches in a bowl and pour the brandy syrup over. Let steep for at least 30 minutes. Leave them overnight for even better results. You can also double or triple the recipe and jar them for later use.
Pancakes
In a large bowl, combine the flour, oatmeal, baking powder, salt, and spices.
In another bowl, mix the buttermilk, maple syrup, egg, and butter.
Add the flour mixture and stir until you get a thick batter.
Heat up a large pan. Add a dab of butter and pour some of the mixture to desired size.
Cook them a few minutes on each side. Repeat with the remaining batter.
Serve hot with the brandied peaches, the brandy syrup, and some lightly whipped cream.
Bryan Picard
Bryan Picard is a wild and homegrown food enthusiast. He lives in the Maritimes in Canada and has worked the kitchens as a cook and chef for the past ten years. He writes on his blog The Bite House.