If you think a classic paella is too "fishy", here's a lovely and colorful vegetarian version.
By Priya Mahadevan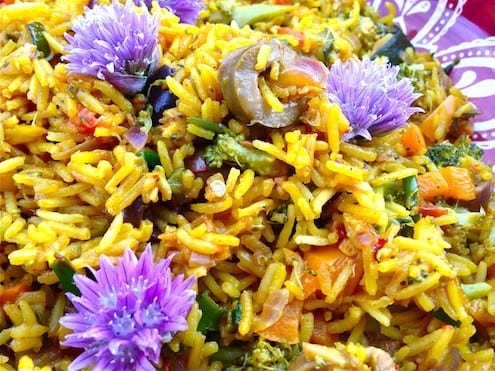 I stumbled upon a version of this recipe in a vegetarian magazine, and I must tell you, it was an extreme surprise and an uncontrollable delight – It was a veggie version of the Paella. That's right folks, no squid, octopus or any other sea creature in it – my heart danced, really – and i was thinking if I am describing this dish to a person who has no clue what a paella is, what would I equate it to?
In Indian terms, I would say a flavorful biryani or pulao/pilaf – We all know Spain is the capitol of Saffron, that exclusive and amazing spice which we Indians have verily adopted into our cuisine. Or perhaps Saffron has also been a spice that was used widely in India – whatever the case, it is in fact the essence of this flavorful rice dish. As my luck would have it, my beautiful onion chives have these violet blossoms on them right now.
A delicious vegetarian take on the classic Spanish dish.
Ingredients
2 cups of broccoli florets
1 diced zucchini
½ red onion finely chopped (optional)
½ each of orange and yellow peppers (you can sub with red and green too)
1 cup of spanish rice (I subbed with basmati) essentially, you need a short grain white rice.
1.5 tsp of crushed saffron
10 green olives, pitted and chopped
10 red olives, pitted and chopped
cherry tomatoes (about 10 if available) OR
2 finely chopped romas
3 big cloves of garlic
¼ cup of finely chopped onion chives
2 tsp of olive oil
2 tsp parsely
1 tsp of patatas bravas mix or essentially paprika (cannot help it - need a bit of spice)
salt and pepper after cooking and before serving
Water - about a cup (use discretion as different rice cook differently)
Instructions
In a wide mouthed pan (banali) which is the traditional utensil to cook a paella in, add the oil, onion, broccoli, garlic, Zucchini and peppers and cook for 2-3 minutes - At this time throw in half the parsley too.
Add ¾ cup of water along with the washed rice
To this, add the saffron and allow to cook covered on medium low flame for 10 minutes
Add the olives, chives and tomatoes and cook for another 5 minutes covered.
Remove from flame. Transfer into a serving dish and garnish with the remainder of parsley, salt, pepper and onion flowers if you can find them :)