This wonderful dish is both light, delicious and awfully simple to make, if you follow this recipe.
By Priya Mahadevan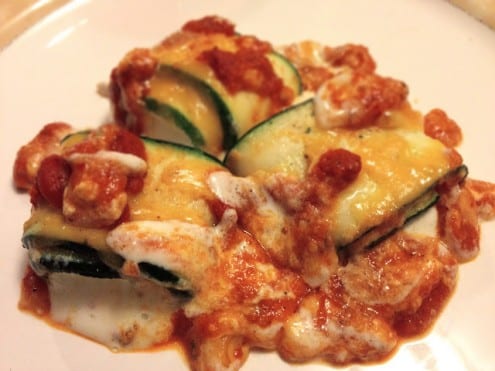 Oven Baked Stuffed Zucchini
This wonderful dish is both light, delicious and awfully simple to make, if you follow this recipe.
Ingredients
2- 3 medium sized fresh Zucchinis
⅓ cup of greek yogurt (I recommend Fage)
3 tbps of mascarpone ( entirely optional) Can be substituted with more greek yogurt
1 tbsp of Miscuglio (a fine blend of italian herbs and spices)
Tomato Sauce - We made ours with diced tomatoes, garlic and some red chilies and italian herbs
⅔ cup of grated sharp cheddar cheese for topping before baking
Olive oil for brushing
Bread crumbs for sprinkling
Instructions
Set oven to 400
On the slicer side of the grater, make long thin strips of the Zucchini
Arrange on a baking pan and gently brush with olive oil and bake for about 10 minutes
In the meanwhile, prepare your baking dish
Add the tomato sauce to the bottom of the dish and keep
In a bowl, mix the yogurt and the mascarpone together along with the Muscuglio.
Remove Zucchini from oven and let cool for a few minutes (else the yogurt will get liquify in the heat)
Once cooled, add a tsp of he yogurt mix to one end of the strip and roll the zucchini as shown in the pictures
Once all of them are made
Place gingerly on the tomato sauce in baking dish
Top with the smallest amount of break crumbs
Add the grated cheese over the rolls
Bake again at 400 for about 15 minutes
Priya Mahadevan
Priya Mahadevan is a writer and food blogger with a background in journalism & communication. Priya's mission with her food blog is to blow the myth that healthy cannot be tasty. She was a political and feature correspondent for a prominent Indian newspaper in the 90s before moving to the US. She lives in Virginia with her husband and 3 beautiful children. You can find her world of vegetarian recipes at http://priyasnowserving.blogspot.com.