Here's how to make the favorite appetizer, pickle chips, but this time without the mess of frying. Fire up your ovens!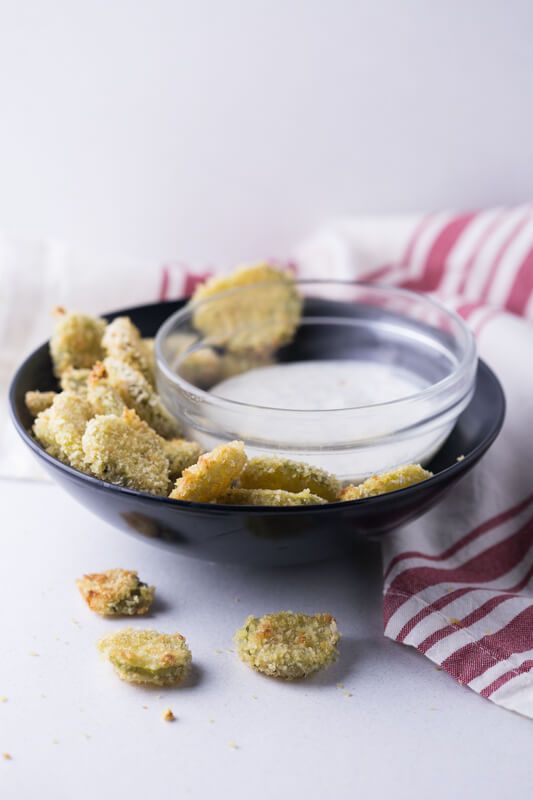 I hadn't even heard of fried pickles until some sorority sisters took me to a restaurant called Durty Nelly's when I was in college and ordered some fried pickles. Life. Changed. It took me years to find fried pickles as good as that again (aside from visiting Durty Nelly's, which closed more than ten years ago) but the food scene in Chattanooga has (obviously) changed a lot and there are lots of delicious fried pickles around town.
Sometimes, though, you just need some fried pickles at home. You can now buy them in the frozen section at the grocery store, but let's be real here: frozen food is fine but it's almost never as good as what you can make yourself. It took me a while to make fried pickles that I was truly happy with but once I had figured it out there was no looking back. To be honest, I haven't even tried the frozen ones, because the ones that I make at home are so easy…and I always have the ingredients in my pantry.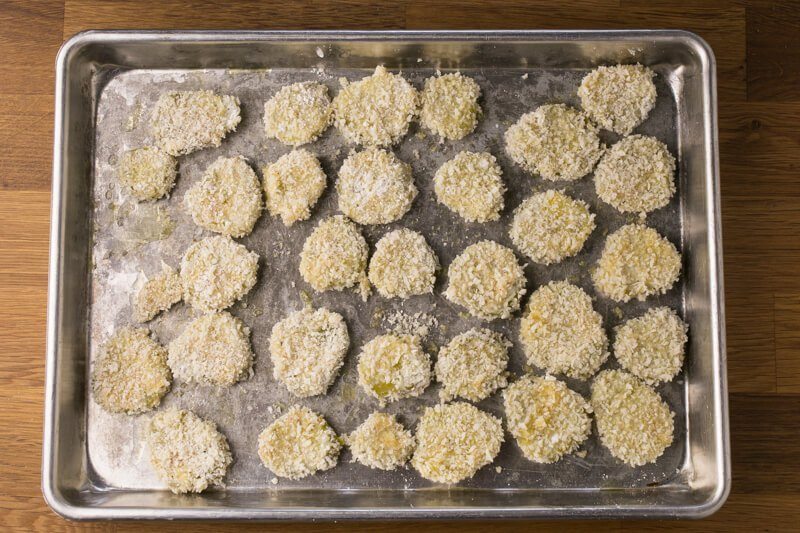 A little crispy breading and a spritz of oil before going into a screaming hot oven makes for food that is just as good as fried – and, if you don't love grease, maybe even better? Oven fried pickles are just as good as anything that you might deep fry without all the oil and the mess. They only take about ten minutes to get on the pan and fifteen to cook.
I love to serve my oven fried pickles with ranch dressing. If you'd like my homemade recipe, subscribe to my newsletter using the form below to get my from-scratch recipe! They're also great with comeback sauce or white barbecue sauce…but really, I'm sure they'd be fantastic with whatever sauce you want to serve them with!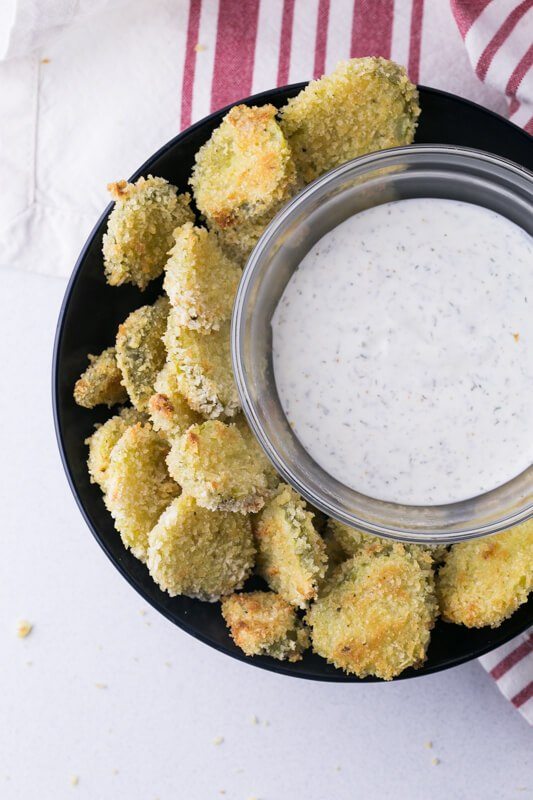 Oven-Baked Pickle Chips
Here's how to make the favorite appetizer, pickle chips, but this time without the mess of frying. Fire up your ovens!
Ingredients
olive oil spray or cooking spray
½ cup all-purpose flour
2 eggs
½ -3/4 cup panko crumbs
1 teaspoon salt, divided
¼ teaspoon cayenne pepper, divided
½ teaspoon ground black pepper, divided
1 cup dill pickle chips, well-drained
dipping sauce, for serving
Instructions
Preheat the oven to 450?. Spray a sheet pan (I use a quarter sheet pan) with cooking spray or olive oil spray (I use olive oil in my Misto).
Place the flour, eggs, and panko crumbs in separate bowls. Divide the salt among the bowls then divide the cayenne pepper and the black pepper among the flour and the panko crumbs. Stir each bowl to combine.
Dredge the pickle chips in the flour, then the eggs, then the panko. Place the breaded pickles on the prepared sheet pan and spray with olive oil spray or cooking spray.
Bake the pickles for 8 minutes, then flip each pickle and bake for another 7-8 minutes, until crisp and brown. Serve while hot with desired dipping sauce.