Whether you're looking for a hidden back patio or a raging rooftop, here are some of the best outdoor dining spots for the season. From the streets of New York and the shoreline of Cape Cod, to beer gardens in Seattle and patios in Napa Valley – we've got you covered.
The season for outdoor dining is officially here. Nothing beats enjoying a fresh spring salad or lobster roll among majestic palm trees standing tall above crystal blue waters. Or sipping on a refreshing margarita while being tantalized by thousands of city lights. If you're ready to get started, we've gathered some of the best places to dine outdoors and recommendations on what to order while you're dining al-fresco style. 
WAU, Upper West Side, NY
This restaurant has vibrant outdoor dining is the perfect way to soak up the sunny atmosphere and enjoy the beauty of the season. The open-air enclosed patio is ideal for basking in the outdoors while enjoying a delicious meal. Chef Salil Mehta, Owner of Fungi Hospitality's has some suggestions on what to order. Try the Crab Larb Salad ($30) a fresh and flavorful Thai salad, made with Lump crab and doused in a tangy lime dressing. For a heartier alternative, try the Nasi Lemak  ($26). This is Malaysia's national dish, made with coconut rice, curry chicken, and sambal shrimp , anchovies, hard-boiled eggs, fresh cucumber slices and salted peanuts. Each dish is flavorful and perfect for the season, with a unique blend of savory and sweet flavors.
Dante West Village, NY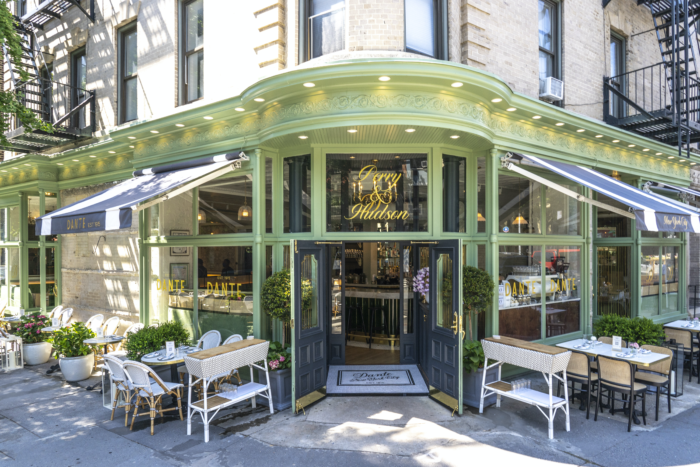 On the corner of Hudson and Perry streets in Manhattan's West Village neighborhood, the mint green–colored establishment boasts classic bistro tables, which feel more like something you'd find on the boulevards of Paris rather than the streets of New York. While outdoor dining try one of Executive Chef Mary Bartel's favorite dishes like the Spring snap pea & asparagus salad ($24). Another is the Grilled Black Sea bass with spring vegetable medley and seasonal herbs ($42). 
The Mary Lane, West Village, NY