The Mary Lane celebrates market-driven cuisine and transforms clean and seasonal ingredients into exceptional dishes.
Locally sourced, market-based fare takes center stage at The Mary Lane, situated on the cobblestone corner of Bank and Greenwich Streets in the West Village.
The Atmosphere
Stumble into the eatery on an early evening, and you may only see a handful of diners, including solo dates and small family gatherings, seemingly reuniting with children at college. But as the grey skies fade into darkness, The Mary Lane comes to life. Chatters begin drowning the ambient music, and the clangs of cutlery and servers shuffling join in the symphony. While waiting for your server, you'll admire the little details of fresh flowers adorning your table. And the fig-inspired art on display, blending with the interior hues of blue, dusty rose, and light neutrals.
The Eats
Executive Chef Andrew Sutin leads the kitchen and market-driven menu at The Mary Lane. This concept is one that all eaters will appreciate. Essentially, your food is authentic, seasonal, and cleanly prepared. And while dining there you'll also support farmers. It's a win-win situation.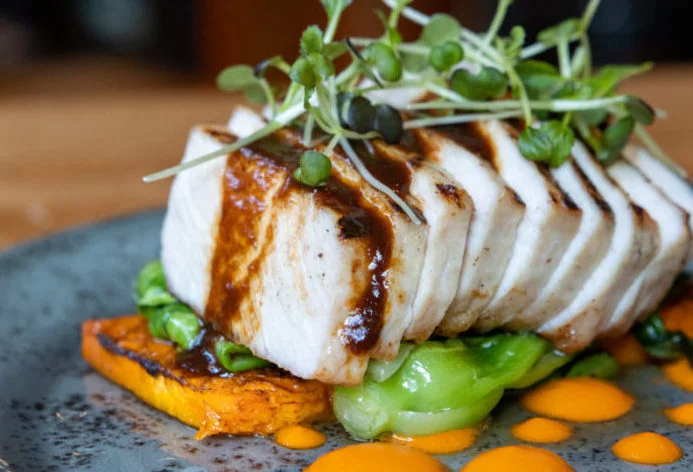 Start dinner off with a daily special like the dry aged Long Island duck breast, ($52) aged parm and potato gratin, norwich meadows swiss chard, chanterelles plum jus. Or the sauteed Fluke, ( $38) with bon shimeji mushroom escabeche, roasted red peppers, morel mushrooms, lacinato kale, almond emulsion.  Alternatively you can opt for something on the standard menu. You'll find kindred dishes to the daily specials like grilled maple brined pork loin, served with scented butternut squash, ($35), and sautéed steelhead trout with confit leeks, fondant potatoes ($36). There's also the sweet potato and tuscan kale 'lasagna' ($28). It is a dish that reimagines traditional lasagna by replacing pasta with sweet potato and kale, making it gluten-free and vegetable-forward.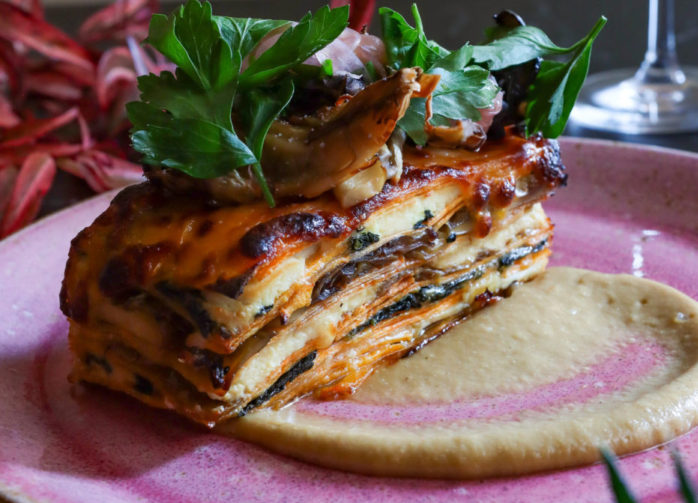 Meanwhile appetizers are also worthwhile trying, such as the mushroom tartare ($14). It is a beautiful light bite that swaps common ingredients of beef and tuna with mushroom. Mushrooms are cut into tiny pieces and assembled into a cylinder shape; dots of bechamel surround it, making it a delicious art piece. Another beautiful dish is the carrot soup ($14); while it may sound basic, it is nothing but. This dish is made with vadouvan curry, coconut cream, carrot torshi relish, and pearl onions; it celebrates Indian flavors and will leave you craving more. 
Beyond dinner, The Mary Lane also offers brunch. If you fancy Mediterranean flavors, the spicy shakshuka with baked eggs ($17), is highly recommended. You will devour it within minutes and automatically use the charred bread to scrape what's left off the eggs. Of course, in New York, smashed avocado toast ($14) is a must-have brunch choice. The Mary Lane gives the option to top theirs with an egg or trout for an additional cost.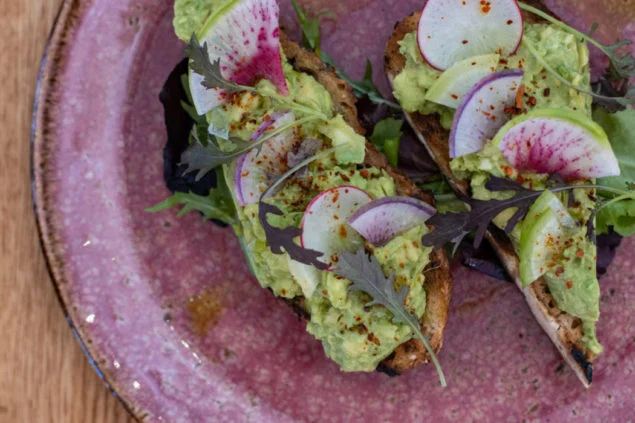 You'll notice a commonality throughout all food options, vegetables are present in every dish. This speaks to Executive Chef Andrew Sutin's passion and creativity to bring diners innovative, vegetable-focused cuisine. For his favorite seasonal dish, he leans towards the spring pea risotto. It comes with spring garlic, pea shoots and brown butter roasted morel mushrooms. No matter the season or time of day, diners at The Mary Lane can always expect to be nourished by a seasonal bounty and delighted by their presentation.
The Beverages
Led by Lisa Komara, the beverage program takes a similar clean and produce-drive approach. It offers creative takes on classic cocktails and a wine list that reflects the regional influences of the cuisine. For a beautiful meal pairing or solo enjoyment, The Mary Lane has an excellent selection of specialty cocktails for $17 .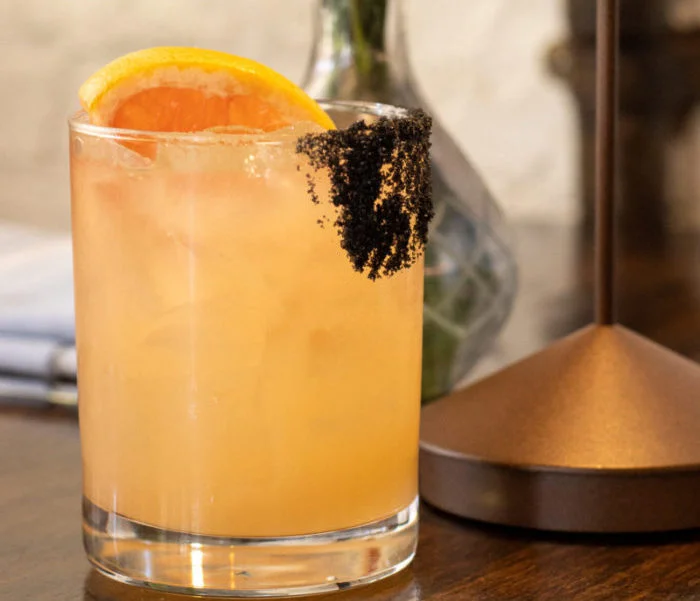 Some are the hot toddy; this is a must if you're seeking refuge from New York's brutal cold. Also if you want something warm while sitting at the bar. On the other hand, the orange U mezi better complements New York's much-loved spring weather. It boasts fresh and bright notes of blood orange, sage, and infused mezcal. For wine enthusiasts, The Mary Lane has excellent options; from whites, reds, rose, and skin contacts, originating from all parts of the world like France, Spain, Italy, and the U.S. Beers, sparkling, and champagne are also available to order. 
The Dessert 
After mains, you may think you are ready to leave. But your stomach will rumble again once you hear The Mary Lane's sweet nightcap choices. These include the milk chocolate molten cake topped with caramel gelato ($15) and an olive oil-almond cake topped with apple compote and mascarpone ($12). The molten chocolate cake is divine. There's something incredibly satisfying about ice cream seeping into a warmed cake. And better yet if it's consumed with a rich cocoa flavor. Meanwhile the olive oil cake is an uncomplicated and delightful slice of heaven.  You can't go wrong with either options.
The Mary Lane
Website
99 Bank St.,
New York, NY 10014 
(212) 597-9099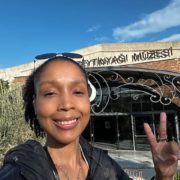 Alyssa Holder
Alyssa Holder is a writer specializing in food and travel topics since 2015.