Tucked off the L train, you might be lucky enough to stumble upon Fandi Mata's Mediterranean-inspired oasis, transporting you to a vacation far from New York's concrete jungle.
The Vibes
You'll quickly forget that you are inside an industrial Brooklyn warehouse as greenery and foliage welcome you inside the large, high-ceiling restaurant. Reminiscent of a Moroccan bazaar, mosaic tiling line the stairs and tables, while bursts of color create a vibrant atmosphere. Wherever your eyes go, there is something eclectic drawing you in. At night the room glows in deep shades of reds and purples, drawing your gaze to the hanging disco ball or the candle-lit tabletops. A roster of live music adds to the energetic atmosphere.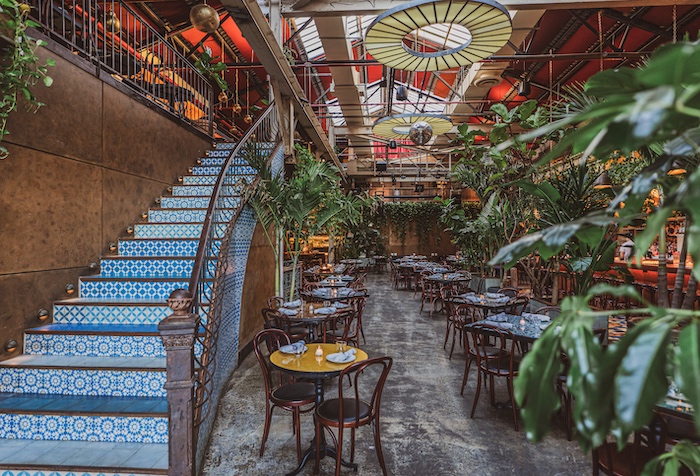 The Hospitality
Fandi Mata's namesake meaning 'to connect' in Romani is embodied throughout the restaurant from its charismatic chef to the warmth exuded by the staff. It feels almost like dining at a friend's house. Executive Chef Sung Park is the latest addition to the team. Chef Park, a Jean-Georges and Ivy Lane alum, brings a wealth of inspiration from his global travels to this transportive menu. "The thing I love about Mediterranean food is that it encompasses so many different flavors, ingredients, and styles. I'm constantly inspired by the variety of continental specialities," he says.

The Pours
Sink yourself into the rainforest atmosphere with the Grass is Greener cocktail. The mezcal-forward drink melds homemade grass and ginger syrup, with cilantro, lime juice, aquafaba, and avua cachaça prata, a sugarcane-based spirit, to create a frothy herbal concoction. If you're craving something a little more savory, try the Sabrosa. The drink creatively melds an artisanal mezcal with ancho Reyes chili tequila, pineapple-cinnamon syrup, and lime juice, making each sip a little smokier than the last.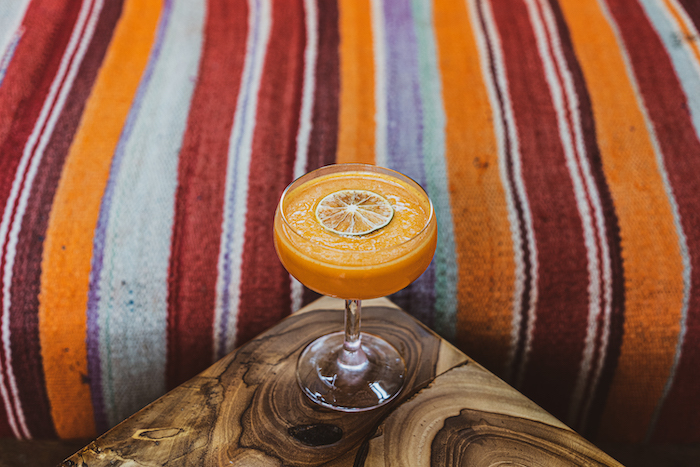 The Small Bites
Whether appetizer or main course, dishes here are perfectly designed to be shared amongst large groups, allowing you to sample across regions. And at Honest Cooking, we surely don't save the best for last. Start with the croquetas; each bite will have you tasting something new. These croquetas are made of bacon, dates, and Manchego, then topped with a tartar aioli and more shaved Manchego. Fresh to the winter menu and recommended by Chef Park himself is the burrata and heirloom tomato salad. It seamlessly combines spiced date jam, kumato tomato, preserved lemon, mint, pistachio, pea sprouts, EVOO, and sea salt. It goes without being said that when in the Mediterranean, one must order a mezze platter. You'll be swooning over the slightly smokey muhammara and the fresh baba ghanoush, as you nibble throughout your stay.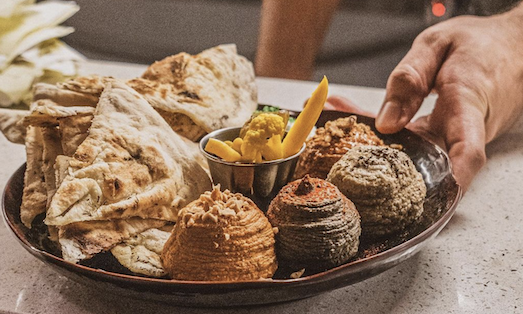 The Mains
Kick things off with the ever-so-intriguing truffle and wild mushroom gnocchi for your first main dish. The gnocchi pairs five seasonal mushrooms with a truffle purée, sage, and manchego cheese. The secret ingredient? A sunchoke sauce, which offers a unique spin on the usual alfredo. If you aren't familiar, sunchokes are essentially a cross between an artichoke and a potato. As such, the sunchoke invites a nuttier and slightly sweeter flavor to this creamy and flavorful dish. For a heartier bite, try the lamb tagine, inspired by Chef Park's travels to Morocco. The tagine features a slow braised apricot lamb shank decked out in the good stuff, fennel, saffron, almonds, and preserved lemons; it sits on a bed of sweet peppers, baby potatoes, and artichoke hearts and is served with Israeli couscous.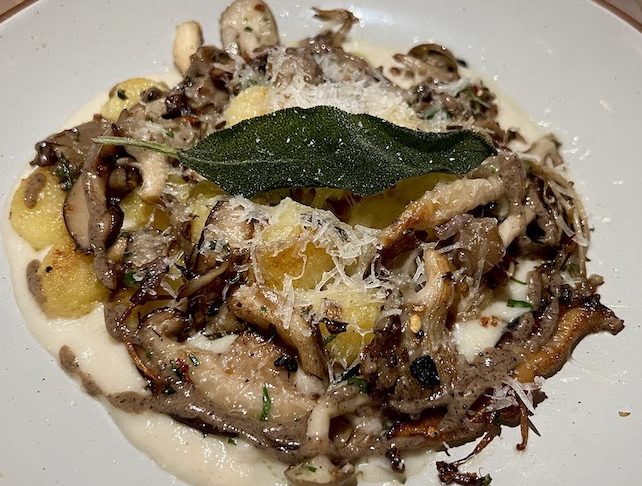 If you're looking to impress on your next group hang or date night, definitely snag a reservation at Fandi Mata. You'll be left with an evocative dining experience blending artisanal cocktails, soulful energy, and tropical splendor all in one warm setting.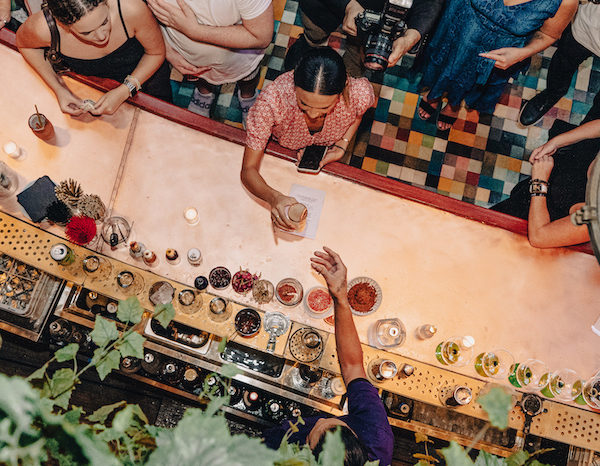 Fandi Mata
Website
74 Bayard Street, Brooklyn, NY.