A refreshing orzo salad that packs in the flavor and makes use of leftover chicken.
By Sarah Khanna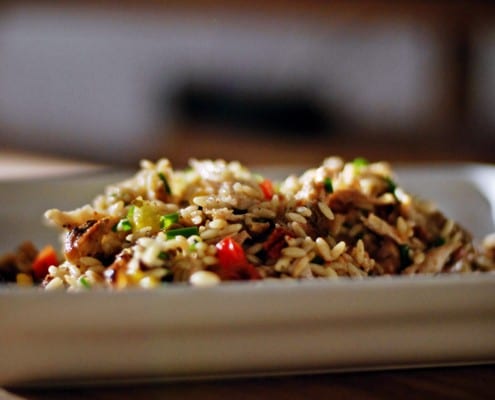 Orzo has been a part of life – my colds and my stomachaches – for as long as I can recall. I could pretend to count in numbers the ways I have had it over the last 27 years of my life but in truth, it's only been there to comfort me in the form of my mom's chicken soup, browned first in a dollop of melted ghee then left to cook in a fresh chicken stock filled with the scented flavors of mastic, cardamom and bay leaf. This was Lesan Osfoor Soup, or "sparrow's tongue soup", that was ever present in our household along with just about everyone else's in Egypt.
It took me a while to realize that we were eating a sloppy mess of tongues of little sparrows but I liked it that way and so I chose to ignore its name the way many children usually do. It's good, it's warm, I like it, I thought.  Only later did I have the courage to ask knowing that I could not turn back, "What's in this lesan osfoor soup?"
Mom laughed; amused eyes and subtle smirks assured me that there were no tongues involved and that what we used for the soup was orzo, a rice-shaped pasta, and that some Egyptians once thought it resembled, yes that's correct, a sparrow's tongue and so came the name. I remember giggling between bites dribbling down my chin.
Only recently did I decide not to brown it, to introduce it differently into our Egyptian home and to allow it to flourish, littering a variety of dishes.  I had been missing out.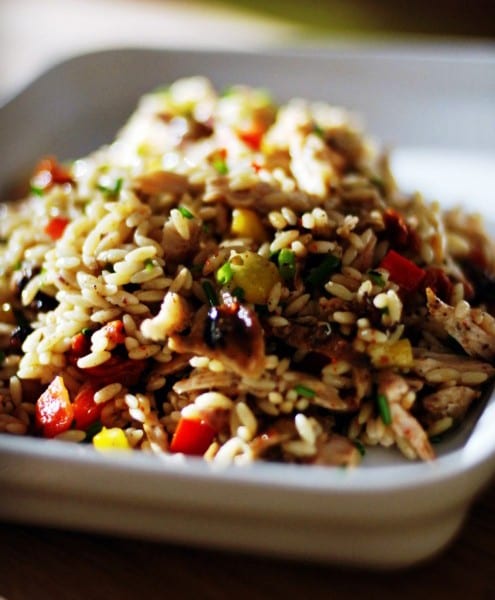 Print
Orzo Chicken Salad
A refreshing orzo salad that packs in the flavor and makes use of leftover chicken.
1/2 cup

of orzo

1.5 cups

of chicken stock

1.5 cups

of water

150 grams

of grilled chicken, shredded

1

large red bell pepper, diced (I used

1

small red &

1

small yellow)

7

large kalamata olives, seeded and chopped

1

clove of garlic, minced

1

big handful of chives, snipped

3 tablespoons

of olive oil
Juice of

1

lime

1 teaspoon

of whole grain mustard

1/4 teaspoon

of chili powder
Salt and pepper to taste
Instructions
Bring the water and chicken stock to a boil.
Add the orzo to the pot and stir for a moment to ensure that it doesn't stick to the bottom.
Cook uncovered until the orzo is al dente.
While the pasta is cooking, combine the chicken, bell peppers and olives in a large bowl.
Mix half of the chives into the salad.
When the orzo is ready, strain and toss through the other ingredients.
In a small bowl, mix together the olive oil, lime juice, mustard, chili powder, garlic, salt and pepper to make a light dressing and pour over the orzo salad mixing gently as you go along to ensure it coats the salad ingredients.
Garnish with the second half of snipped chives and serve chilled.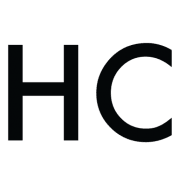 Sarah Khanna
Sarah Khanna is the half-Egyptian, half-Indian author behind Buttered-up.com who quit her Cairene career in advertising to become a full time cook, writer and photographer in Kuala Lumpur. She is also a weekly food columnist for the Daily News Egypt where she critiques Arab food culture. Raised as a hotel brat, Sarah has moved frequently but considers Egypt to be her real home. She loves butter and knives and shudders at the sight of canned tuna.