A nighttime cookbook endeavor, ends up producing these grown up and sophisticated cinnamon rolls.
By Deena Wachtel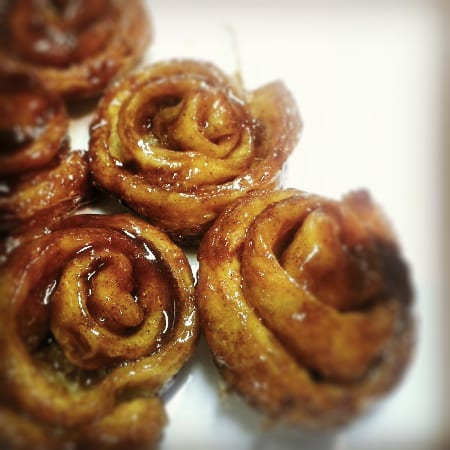 Sometimes cookbooks call to me in the middle of the night and I'm helpless to stop it. And who am I to stop it?
Last night, for example, the book "i love cinnamon rolls" by Judith Gertig ran throughout my dreams. Perhaps it was the guilt calling to me through my subconscious. I've been looking at this book for a couple of months now, too emotionally exhausted to knead dough, too impatient to let it rise, and yet too responsible to let my personal life come between me and a PR pitch. Or, maybe its because Zoe ordered a cinnamon roll for breakfast yesterday and I was disappointed by the too-doughy, hint of cinnamon pastry that came out. I needed to make ooey gooey cinnamon rolls for her, ASAP!
In any case, I woke up early and set out to make cinnamon rolls for my girls.  I used the cookbook as a guide – a source of information for the "anatomy of a cinnamon roll" as well as baseline for butter to sugar ratios. Being a Monday morning, I clearly didn't have time to actually make the dough by hand, so I improvised.  I used puff pastry.
These are not that hard to put together, and bake up in about 20 minutes.  The pan sauce takes the cinnamon roll from okay to AMAZING and the secret ingredient (puff pastry) makes these cinnamon rolls super buttery but also a little toffee-crunchy.
My dad ate THREE this morning. Yup. He bypassed his "polite try" and went straight to "devour". The girls were a little more difficult to please.  They must like the too-doughy soft cinnamon rolls from our local breakfast joint. But I'm considering these a hit. A "grown-up" more "sophisticated" cinnamon roll – as my dad put it – has a place in my home.
And the fact that I can make these – even on a crazy Monday morning – may prove a little too dangerous for my waist line.
You only live once, right?
Print
Ooey – Gooey Cinnamon Rolls
---
Author:

Deena Wachtel

Total Time:

23 minutes

Yield:

1

2

1

x
Description
These cinnamon rolls come together in about 20 minutes and are perfect for even the craziest Monday Morning.
---
1

sheet puff pastry

3 TBSP

butter, melted

1 TBSP

cinnamon

2 TBSP

white sugar

1

stick of butter, softened

1 cup

brown sugar

2 TBSP

cinnamon
---
Instructions
Preheat oven to 375 degrees
Roll out Puff Pastry
In a small bowl, melt 3 TBSP butter and combine with 1 TBSP cinnamon and white sugar. Set aside.
In a medium size bowl, mix together soft butter, brown sugar and 2 TBSP cinnamon. Spread out over puff pastry.
Roll puff pastry into a log and then cut into 10-12 rolls.
Prepare a large 12-muffin tin by placing a teaspoon of melted butter mixture in the bottom of each muffin compartment. Place one cut cinnamon roll spiral side up on top of the melted butter mixture.
Bake for 15-20 minutes until cinnamon rolls are puffed and slightly brown.
Remove from oven and turn out individually onto a serving plate. Let rest for 5 minutes before serving.
Enjoy!
Notes
Inspired by "i love cinnamon rolls" by Judith Fertig.
Prep Time:

8 mins

Cook Time:

15 mins
Deena Wachtel
Deena is a stay at home foodie, obsessed with food and intent on changing her finicky family into a foodie family. She lives by a set of FOODosophies and has pledged to get her kids into the kitchen to teach them how to cook and love good tasting food. It's not always pretty and there are nights when the kids go hungry. But, for her, it's all for the greater good. She blogs daily at stayathomeFOODIE.com.