PARTNER POST: The versatile potato is perfect in a multitude of recipes showcasing flavors from around the globe. Get creative with your spuds.
Loaded with a vegan potato and onion filling, these pierogi are the perfect winter meal with a side of roasted brussels sprouts.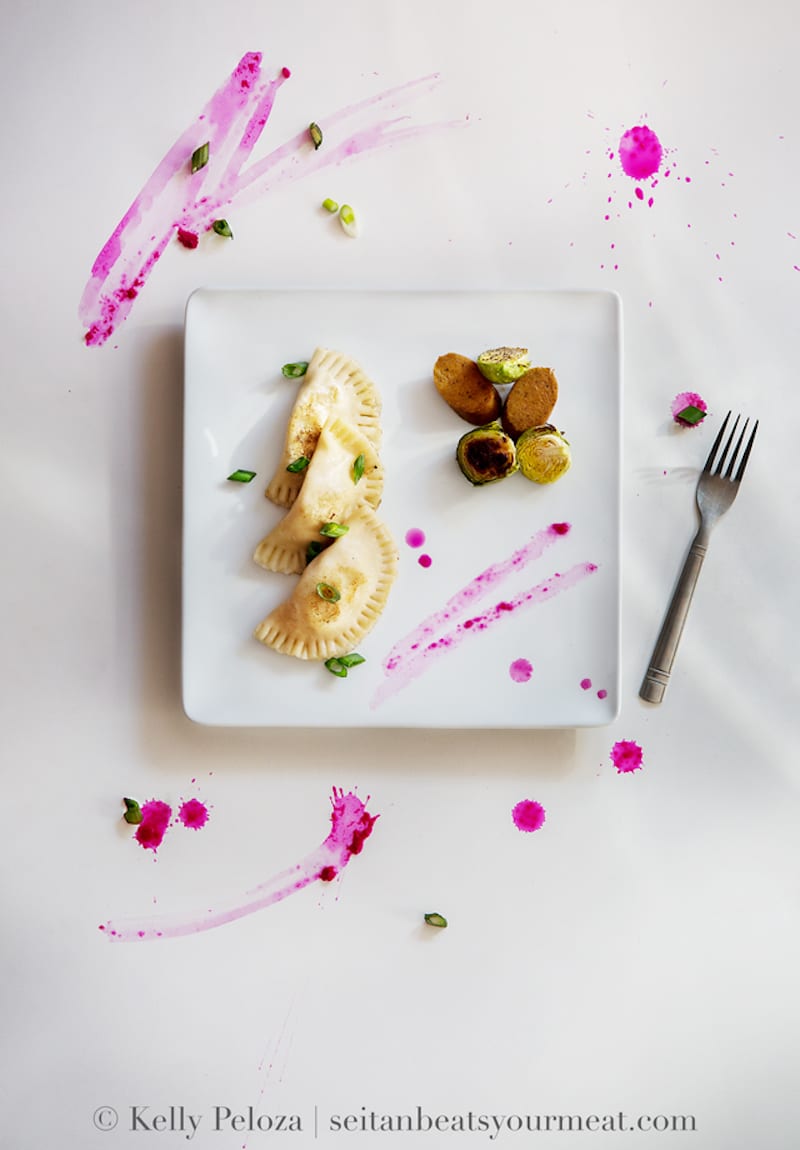 Of course, there is a long list of appetizers, recipes, and even desserts to create with potatoes beyond your standard fried, mashed, and baked. Especially since potatoes are full of all kinds of vitamins and good stuff. You can coat them in olive oil and all of your favorite herbs and spices, then roast them. You can get the tiny purple potatoes or fingerling potatoes and make your side dish automatically fancier, with even less effort.
I decided to create a potato dish with ties to Chicago and the Polish restaurants and influence in the city: pierogi! Potato-filled Polish ravioli, check.
Depending on the dough recipe, pierogi is often automatically vegan, but with common fillings and accompaniments such as cheese and kielbasa sausage, vegans must often make their own Polish dinner. I live in close proximity to one of the largest Polish neighborhoods in Chicago, so finding ingredients like bright pink locally-made beet horseradish and a wide selection of sauerkraut was a snap.
This pierogi recipe is pretty straightforward, but it requires some manual labor and a bit of time, so set aside an afternoon and grab a friend to help. Once you have the dough made, you can fill it with absolutely anything, so feel free to make a version with vegan cheese and potatoes, or sauerkraut (make sure to squeeze out some of the water first though). As written, the recipe makes some serious comfort food: potato and onion pierogi, roasted Brussels sprouts, and vegan kielbasa sausage (I used Tofurky. I made my pierogi with Yukon Gold potatoes, but the potato variety you choose is up to you!
See Also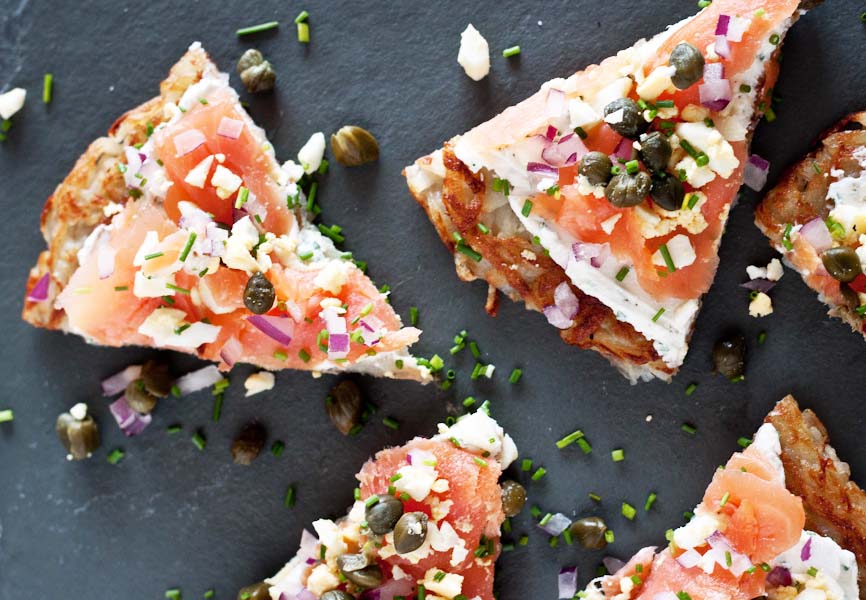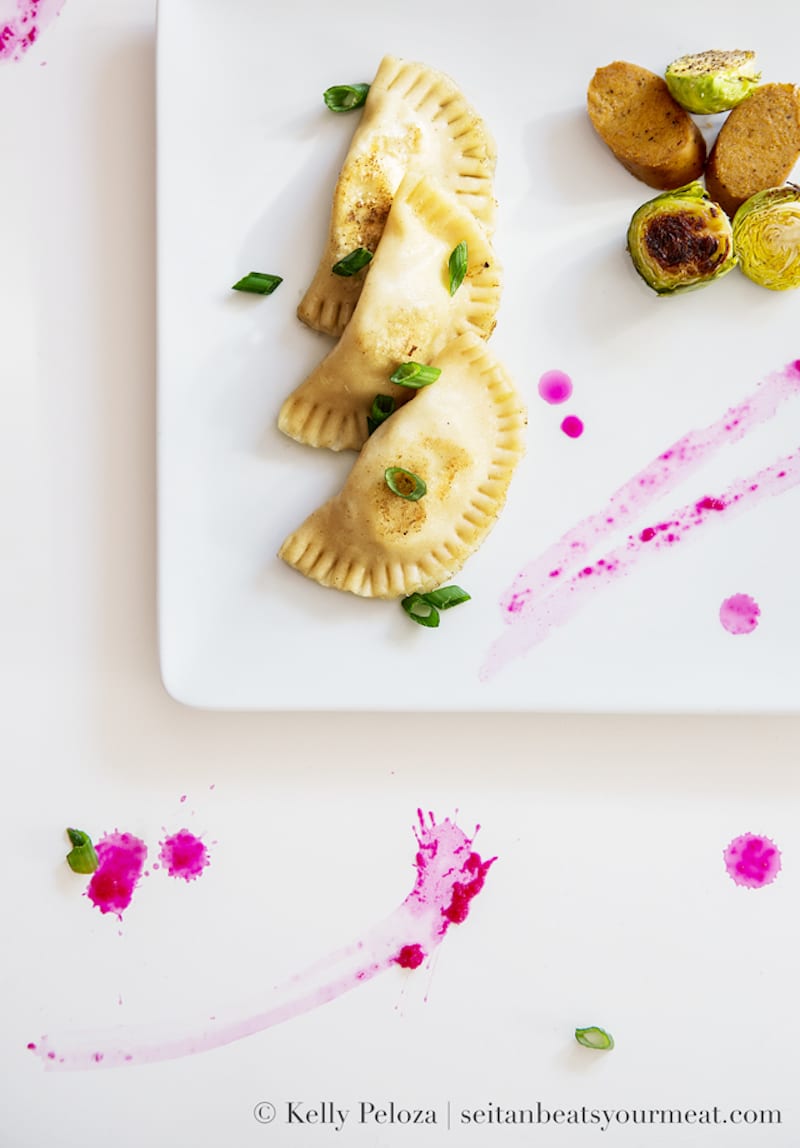 For another international potato recipe, try these Bombay Spiced Potatoes: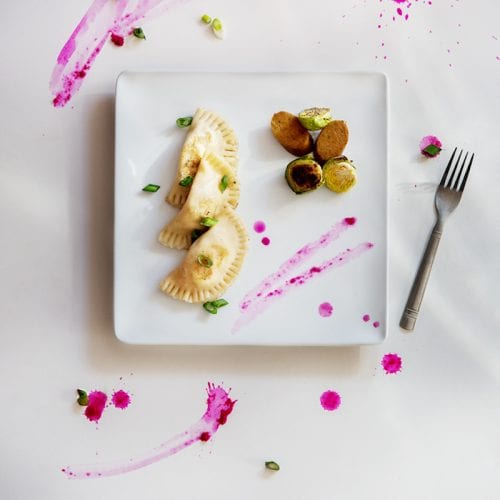 Onion and Potato Pierogi
Kelly Peloza
Loaded with a vegan potato and onion filling, these pierogi are the perfect winter meal with a side of roasted brussels sprouts.
Servings
4
-6 servings or 3 dozen pierogi
Ingredients
Pierogi:
1

tablespoon

vegetable oil

1/2

medium onion

diced

4

medium potatoes

peeled, Yukon gold

3

tablespoons

vegan margarine

Salt and pepper to taste

3

cups

flour

1/2

teaspoon

salt

1

cup

warm water

1

tablespoon

vegetable oil
Brussels sprouts:
1

tablespoon

vegetable oil

1

lb

Brussels Sprouts

Salt and pepper to taste
To serve:
1

tablespoon

vegetable oil

4

meatless kielbasa sausages

sliced

Horseradish

I got beet horseradish

Sauerkraut

Sliced green onions
Instructions
To prepare the pierogi:
In a large skillet, heat the first tablespoon of vegetable oil over low-medium heat. Add the diced onion and sauté until caramelized, about 10-12 minutes. Remove from heat.

Meanwhile, chop the potatoes into 1-inch pieces and place in a saucepan filled with water. Boil potatoes until soft, approximately 10 minutes. Drain the potatoes. Mash the potatoes, then add the onions, vegan margarine, and salt and pepper to taste. Set aside the mixture to cool slightly.

In a large mixing bowl, sift together the flour and salt. Mix in the warm water and vegetable oil, whisking until a dough begins to form. Once you have dough, begin kneading for 5 minutes on a floured surface until the dough is very smooth and elastic.

Divide the kneaded dough into two and roll one portion out very thinly (approximately ?-inch, if you can). Using a 3-inch cookie cutter or the edge of a glass, cut out rounds of dough for each pierogi and set aside on a floured surface. Repeat with the remaining dough.

Take each round of dough and roll it out again, individually. Add 1 tablespoon of potato and onion filling in the center. Dip a brush or your finger in water and dab some water around the edge of the dough round, then fold in half. Seal the edge with your fingers, or by pressing down with a fork. Set aside. Repeat for each pierogi.

Bring a large pot of salted water to a boil over high heat. Boil 6-8 pierogi at a time, about 4 minutes each. Remove from the pot with a slotted spoon and continue until all pierogi are cooked.
To prepare the Brussels sprouts:
Preheat oven to 400°F.

Chop the Brussels sprouts into halves, then wash under cold water. Spread evenly on a prepared baking sheet and drizzle with tablespoon of vegetable oil, and salt and pepper to taste. Roast for 10-12 minutes, or until thoroughly cooked and crispy.
To assemble dish:
Add 1 tablespoon of vegetable oil to a large skillet over medium heat. Add some boiled pierogi, careful not to overcrowd the pan. Cook for 2-3 minutes on each side, until golden and crispy. Fry as many pierogi as you wish to eat, adding more vegetable oil if necessary. The remaining boiled pierogi may be stored in an airtight container in the refrigerator until ready to eat.

Keep the burner on and add the kielbasa to the pan. Cook for 2 minutes on each side, adding more vegetable oil if necessary.

If you do not want to fry the pierogi after boiling, simply set the boiled pierogi aside and keep warm.

Serve the pierogi with cooked kielbasa, roasted Brussels sprouts, sauerkraut, prepared horseradish to taste, and sliced green onions for garnish.
Kelly Peloza
Kelly Peloza is a Chicago-based food stylist and photographer at Kelly Peloza Photo (kellypelozaphoto.com), and a vegan cookbook author. She runs a recipe and food photography blog called Seitan Beats Your Meat (seitanbeatsyourmeat.com).