One-pan Caramel and White Chocolate Chunk Skillet Cookie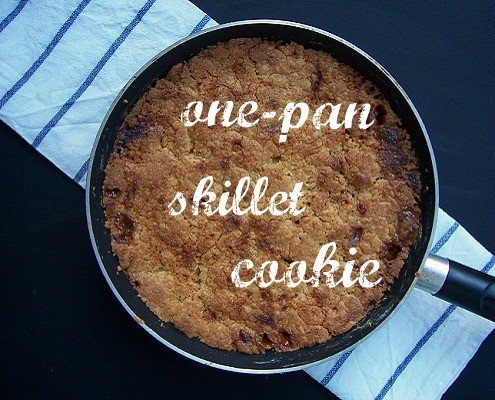 Even if you are not big on cookies, you will love this super simple one pan cookie recipe.
By Diana Mieczan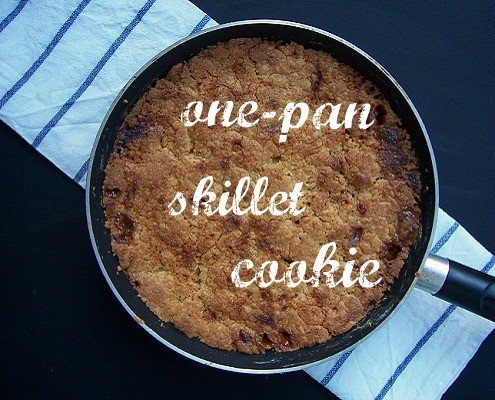 Yes, you are looking at an enormous cookie full of white chocolate chewy bits and caramel, all made in a pan. Fancy a piece? I dare you.
Since I discovered this gem of a recipe a few months ago, each time our friend (and their kiddos) come over they beg for it. It's one of the most popular recipes I use because of the way it's made.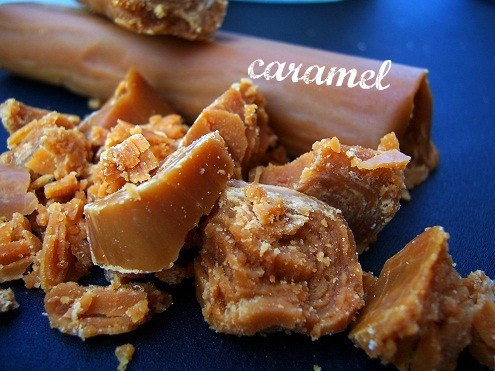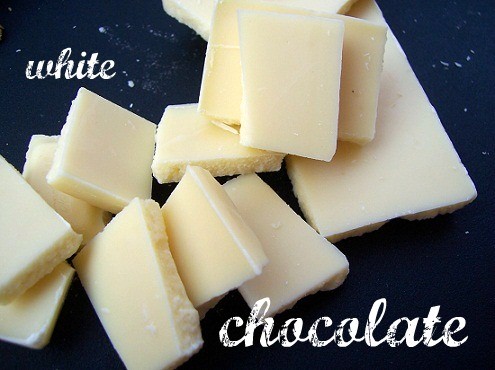 I've tried about four different variations so far, you can experiment with all kinds of sweets from dark chocolate to m&m's or even butter scotch. But for this recipe, I went with a white chocolate/caramel mix, which is Balazs' favourite. Each time I make this cookie, I feel like a kid playing in her toy-kitchen.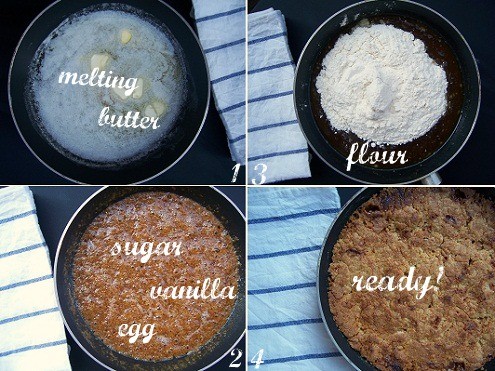 The trick is to not over-sweeten it. So depending on what candy-mix you use, try to balance it out by adding less or more brown sugar to the dough.  You can also serve it with cranberry sauce which gives it a wonderful balance between sweet and sour. The whole making process, including baking in the oven tops half an hour and it's very easy. One pan will give you about six generous portions.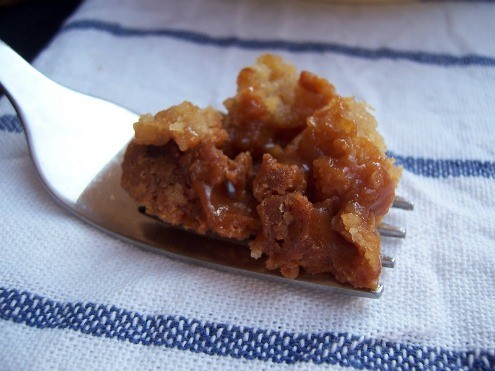 Believe me, even if you are not big on cookies, you will love this one. The chewy-warm texture of it makes for a perfect finish to a successful evening. Enjoy!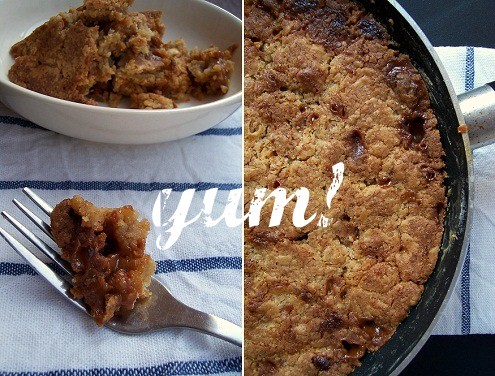 P.S: And for that one night you can forget about calories…It's so worth every single one of them.
One-pan Caramel and White Chocolate Chunk Skillet Cookie
Easy and totally tasty recipe adapted from sophistimom.com
Ingredients
1 stick (or 4 ounces or 8 tablespoons) unsalted butter
¾ cup (or 5½ ounces or 150 grams) brown sugar
1 teaspoon vanilla extract or vanilla sugar
1 egg
1½ cups all-purpose flour
½ teaspoon baking soda
¼ teaspoon salt
¾ cup white chocolate chunks
2 sticks (100grams) caramel fudge (knows as Polish krówka)
Instructions
Preheat oven to 350 F (or 176 C) degrees. Melt butter in an 9 inch cast iron skillet pan over low heat. As soon as the butter is melted, mix in sugar and vanilla till the whole mixure is even. Remove from heat and let it rest for up to 5 minutes. When the mixture is cooler, add an egg into it, mix. Sprinkle flour, baking soda, and salt on top, and stir the mixture until smooth. Add in chocolate and caramel chunks, mix gently. Place the pan with the mixture to the oven for about 15-20 minutes. As soon as the top and the edges are golden brown and the middle is still soft, you are done!
Notes
The baking time might vary depending on your oven.
Diana Mieczan
Diana Mieczan is a magazine writer and blogger who is totally smitten with food. She believes in an unfussy and simple dining experience that brings people together. Her idea of a perfect evening is a glass of French wine, avocado toast and jazz. Between cooking with her husband and writing she also runs the successful lifestyle blog exPress-o.