Inspired by Keith Richards and his unknown culinary skills, Joana Mendes sets out to create the perfect meatless Shepherd's Pie.
By Joana Mendes

Life, by Keith Richards and James Fox, was the book my boyfriend was reading a couple of weeks ago. The book is filled with dozens of incredible stories Keith and The Rolling Stones have lived since the band was formed. The most interesting thing about the book is precisely the fact that one randomly chosen single episode from it, would actually be enough to make the life story of any common mortal on earth; a story that would certainly be perpetually labeled as amazing. According to this point of view, Life has enough stories to fulfil one's imagination, but they wouldn't likely have happened to anyone else than Keith himself and his rock'n'roll band.
One day, as I was flipping through the book, I've found some episodes related to food. I was surprised and excited at the same time – "Does Keith actually know how to cook? No way!", I kept saying to myself. And yes, Keith Richards does cook. There was an episode, narrated by Kate Moss, involving some missing spring onions  – I'll leave that for another occasion. The one I'd like to focus on is that of the Shepherd's Pie. Apparently, the guitar player of The Rolling Stones is very fond of it – you can even find his version of this british classic online. It is said (and apparently well-known) that one of the main rules anyone has to deal with when touring with The Rolling Stones is to "never, ever, take the Shepherd's Pie (which is a common food order on tour) unless Keith Richards' broken the crust first." [1] As it's narrated in the book, once some of the staff ate the pie without Keith having perfomed his "pie ritual" first – not only he got mad at it, but also delayed the show, waiting for another pie to be made.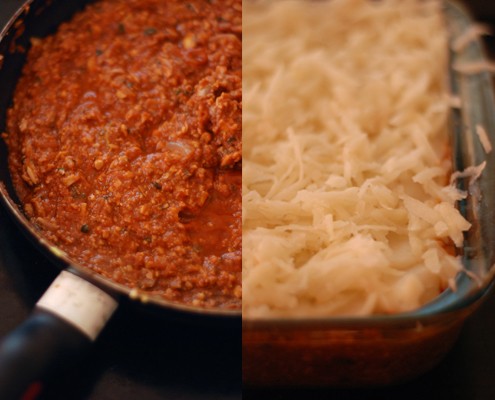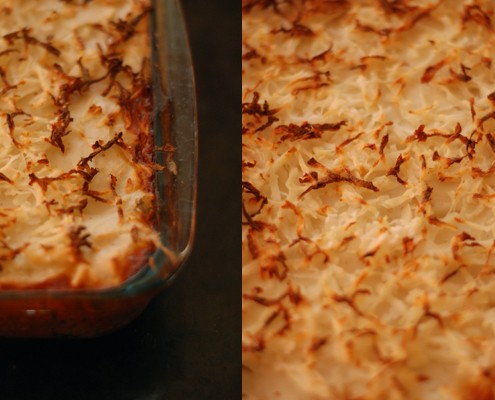 Inspired by this story, I made my own version of the Shepherd's pie. As I was eating it today for lunch, I couldn't help myself but wondering: "Would Keith enjoy my meatless take on the dish?" Honestly, I can't see why not. The meat is replaced by tempeh which is cooked in a rich tomato-y sauce and then covered with a simple and creamy potato purée that incorporates lots of freshly ground pepper and nutmeg. To finish things off, shredded potatoes are added on top in order to make a crunchy topping. Keith, please make yourself at home, break the crust, and have the first bite.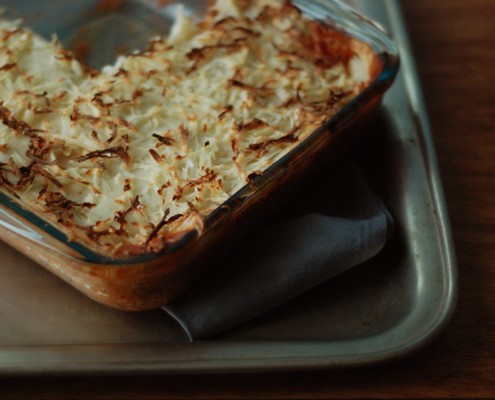 Tempeh Shepherd's Pie
(serves 6)
For the tempeh sauce:
130 grams (1 cup) onion, finely cut
3 large garlic cloves, minced
1 dried chili pod, minced
2 tablespoons olive oil
1 ½ cups (200 grams) tempeh, minced (use a food processor to mince the tempeh)
2 cups (180 grams) button mushrooms, finely cut
2 tablespoons lemon thyme, minced
1 cup (250 ml) good quality tomato sauce
½ cup (125 ml) red wine
2 tablespoons tomato paste
¾ teaspoons sea salt
for the purée:
1 3/4 Pound (800 grams) russet potatoes, peeled and cut into 1cm (0.4 inches) cubes
1/4 teaspoon freshly ground nutmeg
¼ teaspoon freshly ground white pepper
1 tablespoon vegan margarine
See Also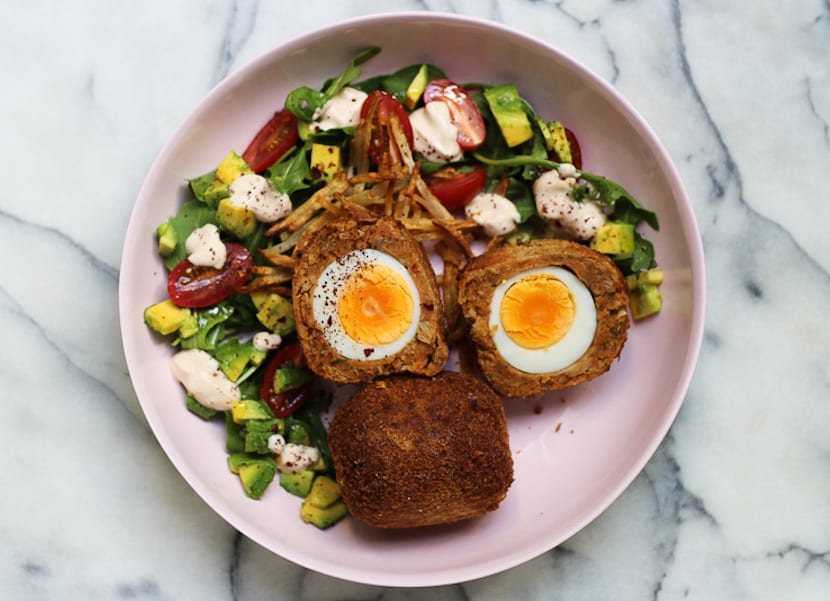 for the topping:
1 cup (130 grams) shredded potatoes, liquid squeezed and discarded
1. Pre-heat the oven to 180ºC (350ºF).
2. Heat a large pan over medium heat and add the olive oil, onion, garlic and chili pod. Cook for 4 to 5 minutes, stirring often, or until the onion has softened. Add the mushrooms, salt, tempeh and lemon thyme and cook for additional 3 minutes.
3. Add the tomato sauce, wine and tomato purée to the pan. Give things a good stir and cook for 10 to 15 minutes, or until the sauce thickens up a bit. Set aside.
4. In the meantime, prepare the purée: add about 2 liters (8 cups) of salted water to a pot and bring to a boil. Once boiling, add the cubed potatoes and reduce the heat to a simmer. Cook for 20 minutes, or until the potatoes are tender.
5. Transfer the cooked potatoes to a food processor. Add one tablespoon of vegan margarine, the nutmeg and black pepper and process until a thick, creamy purée comes together – the mixture should be very soft, so make sure you process it for a couple of minutes. Have a taste and adjust the seasonings, adding a bit more salt if necessary.
6. Transfer the tempeh sauce to a 20×20 cm (8 inches) baking dish. Cover with the potato purée, spreading the mixture evenly with the help of a spatula. Now, spread the shredded potatoes on top of the purée.
7. Bake for 25 minutes, or until the top is golden brown.
[1] Mick Jagger on "Mick Jagger reveals rules of the road"
Joana Mendes
Based in Porto, Portugal, Joana Mendes is the cook, photographer and editor of the Veggies On The Counter food blog. She loves seasonal and natural produce, and her focus as a cook and writer is on whole foods and vegan cuisine.