These delicious, golden brown Dutch doughnuts are an important part of the New Years Eve tradition in the Netherlands. Crispy on the outside, and deliciously moist on the inside, they are perfect for any cold weather celebration.
Oliebollen (literally: oil balls) are Dutch donuts made from enriched fresh yeast dough and cooked in a deep fat fryer. They are a dutch tradition, a delicious treat, prepared and eaten on New Years Eve, but can be bought at oliebollen stands in the street in November and December as a part of yule celebrations, and also the whole year around at funfairs.
Oliebollen can be made plain or raisins, currants and apple can be added to the dough. Both usually get dusted with some icing sugar before serving. Some people also add citrus zest, succade and candied cherries. Also, the olieboll can be filled after baking with whipped cream, pastry cream and/or jam. The sweetness comes from the icing sugar and/or fillings, since the dough itself is not very sweet.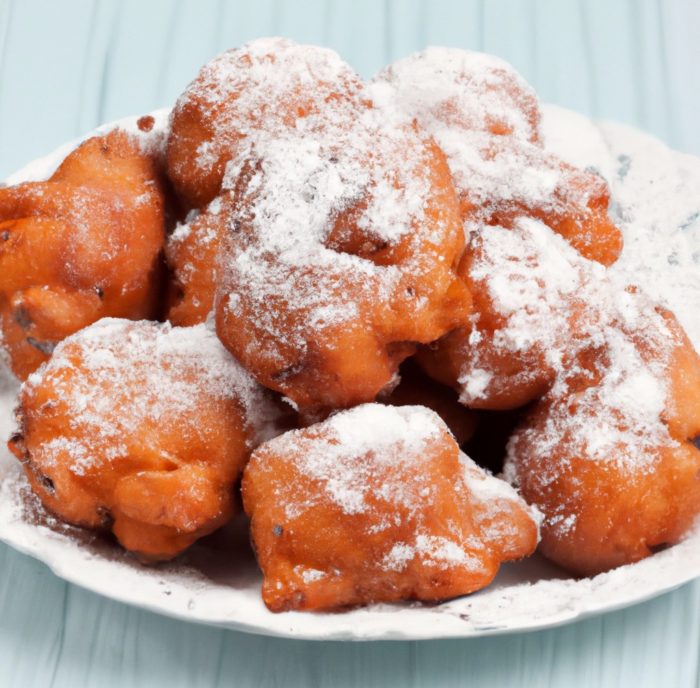 For me, baking Dutch oliebollen on New Years Eve has become a real tradition. When I was younger, I helped my dad when he baked the oliebollen at our house. We always made two batches, one plain and one with raisins. And the first ones always came fresh out from the oil perfectly in time for lunch. Oliebollen are the most delicious just recently baked. They stay tasty for 1-2 days and can be warmed up in the microwave, but freshly baked is just unbeatable. Then I started baking them with my boyfriend. He had a lot of experience making oliebollen, so I went along with his recipe containing raisins and apple, and completely loved it. At first we made large batches at the student flat we were living in, sharing them with friends, and have enough to eat some oliebollen in the middle of the night coming back from a New Years Eve party, and some more to have as a perfect hangover breakfast the next day. Nowadays we just bake for ourselves, in our small kitchen, in our small apartment, but we keep honoring the tradition of baking oliebollen on New Years Eve. And I would hate to miss having really freshly baked oliebollen once a year!
An interesting fact: it is likely that the well known American doughnut is actually an Americanized olieboll (oliebollen were introduced into America by Dutch settlers). Doughnuts have become lighter, fluffier and much, much sweeter than oliebollen are.
Print
Oliebollen – Traditional Dutch Doughnuts
---
Author:

Ena Scheerstra

Total Time:

2 hours 15 minutes

Yield:

25

oliebollen

1

x
Description
Dutch doughnuts, made with an enriched yeast dough and cooked in a deep fat fryer, with several fillings.
---
400 g

of flour

2 tsp

of salt

20 g

of fresh yeast

300

ml lukewarm milk

1 tbsp

of sugar

2

eggs

200 g

of raisins (soaked, washed and dried)

1

big apple (peeled, cored and chopped in small cubes)
fat for deep fat frying
icing sugar
---
Instructions
Dissolve the yeast in the milk, leave for a few minutes to get frothy.
Mix the flour, salt and sugar.
Add the eggs and the yeast-milk mixture to the flour.
Use a wooden spoon, whisk (needs to be a sturdy one) or dough-hooks and a mixer to mix everything together.
Keep mixing for about 10 minutes to develop the gluten.
Mix the raisins and apple through.
Cover the bowl and leave to rise for about 1 hour.
Heat the fat in a deep fat fryer or suitable pan to 170C.
Form spheres from the risen batter with 2 spoons, or an ice cream scoop, dipped in the hot fat and let them slide into the hot fat.
Bake them until brown, in 4-6 minutes. When the temperature of the fat is correct, the oliebollen will turn their selves over when the first side has browned enough.
Take the oliebollen from the fat with a slotted spoon, place them in a colander to get rid of most of the fat, then place them in another colander layered with kitchen paper towels. Use more kitchen paper towels between the layers. The towels will absorb the remaining fat.
Use the same method to bake the rest of the dough.
Eat hot, cold or reheated in the microwave and dusted with sugar.
Notes
Goudreneitten are the traditional apples to use.
For plain oliebollen, just leave out the raisins and apple.
For the fillings substitution is possible, but keep the same weight in total.
Prep Time:

1 hour 30 mins

Cook Time:

45 mins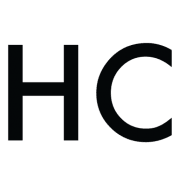 Ena Scheerstra
Ena Scheerstra has a lifelong love for food and cooking, starting to collect cookbooks at age 10. She spends most of her free time on cooking and everything food related. She is a strong believer of honest food, produced sustainable and sourced locally, and cultures her own vegetables on her balcony and in her small allotment. Her blog is very internationally orientated, reflecting the variety of food she cooks, but on Honest Cooking she is focusing on showing the world the wonders of Dutch food.