Not Quite Guacamole Avocado Spread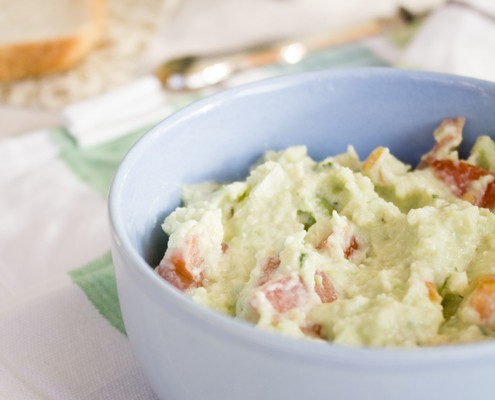 Tamara Novacoviç with her own personal creative take on that delicious Mexican national side dish.
By Tamara Novacoviç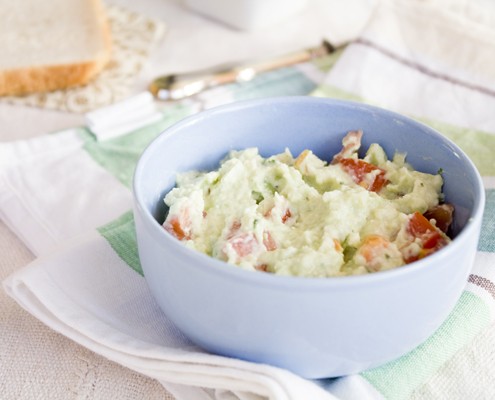 I call this guacamole but I'm aware that it can't be called a true Guacamole, since I decided to give it a slight twist..and add cottage cheese to it. You can use cream cheese for creamier texture. You can also use sour cream. So, we can call it "avocado spread". I like my guacamole with tiny chunks in it, that's why I don't puree it until completely smooth. I also like it with the addition of tomatoes. I used fresh parsley leaves instead of coriander  just because there is no fresh coriander on the markets of my town…But I added dry powdered version of it that I keep in a tiny bottle among my precious spices. Basically, I went with what is available in the markets in my country.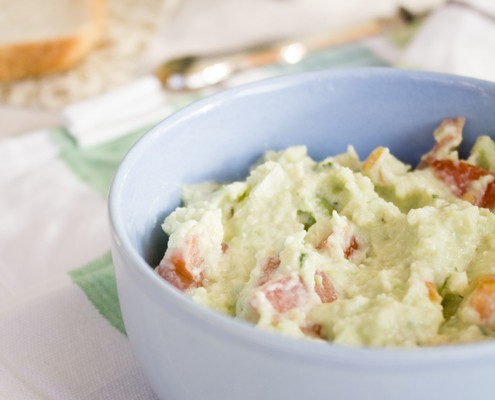 Avocado is such a beautiful fruit…yes, fruit. Two years ago I thought avocado was a vegetable. I associate fruit with sweetness or sourness and avocado is not sweet nor sour, it is more neutral. Then I tried guacamole for the first time and wanted to learn more about avocado, which resulted in previously mentioned fruity discovery. You see, avocado, mango, papaya and similar fruit are really exotic here and hard to find in this part of Europe. In the last couple of years there has been much better choice on our markets, but ten years ago you couldn't see this kind of fruit anywhere here.
I really like avocado and guacamole is probably my favorite avocado dish. Then there is avocado-mango salad and savory version of avocado-tomato salad. I have to try avocado ice cream too-my next project. I tend to buy firmer ones, because I don't usually make the dish the same day I buy it. I let it stand on room temperature for 2 days and it ripens. Plus firmer avocados are pretty and undamaged. If you make guacamole ahead, cover its surface with cling film so it doesn't change color and becomes brown.

Delicious, perfect for summer twist on classic guacamole!
Ingredients
2 ripe avocados
2 tomatoes
2 tbsp cottage (or cream) cheese
½ onion
2 garlic cloves
pinch of powdered chili
1 tbsp fresh chopped parsley leaves
½ tsp powdered coriander
juice of 1 lime
salt, pepper to taste
Instructions
Wash avocados, cut in half lengthwise, take out the stone and spoon out its meat. You can also peel it and cut meat into cubes. Sprinkle with lime juice. Blend into a paste or crush it in mortar and pestle.
Finely chop parsley, garlic and onion, add to the avocado. Add cottage cheese and other seasonings, combine well.
Wash tomatoes, chop into cubes and fold in gently. Serve immediately or cover surface with cling film and refrigerate.
Tamara Novakoviç
Tamara Novakovic is a passionate self-taught cook, food blogger, freelance food writer and photographer behind bite-my-cake.blogspot.com. Her life journey has led her through Faculty of Humanities in Zagreb, Croatia to discovering passion for making cakes. She is currently a weekly food columnist for Croatian newspaper V magazine and food magazine Repete.