Jallab – A Refreshingly Sweet Summer Drink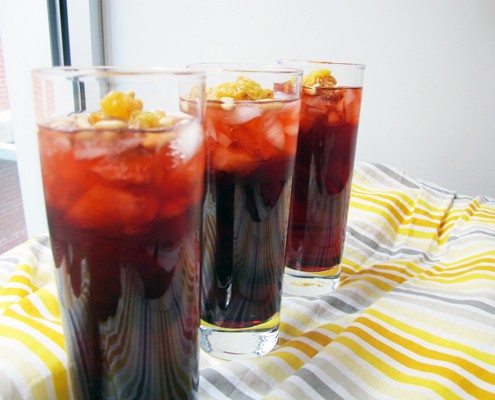 Jallab is a very popular drink in the Middle East. It's made by diluting the syrup made of grape molasses, dates and rose water with water and serving it in a tall glass with crushed ice.
By Mayssam Samaha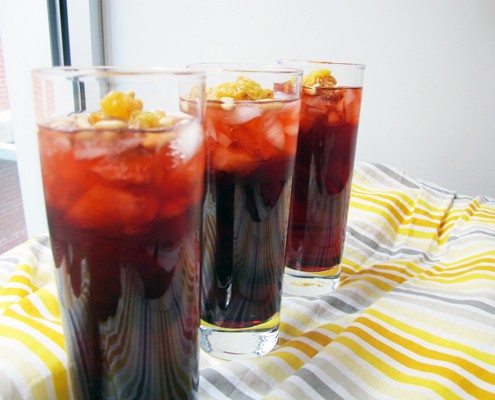 I grew up in Lebanon where, as a kid, I spent almost every day of every summer frolicking at the beach. There are certain tastes I associated with those carefree summer days, like salty hand-cut fries made even saltier by licking my sea salt laden fingers, or tiny fried fish dunked in hummus and eaten whole, head, bones and all.
This drink is definitely one of those tastes I associate with hot, lazy summer days… It was always a must around mid-afternoon when the sun was at its hottest. The refreshingly sweet taste always managed to quench my thirst but what I loved most about it was the heap of pine nuts and golden raisins that were so much fun to fish out from the bottom of the glass with your straw!
See Also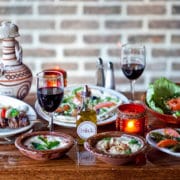 Jallab is a very popular drink in the Middle East. It's made by diluting the syrup made of grape molasses, dates and rose water with water and serving it in a tall glass with crushed ice. It's always topped with nuts, most of the time pine nuts and golden raisins, because a jallab without nuts is not really a jallab.
The jallab syrup can easily be found at any Middle Eastern grocery store. Get yourself some pine nuts and golden raisins while you're there and you're ready to make – and taste! – your first jallab!

A refreshingly sweet drink, perfect for those hot summer days!
Ingredients
3 Tbsp store-bought Jallab syrup
1 Tbsp golden raisins
1 Tbsp pine nuts
Crushed ice
Instructions
Put the Jallab syrup in a tall glass, top with cold water and stir
Add as much crushed ice as you like
Top the drink with the raisins and pine nuts
Mayssam Samaha
Born and raised in Lebanon, Mayssam lived in New York City before finally settling on Montreal as her home. She is constantly roaming her great epicurean city - and the planet! - for delicious culinary discoveries. From Michelin-starred restaurants halfway across the planet to the latest hole-in-the-wall down the street, Mayssam doesn't discriminate and wants to taste it all!