If flights aren't in your immediate future this season, break out the paper umbrellas and try your hand at creating paradise from your own home.
These tropical cocktails will teleport you to sandy beaches, luxury resorts, and turquoise blue waters all from the sip of a glass (close enough, right?)
Curaçao
Playa Abou Cocktail – Travelers flock to the colorful island of Curaçao to experience its more than 35 beaches. Named after one of those beaches is the Playa Abou cocktail, crafted by the team at Ochenta, one of Curaçao's many craft cocktail bars. The drink features the island's signature namesake liqueur, Blue Curaçao. Coconut cream and Blue Curaçao combine seamlessly with gin and lime juice to create a refreshing sip of the tropics. Let's be honest, the hues of blue alone will have your mind at ease.
Ingredients:
1 oz Senior Blue Curaçao
.5 oz Tanqueray Ten
1 oz Coconut Cream
1 oz Lime Juice
1 bunch of mint leaves for garnish
Directions:
Combine drink ingredients into a large shaker with ice. Mix Thoroughly. Pour into your glass of choice and garnish with mint leaves.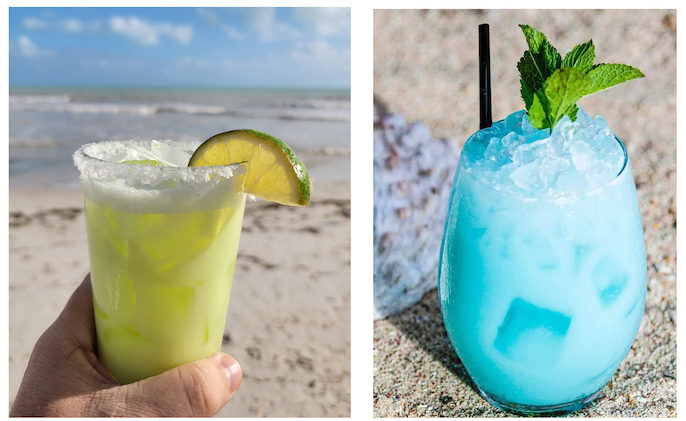 Key West
Key Lime Margarita – If you close your eyes, you can transport yourself to lounging around Key West's private beaches and overlooking oceanfront balconies.  Paying homage to the official pie of Florida, is the Key Lime Margarita. This recipe hails from Key West's award-winning Southernmost Beach Resort. The drink is made with any silver tequila, the island's signature Key Lime Liqueur, splashes of orange juice and agave. Emulating sweet and refreshingly tart, you cannot miss with this one.
Ingredients:
2 oz Silver Tequila
1 oz Key Lime Liqueur
1 oz Sour Mix
Splash of orange juice
Directions:
Combine your tequila of choice, key lime liqueur and sour mix into a large shaker with ice. Mix thoroughly. Next, pour the entire mixture into a large glass, and add a splash of orange juice on top. Garnish with a slice of lime and salt rim.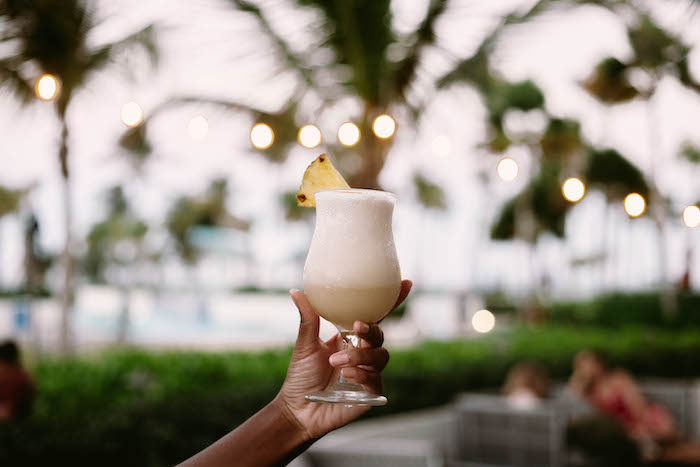 Puerto Rico
Piña Colada – No tropical cocktail list is complete without mention of the infamous Piña Colada. The Caribe Hilton's biggest claim-to-fame is that the Piña Colada was invented right in the bars of this beachfront hotel. In fact, it even went onto become Puerto Rico's national drink. Debuting in the 1950's, the Piña Colada has had somewhat of a glow up since then. The secret to making this libation rich and smooth? — The coconut cream. While you're at The Caribe Hilton, try your hand at making mofongo or spotting a sea turtle while snorkeling.
Ingredients:
2 oz white rum
1 oz coconut cream
1 oz heavy cream
6 oz fresh pineapple juice
½ cup of crushed ice
pineapple wedge or maraschino cherry for garnish
Directions: Add the rum, coconut cream, heavy cream and pineapple juice in a blender. Add the ice and blend until smooth for about 15 seconds. Serve in a 12-oz glass. Garnish with a fresh pineapple wedge and maraschino cherry.