Though Noreetuh has been around the East Village since 2015, I've only made it to the modern Hawaiian eatery just recently. Now I'm kicking myself for not coming sooner when their pre-pandemic menu featured dishes such as monkfish liver torchon and corned-beef tongue musubi. If the dishes I tried are any indication of how former Lincoln Ristorante and Per Se chef, Chung Chow, handled these proteins in the past, then I truly missed out.
Not to say the meal we enjoyed was lacking in any way. I was more than satisfied with the variety of musubis we chose for our Musubi Platter. It included Katsuobushi (braised bonito flakes with cucumber sunomono), Spicy Salmon Tartare (with tobiko and spicy mayo), Pork Jowl (with scallion and ginger puree) and Tuna Tataki (with ume and shiso). If you're not familiar with musubi, it's like a rice-heavy rectangular hand-roll. It is ubiquitous in Hawaii and typically made with SPAM. Noreetuh has the classic version as an option that I would have chosen had there not been so many other new and tempting variations. The distinct flavors of both the Pork Jowl and Katsuobushi Musubis combined with the subtle sweetness of the sushi rice were particularly gratifying as new takes on the island snack favorite. We liked them all so much that we removed some of the rice in the last few in order to finish the 12 piece platter while still leaving room for other dishes.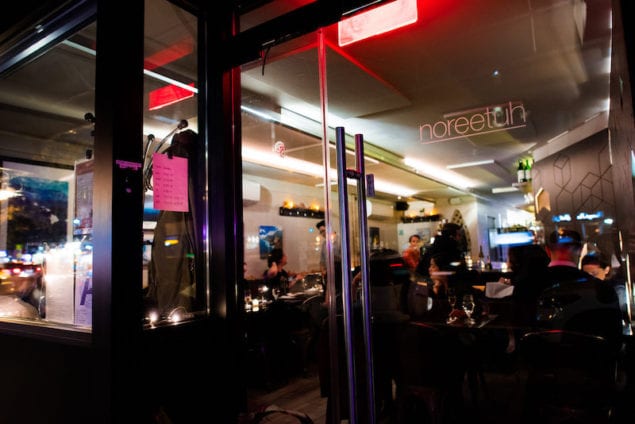 If you are familiar with Musubi, you'd know that it isn't often paired with fine wines. But that's because it rarely shares the menu with an award-winning wine list. The impressive selection of roughly 200 wines is curated by General Manager & Co-Owner Jin Ahn who can be found greeting diners, explaining Chef Chow's approach to modernizing Hawaiian cuisine, and expounding on his wine recommendations. He does this all the while exhibiting "Aloha Spirit" which is something that compliments any meal (and frankly, something we can all use more of these days).
It's clear Noreetuh has fine-tuned their menu and operations with 2020's exigent conditions and their loyal patrons in mind. They've ensured safe indoor and outdoor dining, yet kept the ambiance far from sterile. They've adapted their menu to be even more take-out friendly understanding that those who want to be extra cautious do still want to enjoy Chef Chow's inspired fare. Along with the different Musubi, a selection of rice bowls and various salads & dumplings are easy to enjoy at the restaurant, in a park or at home. The Katsu Sando is among these, as well. Sandwiched within a King's Hawaiian bun is a perfectly fried Berkshire pork cutlet that adds juicy flavor and that distinct katsu crunch to the soft Portuguese sweet bread. Pickled green tomatoes and lettuce round out the sando by adding crisp tartness to each bite. It's been years since I had a Katsu Sando and now Noreetuh's will be a go-to To-go option for me whenever I'm looking for a quick bite to eat in the St. Marks area.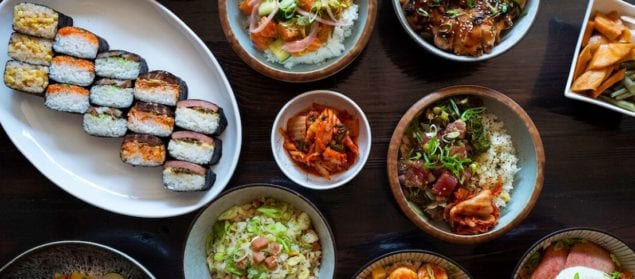 Though Noreetuh has kept their home-diners in mind, they haven't forgotten their dishes that were clearly made to be plated and enjoyed with a well-paired wine. The Hamachi Sashimi with kumquat, green almond and yuzu kosho is a simply gorgeous dish that invites the diner to enjoy each bite slowly while taking in the plate's composition, both visually and gastronomically. The Sea Urchin Cavatelli was as comforting as homemade mentaiko spaghetti, but with the addition of more well-balanced textures. Buttery uni and tender shrimp were not overpowered by the creamy sauce. They were enhanced by the cruchy daikon, al dente pasta and papery nori that dramatically sat atop the dish. Remember the sushi rice we removed from the musubi in order to keep us from overfilling ourselves? We ended up eating it with the remainder of this dish's sauce because we didn't want any of it to go to waste and it, too, went well with the brightness of the seasoned rice.
To offset the surf with some turf we also had the Imperial Wagyu Steak. Needless to say, it was as tender as it was inherently flavorful. The steak was accompanied by meaty mushrooms that lay on top of a mattress of savory bread pudding which reminded me of Thanksgiving stuffing. It was finished off with a light green peppercorn vinaigrette that helped to cut through the richness of the dish without distracting the palate from the autumn flavors.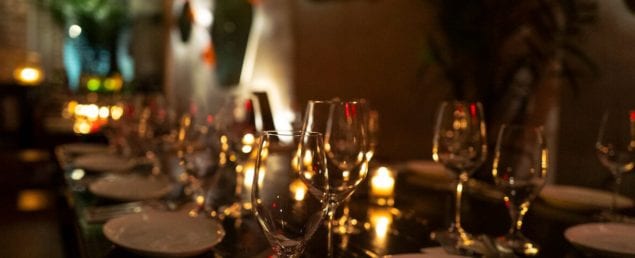 We ended the meal by sharing a Chocolate Haupia Sundae. Haupia is a traditional Hawaiian coconut pudding that seemed only slightly denser than panna cotta. Chef Chow's version is chocolate-flavored and was added to a bowl of different textures in the form of coconut ice cream, whipped cream, almonds, Hawaiian black salt and shards of homemade graham crackers. Not too sweet and slightly salty, the tropical island inspired sundae was a great denouement to the lovely meal.
As I write about my experience at Noreetuh, much of New York City is still in survival mode due to the COVID-19 pandemic. If you are in the east village or looking to try innovative Hawaiian cuisine, I definitely recommend this modern yet modest eatery. Not only have they taken the proper precautions, but they provide the hospitality and high-quality cookery that we've all been craving for the last few months. Support independent restaurants so that they can once again thrive. And I'm not just saying that because I want Chef Chow to be able to bring back the monkfish liver torchon sooner rather than later so that I can try it… okay, maybe a little.
Noreetuh can be found at:
128 first ave, new york, ny 10009
b/w  7th st and st. marks
Website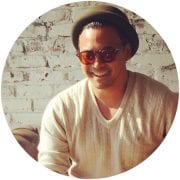 jordi adiao
I learned early in life to embrace your awkwardness... now, are you going to eat your chicken skin?