Serve this salad hot or cold, but ensure that it is tossed when the noodles are warm.
By Preethi Vemu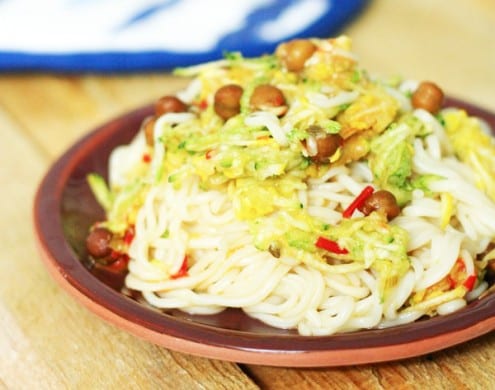 Noodles with Zucchini and Sriracha Dressing
Serve this salad hot or cold, but ensure that it is tossed when the noodles are warm.
Ingredients
Wheat noodles - 1 nest
Green Zucchini - ½ , grated
Yellow Zucchini - ½ , grated
Black lentils (Black chana) - ½ C, soaked in water overnight and pressure cooked
Coriander leaves or basil leaves - a handful, for garnish
For the dressing
Sriracha sauce - 2 Tbsp
Lemon juice - juice of half lemon
Salt - to taste
Rice wine vinegar - 1 Tbsp
Sesame oil - ½ Tsp
Instructions
Mix all the dressing ingredients together.
Cook the noodles per the instructions on the box.
Drain the noodles and while they are still hot, toss with the veggies, lentils and dressing.
Garnish with coriander leaves or shredded basil and serve hot.
Preethi Vemu
Preethi loves tea, animals, food and her Kindle. When she is not busy being a geek, she dreams about seeing her name in print media some day . An avid reader and an amateur food photographer, Preethi lives in Hyderabad, India with her husband who is subjected to all her culinary experiments.