Bring chocolate ice cream to a new tasty height including a pinch of salt. Author of SALT: The Essential Guide to Cooking with the Most Important Ingredient in Your Kitchen Leslie Bilderback shares this simple summer recipe and a  few facts to make your salty exploration more meaningful in her book dedicated to what she considers the most important ingredient in the kitchen.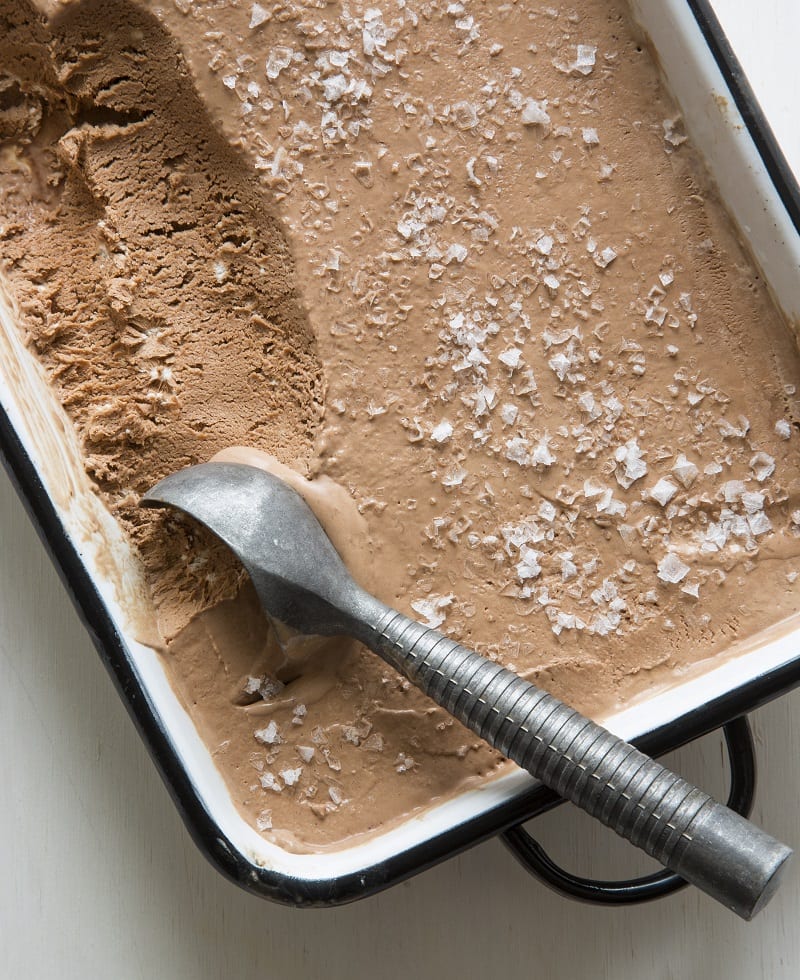 With the purpose of bringing  flavors alive in food, author of SALT, gives readers an in depth journey to learn and better understand the basic ingredient. She takes her readers on a  tongue cinge-ing salty exploration, where they can become better familiarized with history, making and uses of salt.
Learn from the various types of salt for example; citric, grey, halite to the different origins of the ingredient, example; sea, rock, lakes, mines. Also learn about the different destinations such as Indonesia and Korea where salt can be found. More importantly after reading, you can identify what salt is best to use when preparing an appetizer, meal or dessert.Yes even dessert, such as Bilderback's  No Churn Chocolate Ice Cream taste is lifted but never changed. The philosophy of salt is to enhance the natural essence of food, and not to camouflage the taste. SALT will teach you how to buy, taste, cook, and bake with artisan salts to make snacks, meals, desserts, and more. Featuring over 100 mouthwatering recipes plus nearly 50 varieties of infused salts. This comprehensive book will help you transform this classic, humble ingredient into a star seasoning, on sale September 6.
Since September is a few weeks away here is a sneak peek of the book, See the method, this salt aficionado uses to create her French inspired  dessert, perfect for the warm months.
Print

---
Author:

Leslie Bilderback

Yield:

1 Quart

1

x
1 cup

bittersweet chocolate (chopped ( or bittersweet chocolate chips))

1 cup

whole milk
One

13 ounce

– can sweetened condensed milk

1 teaspoon

pure vanilla extract

1 teaspoon

unsweetened cocoa powder

1 tablespoon

fresh lemon juice

1 teaspoon

unrefined salt- try Maldon (Halen, Mon, Cyrpus Flake, fleur de sol, a smoked salt or a salt infused with chocolate, vanilla, orange, bourbon, cognac, matcha, espresso, cinnamon, bacon, maple, sesame or hot chiles)

2 cups

heavy cream
---
Instructions
Place the chopped chocolate in a large heat proof bowl. Bring the milk to a near boil, then pour it over the chopped chocolate in the bowl. Let sit for 5 minutes, then stir until smooth. Stir in sweetened condensed milk, vanilla, cocoa powder, lemon juice and ½ teaspoon of the salt.
In a separate bowl, whip the heavy cream, until it reached soft peaks. Fold the cream gently into the chocolate – milk mixture, then transfer into a freezable container. Sprinkle the top with remaining ½ teaspoon salt, then cover with plastic cover with plastic wrap pressed directly on the surface of the custard. (This prevents ice crystals from ruining your creamy texture.) Place in the freezer for about 6 hours, or until firm and scoopable. (FYI: thinner layers freeze faster!) Serve scoops any way you like, but don't forget any extra pinch of salt.
Variations
Vanilla. Omit the chocolate, add a scraped vanilla bean to the milk and use Black Diamond, Black Lava, or a Japanese plum salt.
Fruity Ice Cream. Make a vanilla base, as above, and before folding in the whipped cream, fold in about 1 cup of your favorite fruit puree or jam. The thicker the puree, the better. Finish the fruit recipes with any Hawaiian salt, a bamboo salt or a smoked salt.
Category:

Dessert

Cuisine:

Dessert