Sarah Kenney needed a fairly quick dessert for weekend guests and planned to make a carrot cake. But when she came across some cherries in the market – she changed her mind.
By Sarah Kenney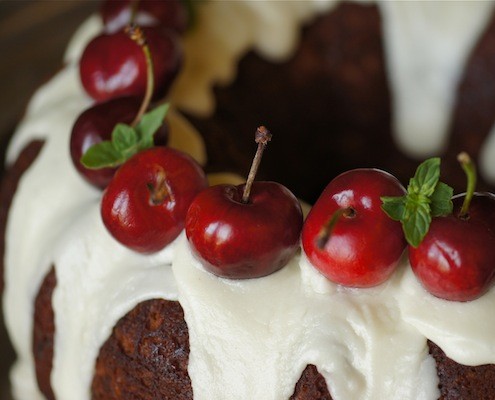 Company arriving!  A sweet weekend to look forward to with delightful relatives coming to visit.  Weekends like this put me into full planning mode.  Market shopping to anticipate, lists to scribble down, careful selection of seasonal fresh ingredients.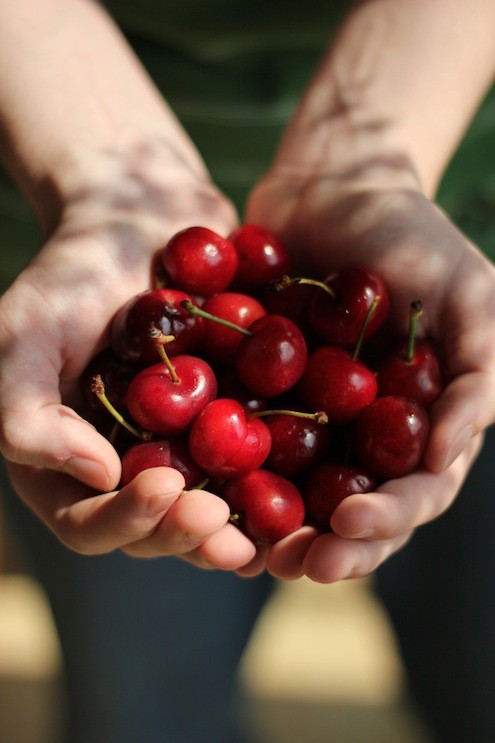 I needed a fairly quick dessert for our weekend guests and planned to make a carrot cake.  Actually, it was the desire for  cream cheese frosting that was beckoning me.  You see, I came across this amazing, simple, creamy, luscious cream cheese frosting the other day.  What better than to make it again for carrot cake.
But…wait…
What is this that I see at the market!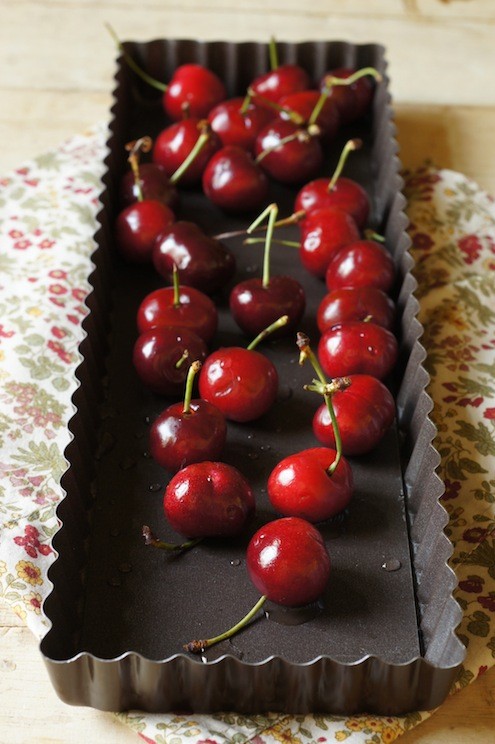 Bing!   Cherries that is!
Look at those juicy cherries.  When we lived way up there in Michigan, we had a cherry tree right in our back yard!  Who has a cherry tree in their back yard anymore?  One summer, Patrick's mother was visiting.  She and the children picked bowls and bowls of them.  Before long there were jars of cherry jam being made in the kitchen.  We still reminisce about that cherry jam and that adorable cherry tree.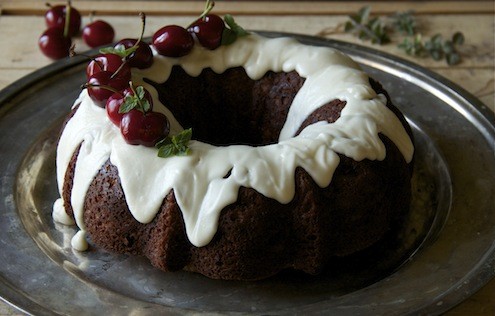 I decided that somehow cherries had to participate in this carrot cake endeavor (cream cheese frosting endeavor if truth be told) that I had laid out for my myself, ahem…my visiting guests.
I arranged them on top of the carrot cake (which now is in bundt form) and spinkled some mint along with them.  Why the mint? Because it is just so darn pretty.

Carrot Cake with Fresh Cherries
A delicious and moist carrot cake with homemade cream cheese frosting is a great backdrop to highlight this seasons beautiful red cherries.
Ingredients
3 c. flour
4 eggs
2 c. sugar
½ tsp. nutmeg
1 tbsp. cinnamon
2 tsp. baking soda
1 tsp. baking powder
1 c. chopped walnuts
½ c. Canola oil1
16 oz.) can crushed pineapple
2 c. grated carrots
Cream Cheese Frosting:
1 (3 oz.) pkg. low fat cream cheese
4 tbsp. softened butter
1 tsp. vanilla
2½ c. powdered sugar
Dash of salt
Instructions
Combine all dry ingredients.
Then add remaining ingredients.
Grease your bundt pan. (Snippets Note: grease it well if you want a beautiful slide out)
Pour ingredients in bundt pan and bake mixture for 60-75 minutes at 350? degrees.
Do not forget to preheat oven. Serving size: 10.
Cream cheese frosting
Cream the cream cheese, butter, vanilla and salt.
Gradually add powdered sugar and blend well.
Apply icing to the cooled carrot cake and serve.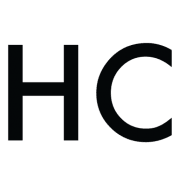 Sarah Kenney
Sarah is an adventurous food photographer and writer who has moved six times with her family from the U.S. to Wales, Japan and back. They are affectionately known as "The Rolling Stones". She is a passionate chef who thinks that their experiences living in Louisiana, Michigan, New York, Missouri, Kansas, and now Texas culminate in shared meals and tales around the table as her family experiences each regions offerings of cuisine and culture. Texas is her current stop and good food and good times are a passion of this southern state. She writes about her foodie adventures in her blog "Snippets of Thyme".