Naan baked with homemade pumpkin sauce, sharp cheddar and parmesan and an egg on top.
By Chitra Agrawal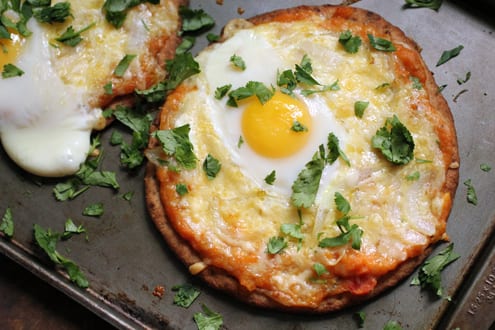 This may be the juiciest recipe I've posted ever, and when I say juicy I mean cheesy goodness!  It's a really easy one too, using ready-made naan, pizza or pasta sauce like this one chili pepper pumpkin pasta sauce, fried onions, cheese and an egg.
I've had this pizza now a few times and eaten it for breakfast, lunch and dinner so don't let the title of the recipe stop you from eating it anytime of day.
And I have to admit, after you eat one, you may want another so keep the oven going for your 2nd breakfast, lunch or dinner.
Naan baked with homemade pumpkin sauce, sharp cheddar and parmesan and an egg on top.
Ingredients
1 naan or flatbread
3-4 tablespoons of pizza or pasta sauce
1 cup of cheese of cheddar and parmesan (you could also use mozzarella or gruyere)
1 egg
a few thinly sliced rings of onion
1 teaspoon oil
salt & pepper to taste
cilantro or herbs for garnishing
Instructions
Preheat oven to 500 degrees fahrenheit.
In a skillet, heat oil under medium heat and fry up onions with a pinch of salt till translucent or to your liking.
Place onions aside.
On a skillet under medium heat, cook the naan on both sides lightly.
Place naan on a baking sheet.
Spoon sauce on top to your liking and cover with cheese & fried onions. Crack an egg gently on top of the pizza.
Make sure the oven is to 500 degrees fahrenheit and place baking sheet with naan in the center.
Bake the pizza for about 8-10 minutes total and rotate 180 degrees halfway through.
Take it out when the cheese is melted and the egg is cooked to your liking. Garnish with cilantro or herbs and let the pizza cool but not so much that it's not gooey anymore:)
Add salt & pepper to your taste.
Chitra Agrawal
Chitra writes the food blog, The ABCD's of Cooking, which chronicles her adventures cooking American Born Confused Desi recipes. When she is not recipe blogging, Chitra can be found hosting her online cooking show and a supper club featuring Indian-inspired, vegetarian cuisine. She also teaches cooking classes and sells Indian street foods (sometimes yummy Indian tacos!) at events and artisanal markets in Brooklyn. Her cooking has appeared in the New York Times Dining Journal and she is a contributor to The Huffington Post, Gojee, The Daily Meal and Brooklyn Based.